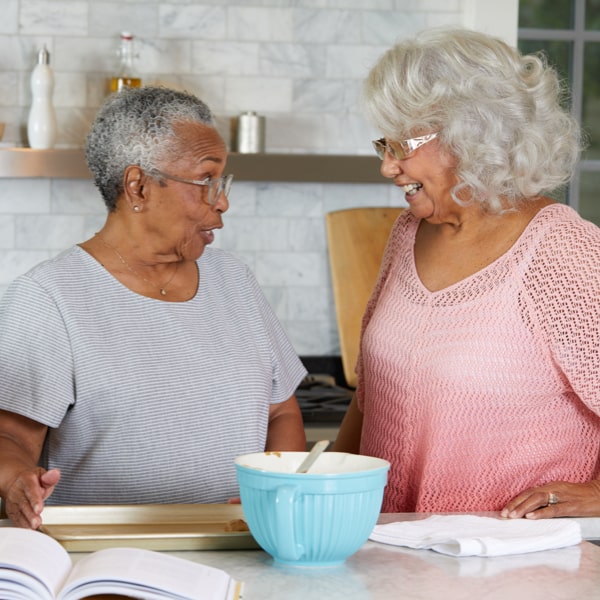 Our Elder Care Services in Olympia, WA
Customize your care plan with this wide variety of options
Interactive and transparent - these are two terms you want to hear when you are looking for a bit of help with an aging loved one. As part of our stellar elder care services, Comfort Keepers serving in Olympia, WA, does just that by offering a number of beneficial resources to make sure that every one of our clients receives the right amount of support for them to live a happy and independent life.
Give us a call at (360) 226-2737 to learn more!
Personal Care & Housekeeping
Seniors in and around the Olympia area can get assistance whenever is convenient for them. Qualified and compassionate aides are available 24 hours a day, when you want them to be there. They help with daily tasks such as mobility assistance, light housekeeping, dressing, and even bathing.
No matter what stage the beloved elder in your life is in, our specialized senior care services are tailored to where they are needed most. Caregivers know tips and techniques to keep your family member safe, secure, calm, well rested, and fed so that they can remain as happy and healthy as possible. Additionally, since our care aides are around many seniors with memory disorders, they often can help to implement schedules or services that will be beneficial.
Other Customized Services
In addition to our basic elder care services, we also provide respite care to give you and other members of your family a break when needed, end of life care to help when tough decisions and a lot of compassion are needed, and transitioning care to support those who are returning back home after a hospital stay due to surgery or an illness.
Transportation Services
Your plan can also include transportation to doctors' appointments, to pick up prescriptions or simply to go around town to get out and about. Socialization is important as well. Elders with health or wellness issues that prevent them from being out in the community on their own can get out with the help of an elder care aide. Our Comfort Keepers not only provide rides, but they also remain on site the entire time. Whether it's attending an event at the Olympia or Lacey Senior Center, meeting family and friends at the park, or checking out one of the local shops, elders can do what they want when they want with our transportation assistance.
The Perfect Level of Care
All of our elder care services have been created to provide your loved ones with an ideal blend of assisted living in their own homes and companionship, letting them enjoy the rest of their lives. Our goal is to provide your loved ones with the perfect level of help, without making them feel as though they are losing their independence or dignity. All of our carefully chosen caregivers understand just how important this is to their clients.
You can learn more about creating a custom plan by calling our agency at (360) 226-2737 or contacting us online.