In Home Senior Care and Your Loved One's Nutritional Needs in Virginia Beach, VA
Comfort Keepers of Virginia Beach, VA includes senior nutrition assistance with our in home senior care plans
No one knows the struggles that come with growing older better than the seniors who are dealing with them. Simple daily tasks such as making meals can often prove to be too much.
Seniors should NEVER have to deal with malnutrition!
The problem with not being able to cook healthy meals is that many seniors end up buying foods that have almost no nutritional value such as frozen dinners.
At Comfort Keepers of Virginia Beach, VA we understand how seniors end up in this situation. Our in home senior care includes a caregiver who has undergone senior nutrition training.
Give us a call at (757) 204-1108 to learn more!
Are Healthy Nutritious Meals Really Necessary for Seniors?
As we grow older, our bodies and brains start to slow down and with this our senses of smell and taste.  If your loved one takes multiple medications they could:
Start to see a decrease in appetite 
Notice changes in their sense of taste
Find their body becomes slower at producing natural nutrients 
Find their body becomes slower at absorbing outside nutrients 
When seniors suffer from poor nutrition, they can end up being vulnerable to many illnesses and diseases. They can also be more prone to injuries such as broken bones that take longer to heal.
Our Caregivers Can Help in Many Ways
Our in home senior care includes caregivers who are ready to help with many tasks including:
Crafting tasty meal plans – our skilled caregivers can swap recipes with your loved one to craft amazing meal plans filled with tasty nutritional meals. This includes meals that meet all personal, religious, and medical requirements.
Handling the shopping – not all seniors can still drive, and many cannot push a heavy shopping cart. When this happens, our caregivers can help by providing safe transportation and staying with your loved one while they shop. Alternatively, they can grab the shopping list and take care of the shopping for your loved one.
Making tasty meals – if your loved one can handle the peeling, cutting, and chopping, our caregivers are there to help. If they can't handle these tasks, our caregiver can take over and prepare incredibly tasty meals for your loved one and clean up afterward.
Assist with feeding – there are times when an injury, illness, or disease can leave a senior unable to handle feeding themselves. Our caregivers have been trained to help your loved one without embarrassing them and they can prepare meals that are easier to eat.
Our Caregivers Will Work with Your Loved One
For many seniors who live on a fixed income, paying the bills each month is hard enough. In fact, once they've paid their bills, many don't have enough money left to eat nutritious meals. They end up buying cheap processed foods that are virtually devoid of any true value when it comes to senior nutrition.
Along with several local, state, and federal programs, our in home senior care includes a skilled caregiver who can help your loved one make the most of the programs available to them. They will work with your loved one and these agencies to ensure they can eat a healthy nutritious diet. Among these services are agencies like Meals on Wheels who can deliver hot meals to your loved one and will also deliver pre-prepared meals that can be quickly be heated in the microwave for the days they don't deliver.
A selection of agencies for you:
Find out what other benefits your senior qualifies for here.
Be sure you are doing your part to help by:
Keeping foods stored in the fridge or freezer to extend their lives
Watching for sales and coupons
Buying foods that are in season
Comparing food labels, just because an item costs more doesn't make it better!
Planting a garden of fruits and vegetables
Looking for deals at the supermarket and comparing them to those at the farmer's market
Make a shopping list and stick to it
Choosing fresh food options first
Although most seniors no longer need the same quantity of calories in their diet, they do still require a healthy diet full of nutritious food. You can do your part by making sure their diet includes plenty of:
Protein/Fish
Fruit
Vegetables
Whole Grain
Low Fat Dairy
You can always turn to your loved one's doctor for more information on senior nutrition. Also, your loved one's caregiver has a wealth of knowledge to share with you as part of our in home senior care program.
When shopping pay close attention to the nutrition facts on the package instead of the claims on the front of the package. Just because a product claims to be healthy because it is 100% XYZ, organic, or contains some type of "superfood" doesn't mean it's as healthy as claimed.
Typical food nutrition facts label: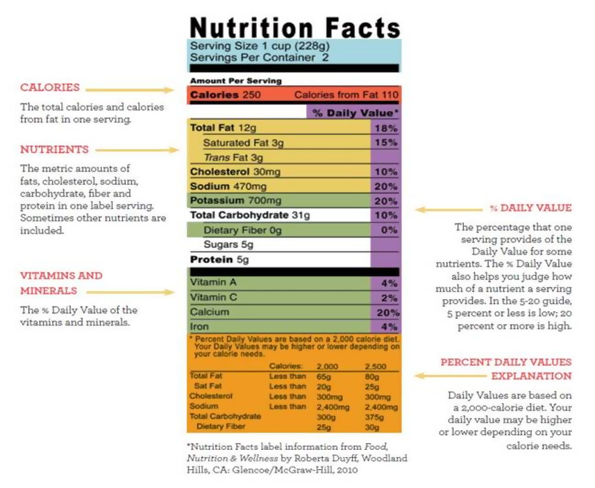 Image provided by the National Council On Aging
Don't Skip Out on Favorite Dishes and Treats
While your loved one does need to eat a nutritious diet, there is no reason they cannot enjoy their favorite dishes and treats occasionally. What it does mean, however, is that you need to learn how to reduce the fats, salt, and sugar used to make them.
Contact Us 
If you have a loved one in need of in home senior care that includes a caregiver trained in senior nutrition, contact Comfort Keepers of Virginia Beach, VA at (757) 204-1108 and let us schedule your free care consultation with one of our expert senior advisors today!