Home Care Solutions Tips: The "Secret" To A Long Life!
By: Louie J. Frucci, RN, CSA, CDP
Did the headline of this article just grab your attention? Were you hoping to read about a new and powerful magic bullet for longevity? Sorry. The reason "Secret" is in quotations is because our home care solutions advise presented here is really basic, common sense recommendations that people have been discussing for years. However, the newest and greatest research seems to also point back to these basic tenets.* Unfortunately, there is no simple anti-aging pill or fountain of youth – yet.
A Positive Attitude - If the secret of valuable real estate is "location, location, location", then the secret to a long life is "attitude, attitude, attitude." In studies involving centenarians (people 100 years of age or older), most believe that a positive - yet realistic - attitude is critical throughout one's life. They also described themselves as optimistic people. A vital key to this attitude is finding purpose in one's life.
A "life purpose" itself has always been recognized as a vital factor in longevity. Centenarians are happy people who have reason to get up in the morning. That reason usually associates itself with a passion, especially a passion for helping others. Volunteering, taking a class to learn new things (or even teaching others), getting involved in community projects, taking a hobby to the next level. Remember the key to a long life is never losing your childlike curiosity.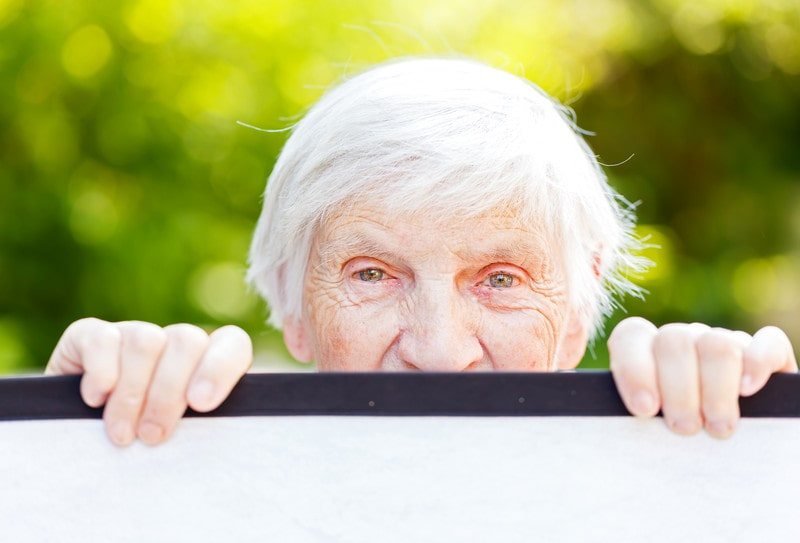 Diet (Healthy & Simple) - The best diet advice I have ever heard was: Eat like it's 1960. The centenarians interviewed were critical of today' supersized portions. Your senior's home care solutions caregiver can help them get back to basics. This means a diet of eating nutritious food in moderation. Few claimed they had ever been on a specialized diet, although some had become vegetarians.
The majority of centenarians live by modest means, which translates directly to their diets. Healthy and simple is usually associated with a plant-based diet, consisting of a variety of legumes, whole grains, vegetables, fruits, nuts and seeds. Eating less in general is simply good practice. "Hara hachi bu" is a diet philosophy used by Okinawans, meaning eat until you are 80% full. Stopping at 80% capacity is actually a very good strategy to avoid obesity without going hungry because the stomach's stretch receptors take about 20 minutes to tell the body how full it really is.**
Exercise & Movement - "Use it or lose it" can also be "move it or lose it". You may feel discouraged by chronic health conditions or concerns about injury or falls, and if you have never exercised before, you may not know where to begin. Perhaps you think you are too old or frail. The truth is you can't afford NOT to engage in some form of physical activity. Exercise is the key to staying strong, energetic, and healthy as you get older. Not only is exercise good for your body—it's good for your mind, mood, and memory. No matter your age or your current physical condition, you can benefit from exercise.
Exercise does not necessarily mean strenuous workouts at the gym. Exercise, or just movement, means walking two or three times per week, or riding a stationary bike in poor weather. Find something you enjoy; whether it's taking your dog on long walks in the park or tending to your vegetable garden, these types of low intensity physical activities are very beneficial in the long run. Home care solutions can assist with your senior's Interactive Caregiving plan.
Faith – Almost all centenarians interviewed said that their faith has played a major role in their longevity. Most believe they will be here as long as God has a purpose for them. Many believe spirituality and personal faith are secret elixirs in their lives. Faith allows people to find inner peace, accept life as it is, and come to terms with the disparity between expectation and reality.
Reduce stress - While most people do not have the opportunity to spend time lying on a beach sipping Mai Tai's or lounging worry-free on a cruise ship, we do have the tools to create quiet places for ourselves and greatly reduce the stresses of modern-day living. Yoga and meditation are great practices that can be done privately, with a home care solutions caregiver, or a group/club. Spending time with family and friends, along with the ability to interact with children, grandchildren and great grandchildren, create a deep satisfaction of connecting with future generations for most centenarians.
Social Network – Creating and maintaining strong emotional bonds with friends (other than family) protects people from isolation and depression. Humans need love and intimacy as much as food and water. Most centenarians interviewed made a conscience effort to cultivate connections with others at or near their own age, making these contacts through a variety social events and locations, such as senior centers, social clubs within housing communities, or even online.
Genetics – Obviously, of everything mentioned so far, the most challenging is picking the right parents! Lifestyle choices can only influence longevity to a certain degree. However, there is hope. A large percentage of centenarians interviewed said their parents and grandparents were not especially long-lived. An interesting, comprehensive study, called "The Framingham Study" found only a 6 percent correlation between life span of the parents and life span of their offspring.***
Contact us at (801) 383-2182 to learn more about how home care solutions can help you keep to these tips and live a long and healthy life.
*Information based on interviews with 500 centenarians for the book "Celebrate 100: Centenarian Secrets To Success in Business & Life".
** www.okinawa-diet.com