2023
Comfort Keepers celebrates 25 years of delivering joy to seniors and Elevating the Human Spirit℠ of all we serve

2022
Launched ComfortKeepers.jobs to make it easier for job seekers to find rewarding caregiving careers
Launched our employer brand, People Elevating People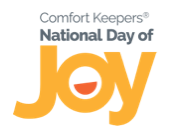 2019
Comfort Keepers created the National Day of Joy to inspire others to find and share joy in everyday moments.
2018
Launched Elevating the Human Spirit℠ brand promise to provide care that delivers hope, connection and purpose to seniors
2016
The Franchise Research Institute ranks Comfort Keepers a "World-Class Franchise" for the 9th year in a row.
2015
Comfort Keepers ranks in the top 65 of Entrepreneur magazine's ''Franchise 500'' for the 5th straight year.
---
Comfort Keepers becomes a national team in the National Walk to End Alzheimer's awareness and fundraising program.
2014
Website relaunch underscores the network's preparedness for continued growth in the digital age, as Comfort Keepers sells its 700th unit.
2013
Comfort Keepers opens its 90th international unit.
2011
Baby boomers begin to reach retirement age, at the rate of 10,000 per day.
2010
Launched Nourish Senior Life® program, which include Feed Seniors Now® food drives, designed to combat senior malnutrition.
---
Won pilot with major health insurer.
2009
Sodexo purchases Comfort Keepers, and the Private Duty Nursing services launch.
2008
SafetyChoice® technology products launched, diversifying Comfort Keepers' offering and to help seniors stay safe in their homes.
2007
The Franchise Research Institute ranks Comfort Keepers a "World-Class Franchise".
2005
Comfort Keepers named a "Top 100 Franchise" by Franchising Magazine.
2004
Comfort Keepers ranks #1 in senior care in Entrepreneur magazine's "Franchise 500".
2003
Comfort Keepers opens an additional 200 franchise units, adding Personal Care to its service offering and improved field support for franchisees.
2001
"Top Franchise System" awarded by Small Business Opportunities Magazine.
1998
Registered nurse, Kristina Butler, recognizes the need for outstanding in-home care for seniors, and opens the first Comfort Keepers® office in Springfield, Ohio.