Personal Home Care for Your Elderly Loved One in Houston, TX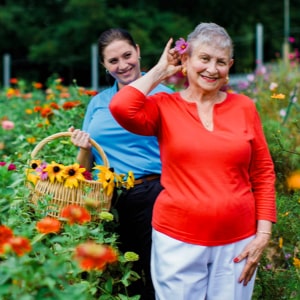 As the years pass, it can become increasingly difficult for aging adults to perform everyday tasks. Due to common factors such as age-related difficulties, physical limitations, or depleting health, many seniors in our communities have to rely on their families to provide care.
Whether it is preparing a meal or running an errand, as a primary caregiver, you surely want to help your loved one the best you can. But what to do if mom or dad finds it difficult to maintain good hygiene? There is no need to worry - Comfort Keepers is here help.
What Is Personal Care?
Although a relatively broad term, personal home care can be defined as a non-medical in-home service designed to provide support with personal hygiene & similar activities of daily living. This can include assistance with basic hygiene tasks, grooming, and toileting.
However, at Comfort Keepers, our practice is to customize care plans to meet the specific needs of each client. Because of this, our personal home care services oftentimes encompass so much more. Depending on your loved one's age and acuity, we can provide anything from stand-by assistance to full, hands-on care. If your loved one is bedridden or placed in a wheelchair, our care experts can offer mobility assistance, transferring and positioning, as well as toileting and incontinence care.
How Comfort Keepers Can Help
It is the mission of every Comfort Keeper – that is how we like to call our dedicated care professionals – to help clients maintain independence and achieve the highest quality of life possible. When it comes to physical appearance, we want your mom or dad to look and feel their best. A personal home care aide can help your parent with the following:
Showering or bathing
Dressing and putting on shoes & accessories
Undressing and preparing for bedtime
Brushing teeth or cleaning dentures
Grooming
Styling hair
Makeup
Shaving
And more
Moreover, our goal is to keep mom or dad, happy, active, emotionally connected. For this reason, your loved one's personal home care plan can also include assistance and accompaniment during family visits, appointments, shopping trips, walks, and other activities of interest to help them enjoy their golden years.
Contact Our NW Houston Office Today
Get in touch with your nearest Comfort Keepers location at (346) 202-7209 to learn more about what we can do for your family and schedule a free meeting with our friendly staff members today.