In Home Care in West Lake Hills & Rollingwood Area
Comfort Keepers of Austin, TX provides in home care to senior loved ones
To help your loved ones stay engaged in the West Lake Hills and Rollingwood community, our highly trained and professional caregivers provide safe, dependable transportation around town. If they would like to have lunch at The County Line or a meal at the Texas Honey Ham Company, we can help them get there. Or if they simply need to get over to H-E-B or Trader Joe's for the week's groceries, or to Walgreens to pick up a prescription, we'll be there to help!
Senior Care in West Lake Hills & Rollingwood, TX
Let Comfort Keepers® of Austin, TX provide your loved ones in West Lake Hills with the care they deserve and can trust. With our wide variety of in home care services – ranging from a few hours of companionship throughout the week, to around-the-clock personal care assistance – we can help preserve the happiness, health, and safety of your loved ones. Our goal is to promote the physical, emotional, and social well-being of seniors.
The services that we provide to West Lake Hills & Rollingwood, TX include: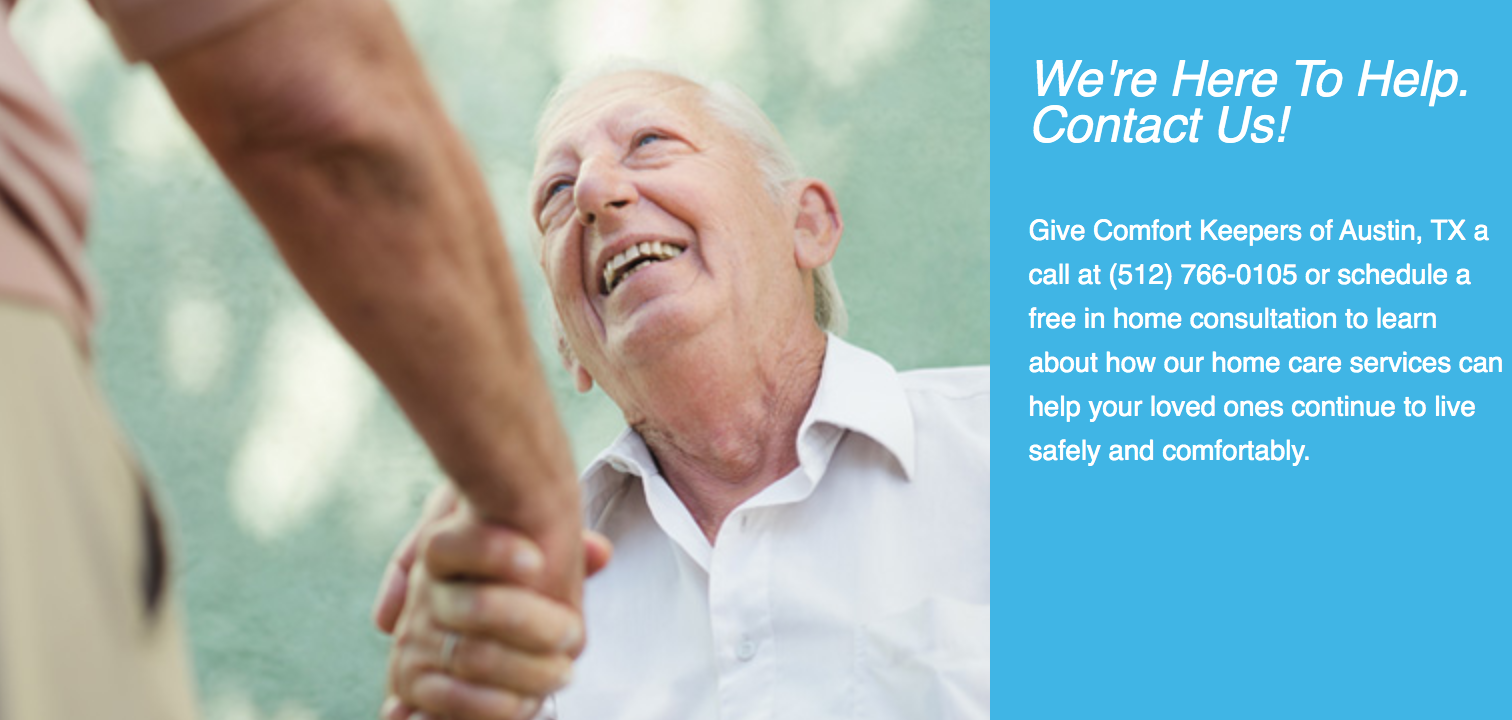 We're Here To Help. Contact Us!
Give Comfort Keepers of Austin, TX a call at (512) 766-0105 or schedule a free in home consultation to learn about how our home care services can help your loved ones continue to live safely and comfortably.
Comfort Keepers of Austin provides in home care and senior care services to the following areas in and around Austin, Texas
Austin, Barton Creek, Barton Hills, Bee Cave, Bouldin, Buda, Circle C, Oak Hill, Rollingwood, South Austin, South Congress, South Lamar, Southwest Austin, Sunset Valley, Travis Heights, West Lake Hills, Zilker, Austin, Barton Creek, Barton Hills, Bee Cave, Bouldin, Buda, Circle C, Oak Hill, Rollingwood, South Austin, South Congress, South Lamar, Southwest Austin, Sunset Valley, Travis Heights, West Lake Hills, Zilker, Downtown Austin, Clarksville, Old West Austin, Tarrytown, Hyde Park / UT, Rosedale, Allandale, Brentwood, North Loop, Mueller, Windsor Park, University Hills, East Austin, Wells Branch, McNeil, Mesa Park, Walnut Creek, Gracy Woods, Quail Creek, Milwood, Pflugerville, Windermere, Dessau, Pioneer Crossing, Jordan Crossing, Windsor Hills, Heritage Hills, Harris Branch, Manor, Bastrop