A Home Health Aide Makes A Real Difference In The Lives Of Knoxville's Elders
Making a difference as a Knoxville home health aide
Comfort Keepers of Knoxville, TN, is committed to improving and maintaining a good quality of life for all our care recipients. Our primary aim is to help the city elders' age in comfort, and to maintain independence in their own homes. Our local, loving senior care experts provide the best possible solutions. This could be senior care, advanced care, or respite care for family members.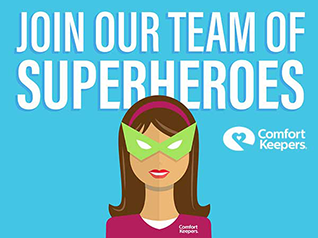 This is not just another career with a pay-packet at the end of the month. It takes a special kind of someone to become a dedicated, proficient home health aide. The job provides a backbone of quality care and support, not only for the client, but also for those closest to them. What may seem like simple tasks for younger, more able-bodied people, can become living nightmares for a lot of older folks. For this reason and others, the role of a professional Comfort Keeper can completely change the lives and living conditions of those they care for.
The Home health aide Provides an Invaluable Contribution
Having an extra pair of hands around can mean the difference between aging at home and moving into an assisted living facility. The positive difference an in-home caregiver can provide for the elderly in Knoxville, TN, can be immense. You may lead a team of 24 hour care plans or take on an independent role. Either way, your client's, their close family, and the local community, all value your contribution. You in turn get to partake in a career that's rewarding and varied.
Below are just some of the duties that caregivers at Comfort Keepers may partake in. What you do will depend largely on training, experience, qualifications, and abilities:
Companionship—invaluable for seniors living alone
Laundry and light housekeeping
Meal planning, nutrition, special diets
Medication reminders
Mental, emotional and physical wellbeing
Errands and driving
Personal care assistance
Health care
If you're ready for a career change and would like to make a difference to lives of seniors in your local community, please contact us. Comfort Keepers of Knoxville, TN, are just a phone call away. One of our care coordinators will be happy to discuss options with you. We can also arrange for a free consultation on our range of openings in-home care of all kinds. You can reach us at (865) 214-6787.