Respite Care At Comfort Keepers of Knoxville, TN and Surrounding Areas
With respite care, family members can get a break to recharge and get back to providing their senior loved ones with the best care they can
Caregiving can be a very rewarding role and allow you to bond with your loved ones in a very special way.  What many people forget, however, is that it can also be very time and energy-consuming as well as stressful.  Certain knowledge may even be needed to care for loved ones with specific ailments.  To help family members help their loved ones, we offer respite care.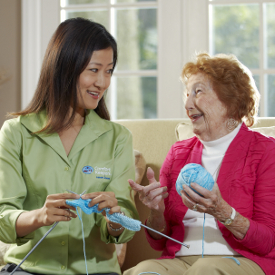 What is Respite Care?
Known in some countries as "short break" care, respite services provide planned short-term breaks for families and other unpaid caregivers who need time outside the home or simply take a rest. Respite care helps support and maintain the primary caregiving relationship.
How We Can Help
Our caregivers can come in to help your loved one complete their daily living tasks.  This can free up time so you can do things like:
Rest
Treat yourself
Go to appointments
Complete outside errands
Go to work
Balance life's other demands
Let our care experts support you and your loved one.  It takes just a click or a phone call to schedule services.  Contact us today at (865) 214-6787.