In-Home Care for Seniors & Interactive Caregiving™  for Families in Oklahoma City, OK and Surrounding Areas
In-Home Care for Seniors & Interactive Caregiving™  for Families in Oklahoma City, OK and Surrounding Areas
At Comfort Keepers®, we work to create a unique care experience for every senior we serve. We know that each individual is different, with specific likes, dislikes, hobbies, desires, and more. Our Comfort Keepers® are specially trained to learn more about the seniors and adults they work with, identifying what makes them the individual they are today. With this knowledge, they enhance each in-home care for senior's plans.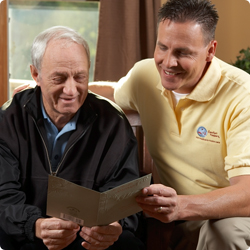 At Comfort Keepers® in-home care for seniors of Oklahoma City, Oklahoma, our approach is called Interactive Caregiving™. We work to elevate a senior's quality of life by enhancing his or her physical, mental, social, and emotional states. We take each day as an opportunity to help your loved one live life to the fullest and take part in the things he or she loves most. Comfort Keepers come into the house to assist with many different tasks but also help seniors to live longer and healthier lives.
Interactive Caregiving looks different for each individual. There are many activities that our Comfort Keepers plan to keep your loved one engaged:
Working on puzzles or creating artwork
Listening to their favorite records
Traveling to the local senior center to participate in activities
Looking through family photo albums and watching family videos
Attending family functions
Watching movies
Working in the garden
By learning more about the seniors we care for, we can bring happiness and a glow to their lives. Interactive Caregiving, in addition to our in-home care services, can help to make each senior's time living independently a little easier.
To learn more about Interactive Caregiving and the in-home care for seniors available through Comfort Keepers of Oklahoma City, Oklahoma, please contact us today or schedule a free in-home care consultation.