Comfort Keepers Offers Senior Care Services In Norman, OK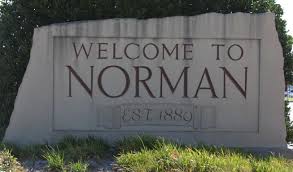 Comfort Keepers® is honored to serve the community of Norman, Oklahoma with senior care services. Located 20 miles south of downtown Oklahoma City, Norman is the county seat of Cleveland County. Norman is the third largest city in Oklahoma. Its nickname is the City of Festivals. It is the home to the University of Oklahoma, which is the largest university in the state, and has over 30,000 students enrolled. Weather plays an important role in Norman, as the city lies within Tornado Alley. The National Weather Center is located in Norman, which houses both the Storm Prediction Center (SPC) and the National Severe Storm Laboratory (NSSL); which respectively predict storms nationwide and conducts field research with experimental weather radars.
Learn more about senior care services available to your family in Norman, OK
Comfort Keepers offer senior care services that are a step above the rest in the Norman, OK area. We realize that most of our clients want to stay in their home throughout the duration of their life. This is why we come directly to a client's house and assist them with daily responsibilities. In addition, we are there to provide companionship and like to perform fun activities with our clients. We are also able to assist with transportation responsibilities, especially when it comes to bringing clients to and from their medical appointments.
Comfort Keepers helps with the day to day responsibilities of life. Some services we provide include assistance with dressing, bathing, and meal preparation. Since we are there with our clients 24 hours a day, we are able to help them get around and bring them items that they request. We also make sure our clients take their medication on time by reminding them to do so.
Comfort Keepers of Norman, OK understands the importance of client safety and has close connections with emergency medical centers. If a medical emergency would occur, we are right there to call 911. In other non-life-threatening emergencies, we can bring clients directly to medical care facilities in the Norman area.
Comfort Keepers offers companionship to those who would otherwise be alone. Since many seniors don't have the companionship they had when they were young, they may lose their zest for life. We realize that people who are alone can easily become depressed and therefore, enjoy socializing with our clients. Since everyone needs someone to talk to, we are there to listen and converse.
Comfort Keepers understands the importance of daily activity and like to take our clients throughout the community of Norman in order to get some fresh air. Some locations that we like to visit include, the Lake Thunderbird State Park and the Sam Noble Oklahoma Museum of Natural History. Overall, those who allow Comfort Keepers to take care of their loved ones can rest assured knowing that they are enjoying their time with us.
Comfort Keepers is able to bring clients to and from their medical appointments at the Norman Regional HealthPlex, the Norman Clinic, and other medical facilities within Norman. In this way, family members don't have to go out of their way to bring their loved ones to medical appointments and other obligations.
Those who are interested in the senior care services that Comfort Keepers offers in Norman, Oklahoma can call for more information at (405) 200-1156.