In Home Care Services Offered by Comfort Keepers in Edmond, OK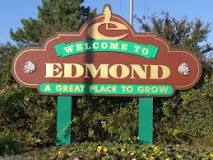 Comfort Keepers offers in home care services throughout Edmond, Oklahoma. We offer interactive caregiving, respite care, end of life care, and assist those who are dealing with dementia or Alzheimer's disease. We are experts at taking care of you or your loved ones in the comfort of home and focus on each individual client in a personalized manner.
Comfort Keepers offers interactive caregiving in Edmond, which is focused on improving life quality overall. As such, we encourage our clients to exercise, take regular tours throughout the local community, and participate in activities that focus on mental acuity. We realize that by focusing on extracurricular activities, we can make life more enjoyable and give those we work with a reason to look forward to waking up everyday. When we go out into the community we like to visit the E.C. Hafer Park, Mitch Park, and Arcadia Lake.
Personal In Home Care Services Offered By Comfort Keepers
Comfort Keepers focuses on companionship, assisting with bathroom responsibilities, meal preparation, and transferring our clients to and from appointments. We focus on creating a high quality of life and are able to assist in daily responsibilities, enabling our clients to remain independent, while living in the comfort of home. Comfort Keepers is able to bring clients to and from doctor appointments at, Access Medical Center, Integris Health, and other medical centers throughout the Edmond, Oklahoma area.
Comfort Keepers takes care of those with Alzheimer's or dementia. We realize the level of dedication required when taking care of such patients, while being able to offer the companionship that ensures the highest quality of life.
Comfort Keepers also offers end of life care. Our goal is to take care of our clients and allow them to continue living at home as long as possible. We understand the importance of providing such care, emphasizing the need to work with an experienced professional. In order to do this, Comfort Keepers offers private duty nurses in order to properly take care of clients in the Edmond area.
The services offered by Comfort Keepers are focused on making our clients and their family happy. For our clients, remaining in a familiar location is something that is extremely important to them. Not only does this reduce stress significantly, but it allows loved ones to come visit them at any time they choose. Family members can take comfort in the fact that their loved ones are being treated with the utmost care, while enjoying the attention they receive from Comfort Keepers.
To learn more about the in home care services offered by Comfort Keepers in Edmond, call us at (405) 200-1156.