Dementia Care and Alzheimer's Care in Secaucus, NJ and Neighboring Areas

Expert Dementia Care and Alzheimer's Care available in the comfort of home for Secaucus seniors
You are not alone. We can help care for your loved one at home, giving you the support you need.
Are you seeking memory care assistance? Our Dementia Care NJ caregivers were trained in dementia and Alzheimer's care by the Alzheimer's Association in New Jersey to act as facilitators for an Alzheimer's support group. Upon completing the training, we approached the Secaucus Public Library and asked them to host monthly meetings to discuss dementia and Alzheimer's within the community of Secaucus, Kearny and more. Doing so has been a tremendous help to many.
Our motivation to do this came from seeing what family members of our clients experienced on a daily basis. We wanted to provide a comfortable and confidential environment for family care providers throughout Hudson and South Bergen County to come and speak with people who are going through the same thing they're experiencing. They come to share experiences, for temporary emotional release and even to smile and hopefully laugh with those in the group. In addition to Alzheimer's Association training, we have also been trained by the National Council of Certified Dementia Practitioners and our agency. Our aides have proprietary training courses we developed so they can better provide long term care for our clients that suffer from these diseases.
We understand what families are going through and we're here to help. Call us at (201) 771-1908.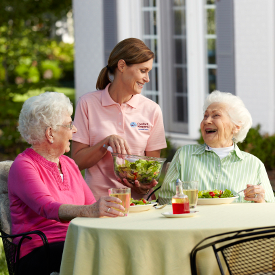 What is Dementia Care & Alzheimer's Disease Care?
Alzheimer's disease affects around 5.2 million Americans, the majority of whom are seniors. Alzheimer's disease affects one out of every nine persons over the age of 65, and it affects one-third of the population aged 85 and up. Having someone on hand who is familiar with memory care can be really beneficial. Please contact us if you or a loved one requires assistance.
How We Can Help With Dementia Care
Our specially trained Dementia Care and Alzheimer's care specialists can help you with
helping maintain a safe environment for the client.
engaging the client in activities that can stimulate the senses, such as music.
providing meals and bathing assistance.
supporting the client and family through the changing behaviors often seen with dementia.
Dementia Care & Alzheimer's Care for Secaucus, NJ and the Surrounding Area
We customize our in-home dementia care and Alzheimer's care to meet each client's special needs, taking into consideration his or her health and ability. Depending on the client's needs, we can provide advanced home care for just a few hours a week or provide full-time, in-home care. Through our 24-hour senior care service, a team of care experts coordinates responsibilities in shifts. This offers clients and their families full-time peace of mind. Contact us in Secaucus, NJ and the surrounding area to see how we can help.