How to Talk About Home Senior Care
For many families, starting a discussion with a senior loved one about care needs can be difficult. But, according to the Home Care Association of America (HCAOA), nearly 70% of Americans that reach age 65 will need care at some point in their life. And, 9 out of 10 seniors want to remain in their home as they age.
It is comforting to know that talking to the older adult in one's life about their care needs does not have to be a negative experience. Family and friends should remember to share the ways that in-home care can help seniors live the life they want, maintain their physical and emotional wellbeing, and bring more hope, purpose, and joy to their days.
Timing is Everything
Deciding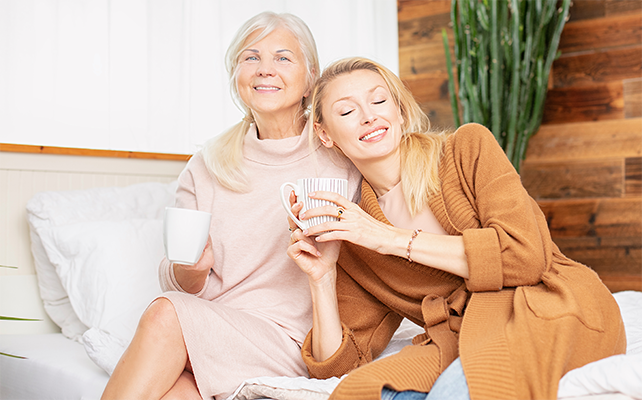 when to start the conversation about care needs is important. It is never too early to discuss what care might be needed and the desires of the person that will be receiving care. And, when it is time for care to start, everyone will be on the same page about the plan.
Ideally, there will be multiple discussions on the topic of care. Making plans before there is an emergency or sudden problem in the senior's home helps alleviate stress for everyone. Families and friends should talk to the senior in their life early and often.
Gather Information
Remember that everyone will have the best experience possible if this is a true conversation with the care recipient, not about them. Those involved should have the opportunity to speak their mind and talk about the future. There are many options for in-home care, from the type of care services to the number of hours a week. It is a good idea for participants to do research online or by calling a care provider to get questions answered before the family meets to talk about options.
Support is Imperative
Ultimately, everyone wants to ensure that the care recipient is supported, cared for, and safe in their home. It can reduce stress if those speaking to their senior loved one understand that there may be resistant to the idea of having a caregiver provide assistance, and the care recipient may feel that they are losing independence. While family and friends should be honest about their observations and feelings, the senior that will be receiving care should also have a voice. This not only helps everyone feel comfortable with the plan moving forward, but opens up the conversation about all the ways home care can improve quality of life – physically, mentally and emotionally.
Think Beyond the Basics
Care doesn't have to only be about basic physical care needs. At Comfort Keepers, we believe that in home care improves lives and helps seniors do the things they most love. We develop custom care plans that include physical safety and wellbeing, emotional health, and socialization. Our goal is to help our clients have the best quality of life while maintaining their independence at home. This can include tasks like transportation to appointments, meal preparation, light housekeeping and personal care, But all of our custom care plans also include wellbeing tasks like:
Assisting with outings, social events, shopping trips, and other activities of interest to maintain engagement
Activities that bring joy, provide mental stimulation and encourage physical and emotional wellbeing
Education for families
Respite care for family and loved ones
Referrals to medical professionals, support groups and resources
Change in condition monitoring
Fall risk assessment and assistance with fall prevention
Facilitating connection with loved ones through phone calls, video chats and other technology
Comfort Keepers® Can Help
Comfort Keepers caregivers can help with encouragement, support and assistance with daily living. And, caregivers can encourage overall health through meal planning, grocery shopping, meal preparation and activities. Our custom care plans focus on physical and mental health and wellness activities. Our goal is to see that clients have the means to find the joy and happiness in each day, regardless of age or acuity.
To learn more about our in-home care services, contact our Comfort Keepers location in Plymouth or Laconia today.
About Comfort Keepers
Comfort Keepers of North New Hampshire is a leader in providing in-home care consisting of such services as companionship, transportation, housekeeping, meal preparation, bathing, mobility assistance, nursing services, and a host of additional items all meant to keep seniors living independently worry free in the comfort of their homes. Comfort Keepers have been serving New Hampshire residents since 2005. Let us help you stay independent. Please call 603-536-6060 or visit our website at nhcomfortkeepers.com for more information.