Veteran Homecare Services
We can help find out if you qualify for homecare services, and quickly get you the support you need
Our experts at Comfort Keepers of Buffalo, MN are proud to preserve the independence of those individuals that have fought to preserve our country's. If you are a Veteran or a spouse of a Veteran you can qualify for support through homecare services.
Getting Started
We can contact local resources as well as help you get the necessary paperwork together in order to get you started on the right path and limit delays. Those that have served 90 consecutive days of active military duty (with at least day occurring during a U.S declared war) already partially qualify. Other financial and physical health criteria is needed to determine the rest of your qualifications.
Needed documentation:
Original discharge certificate
Marriage certificate and/or divorce papers (if applicable)
Death certificate of Veteran (if applicable)
Social Security Number for both Veteran and spouse
Financial documents (showing total assets in addition to a record of your total gross income vs your medical deductions)
Medical forms (Veterans or their spouses must present a physical need for homecare services)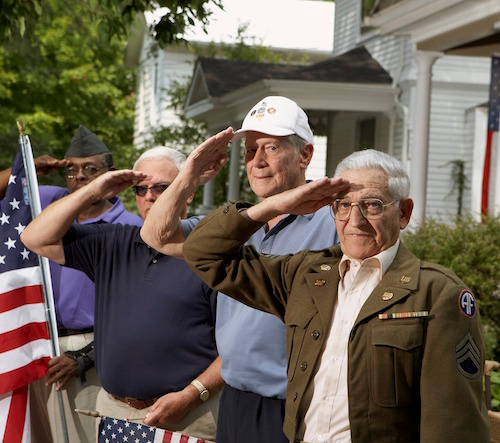 How Our Homecare Services Help

Our services include personal care, housekeeping, transportation, and companionship- all right inside the comfort of your loved one's home! These services support a loved one's daily living needs in addition to creating an environment that is rich in health and happiness. All plans are personally tailored to each individual that we help in order to better meet their needs.
Comfort Keepers Guarantee
When your loved one is with one of our home caregivers, you know they are in good hands. We diligently work to make sure only the best join our team, and do so by placing each candidate through an approval process that includes a background check and drug screening. After qualifying as a caregiver, each individual is fully trained before going on to perform our homecare services.
Curious if you qualify for Veterans care? We're just a click or a phone call away! Reach out to our experts online or by phone at (763) 450-1500. We can help you get the information you need, and get care started as soon as possible.


Northwest Metro VA Clinic
7545 Veterans Drive
Ramsey, MN 55303
(612) 467-1100
https://www.minneapolis.va.gov/locations/NorthwestMetro.asp
St. Cloud VA Medical Center
4801 Veterans Drive Building 48-237
St. Cloud, MN 56303
(320) 252-1670
https://www.stcloud.va.gov/
Minneapolis VA Health Care System
1 Veterans Drive
Minneapolis, MN 55417
(612) 725-2000
https://www.minneapolis.va.gov/
*Please note that we do NOT accept American Veterans Care Connection (AVCC)