More Home Care Solutions From Comfort Keepers Serving Clinton Township, MI, and our surrounding area
Medical alert systems that extend the reach of caregiving
Comfort Keepers SafetyChoice® medical alert systems, medication management tools, and home monitoring devices provide seniors and their caregivers with affordable, dependable protection and safety. Our home care solutions via SafetyChoice® products allow seniors to securely keep their independence while also improving their quality of life!
---
Support for your family only takes
---
Seniors living at home alone can face risks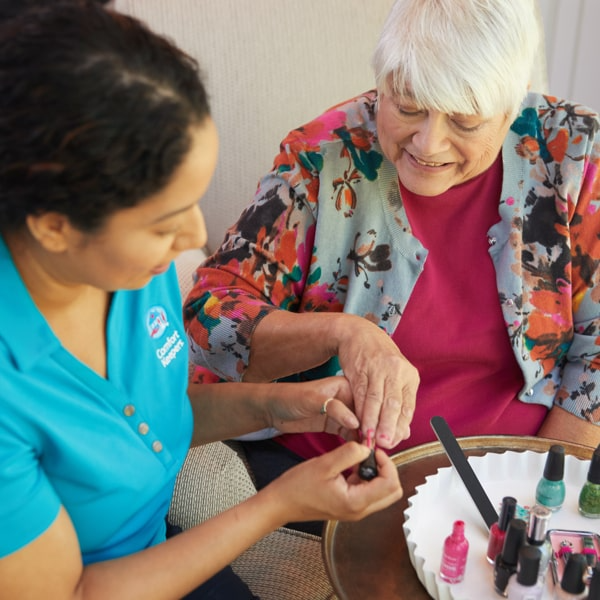 Taking a fall, for example, might put a senior's health and well-being at risk which can lead to more serious health issues if they are not attended to right away. It's just as harmful to take a prescription drug in excess or not take it at all. Disorientation and confusion are common side effects of Dementia which can cause serious problems if they are not accompanied by a caregiver.
As a result, many families are faced with the challenge of combining respect for a loved one's freedom with the desire to provide them with home care assistance. Nobody likes to be intrusive, but every family is concerned about the period between visits when their loved one is alone and not receiving the love and attention from their family.
Comfort Keepers provides more than just in-home care; we also assist seniors and their families in overcoming these problems with our comprehensive array of in-home safety devices and other home care solutions.
We're always here, so you can have a well-deserved break
You want to do what's best for your family member. This means having someone there to provide in-home care whenever it's needed. If you're trying to care for someone on your own, this isn't always possible.
When you are unable to be present, our SafetyChoice® products give peace of mind to not only you but your loved one knowing that no matter what they always have a backup for help. Contact the Comfort Keepers of Clinton Township, MI office now to arrange for an in-home consultation. We'll help determine the best answer for your circumstances and educate you about our care options available to you and your senior loved one.
Many seniors who live at home benefit from the use of security devices like door and window alarms, pressure mats, and motion detectors to help keep their homes safe and organized.
Our medication control devices assist loved ones in keeping track of their prescription regimen on a daily basis to ensure they receive the proper dosage without ever questioning if they have taken too little or too much.
During a fall, unexpected sickness, or prescription error, these two-way devices allow seniors and others to communicate with one another in real-time via voice communication. The use of these gadgets provides seniors and their families with a degree of peace of mind when their mobility deteriorates.
Our SafetyChoice® care items communicate with the SafetyChoice® Centralized Monitoring Station, which is manned 24 hours a day, 7 days a week by compassionate, experienced employees who are ready to assist if anything were to ever go wrong to your senior loved one. The staff responds quickly and will remain on the phone with you until assistance comes and helps your loved one with whatever issue they may be experiencing.
Request a Phone Call
A Comfort Keepers home visit will help determine the specific needs and demonstrate how these home care solutions can help your senior stay safe while maintaining independence in their home. Contact our office today to learn more or call us (586) 200-6712.