What Routine Eye Exams Can Reveal About Your Health
June 20, 2019 by Richard Howe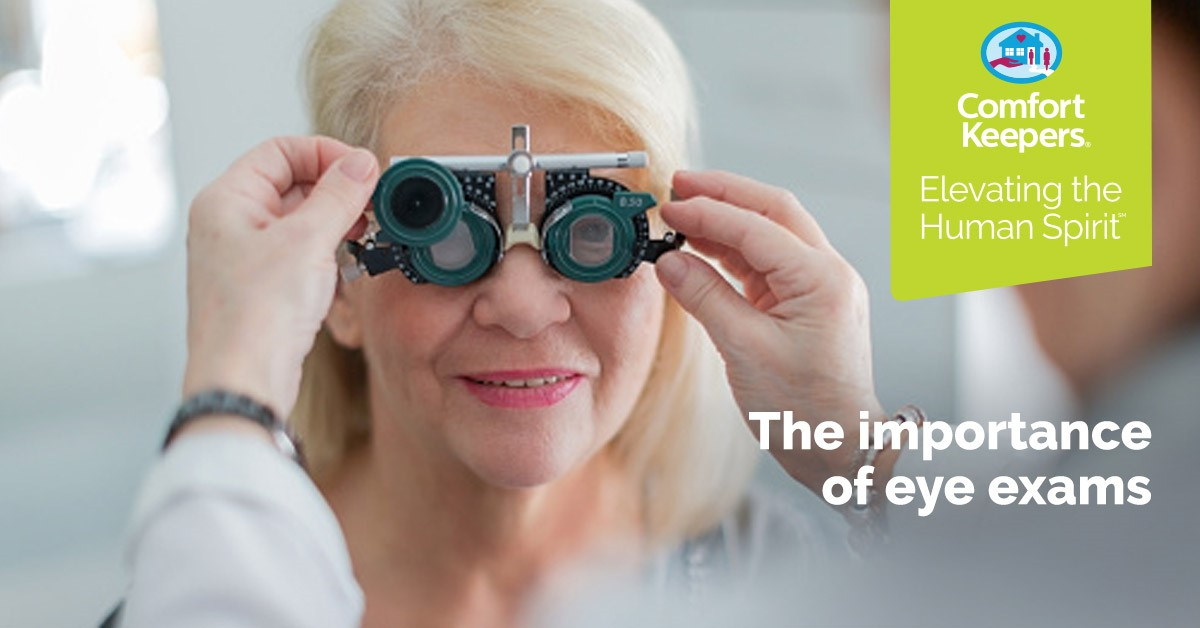 Regular eye exams are even more important as you reach your senior years. After turning 60, several eye diseases may develop that can permanently affect your vision. A comprehensive dilated eye exam by an optometrist or ophthalmologist (eye doctor) is necessary to find eye diseases early, when treatment to prevent vision loss proves most effective.
There are warning signs for age-related eye health problems that could cause vision loss, but many eye diseases have no early symptoms. They may develop painlessly, and you may not notice changes to your vision until the condition has already progressed. Of course, see your eye specialist immediately if you notice changes in your vision. Here are some vision disorders all seniors should know about:
Age-related macular degeneration (AMD) is an eye disease that affects the macula (the center of the light-sensitive retina at the back of the eye) and causes central vision loss, while peripheral (side) vision remains unaffected. The macula allows us to see fine detail and colors. Activities like reading, driving, watching TV, and recognizing faces all require good central vision.
Cataracts are cloudy or opaque areas in the normally clear lens of the eye. Depending upon their size and location, they can interfere with normal vision. Usually cataracts develop in both eyes, but one may be worse than the other. Cataracts can cause blurry vision, decreased contrast sensitivity, dulling of colors, and increased sensitivity to glare.
Diabetic retinopathy is a condition that occurs in people with diabetes. It is the result of progressive damage to the tiny blood vessels that nourish the retina. These damaged blood vessels leak blood and other fluids that cause retinal tissue to swell and cloud vision. The condition usually affects both eyes. The longer a person has diabetes, the greater the risk for developing diabetic retinopathy. At its most severe, diabetic retinopathy can cause blindness.
Dry eye is a condition in which a person produces too few or poor-quality tears. Tears maintain the health of the front surface of the eye and provide clear vision. Dry eye is a common and often chronic problem, particularly in seniors.
Glaucoma is a group of eye diseases characterized by damage to the optic nerve, resulting in vision loss. People with a family history of glaucoma and older adults have a higher risk. Glaucoma can be painless, with no symptoms. It can take away peripheral (side) vision.
Retinal detachment is a tearing or separation of the retina from the underlying tissue, and most often occurs spontaneously due to changes to the gel-like vitreous fluid that fills the back of the eye. Other causes include trauma to the eye or head, health problems like advanced diabetes, and inflammatory eye disorders. If not treated promptly, it can cause permanent vision loss.
Other Conditions Eye Exams Can Reveal About Your Health
During your eye exam, visual acuity (sharpness), depth perception, eye alignment, and eye movement are tested. Eye drops are used to make your pupils larger so your eye specialist can see inside your eyes. In addition to eye health, he or she may spot other health conditions, too.
Diabetes: Diabetes affects the small capillaries in the eye's retina. These blood vessels may leak blood or a yellowish fluid, which may be discovered in an eye exam. If your eye specialist notices this, you may have a condition called diabetic retinopathy.
Hypertension: Blood vessels in the eye may exhibit bends, kinks, or tears, which may indicate high blood pressure, a known risk factor for heart disease, diabetes, metabolic syndrome, and other illnesses, including blindness.
Autoimmune disorders: If the eye is inflamed, this may be a sign of Lupus or another disorder.
High cholesterol: The cornea may have a yellowish appearance or a yellow ring around it which can be a sign of high cholesterol. There also may be plaques in the blood vessels of the retina, which could indicate elevated cholesterol.
Thyroid disease: One of the signs of thyroid disease are bulging eyes or protruding eyeballs. This condition is also known as Graves Disease.
Cancer: Just like you can get freckles and melanoma on your skin, you can also get skin cancer of the eye. If you see a speck in your eye, ask your eye specialist to examine it. He or she will also check your eye color and pattern to make sure everything looks normal.
Tumors: You will be checked for blurry vision, improper pupil dilation (one eye dilating more than the other or remaining fixed), and optic nerve color. If something seems irregular, you may be referred to a neurologist.
Mental Health: People with mental illnesses like schizophrenia and bipolar disorder usually have different eye tracking patterns. Eye specialists can now map those movements through technology.
Aneurysm: Tell your eye specialist if you're experiencing blurry vision, eye pain, headaches, or loss of vision. You will also be checked for drooping eyelids (a sign that a blood vessel may have ruptured or is leaking), increased pressure in your eye, bleeding in the retina, and swelling of your optic nerve. Crossed eyes can be a sign of bleeding in the brain, possibly from an aneurysm, or even a stroke.
Multiple Sclerosis: Most eye tics are benign, but can also be an early indicator of neurological diseases like multiple sclerosis and Parkinson's. Your eye specialist can help with early diagnoses by checking for anomalies in your retina and optic nerve.
Vitamin A Deficiency: If you're not getting enough fruits and veggies (from foods like sweet potatoes, greens, cantaloupe, and carrots), you may develop night blindness and vision loss. Your eye specialist will check the surface of your eye for damage. Mention if you're having trouble seeing at night.
Comfort Keepers® can help. Our caregivers, or Comfort Keepers®, can help establish a daily routine with your loved one that promotes good health and independent living. We can also make sure that your loved one has transportation to and from medical appointments. Call your local office today to find out about all of the services that we can provide.
References:
American Optometric Association. "Adult Vision: Over 60 Years of Age." Web. 2016.
YourSightMatters.com. "7 Health Problems Eye Exams Can Detect." Web. 2016.
Centers for Disease Control and Prevention (CDC). "Keep an Eye on Your Vision Health." Web. 2016.