Local High-Quality In Home Care For Seniors
Housekeeping services in home care for seniors
It's great that so many of Overland Park's elderly can grow old with dignity and independence in their own comfortable homes. Comfort Keepers in home care for seniors help to make this possible.
Thanks to the increase in compassionate caregivers, aging in place have now become the new norm. Sometimes, older adults need an extra pair of hands to help maintain the home. We can help.
Domestic housekeeping might sound menial, but it is in fact an invaluable senior service. A clean and organized home has more benefits than just looking nice.
In home care for seniors helps to improve psychological wellbeing
The home is rid of germs that might otherwise linger on surfaces
Cupboards and refrigerators always free from spoiled or outdated foods
Cleaned electrical appliances reduce fire hazards (toasters, stoves, and ovens)
These are basic chores that younger adults don't have to think about. Yet they are everyday tasks that prove difficult or even impossible for seniors to keep on top of.
Hygiene & Safety Issues In Home Care For Seniors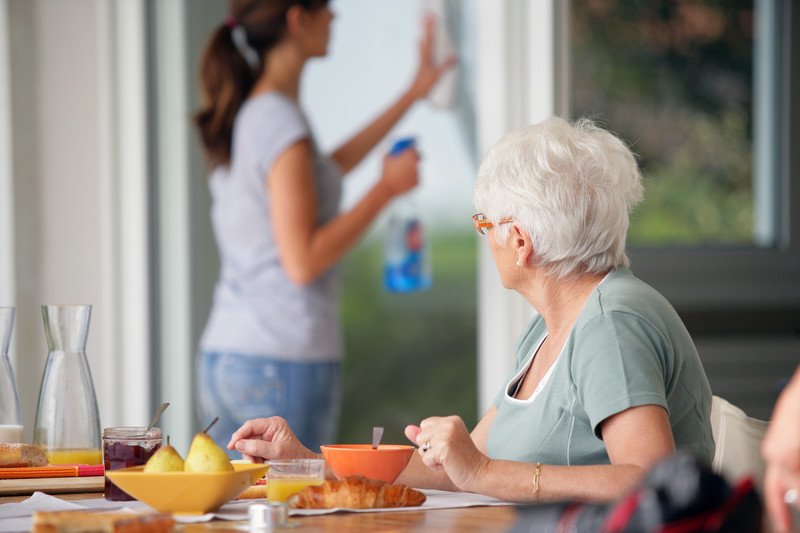 Comfort Keepers of Overland Park, KS, are thorough in our housekeeping services. We disinfect and wash all surfaces. This prevents our clients from suffering from accidental viral or bacterial infections.
We take regular checks of all perishable foods. This removes the risk of accidental consumption and so averts the danger of food-borne illnesses. And cleaning electrical appliances reduces fire risks.
Getting around often becomes more difficult with age. It's why Comfort Keepers of Overland Park make sure walking areas remain clutter-free and well-organized for the senior.
Basic housekeeping services are menial by nature, yet potentially lifesaving, and that's the point. These simple duties allow clients and their families to enjoy real peace of mind.
Tailored Housekeeping At Your Service
No two people are the same. Living environments, ability levels, needs, and expectations, will always differ. It's why Comfort Keepers tailors plans so that we can meet the exact wishes of our clients.
Our general caregiving can include a range of services, for example:
Light housekeeping
Laundry (includes changing bed linens)
Gift wrapping
Home organization
Incidental transportation
Meal preparation and cleanup
Medication reminders
Running errands
Shopping: groceries, clothes, gifts, etc.
supervised grooming
Other types of general in home care for seniors on request
Let Us Free Up Quality Family Time
Time with close relatives is precious. Yet many family members feel obliged to clean up the parents or grandparent's homes when they come to visit. Let us do the cleaning so that they don't have to.
Comfort Keepers of Overland Park can take care of all your housekeeping needs. With the help of our compassionate caregivers, you get to spend more quality time with your loved ones.
Whether you need a little help a couple of times a week or daily assistance, our in home care for seniors can help. Contact us today and learn of our custom care plans for older adults in the area. A free and friendly consultation in-home care customized solutions are just a phone call away.
You can reach us today at (913) 210-0631.