Dementia Care & Alzheimer's Care in Hiram, GA, and surrounding areas
Comfort Keepers offers a full range of dementia and Alzheimer's care in Hiram, GA
Caring for an elderly loved one can be very challenging, but when you add in Alzheimer's disease or any other form of dementia, life can become physically, emotionally, and mentally exhausting. Few families ever realize just how hard providing this level of care can be when they make the decision to do so instead of placing their loved one in a nursing home or assisted living facility. It takes a very special level of dedication to keep up this kind of work, but before you run yourself ragged, consider the many different forms of dementia care and Alzheimer's care offered by Comfort Keepers of Hiram, GA.
We offer one of the best selection of dementia care plans in the nation. Many of our caregivers have attended highly specialized training to help them better understand those who are suffering from the many different forms of dementia. As you may already know Alzheimer's and indeed most forms of dementia slowly rob a person of their memories. At the same time, these illnesses also rob the person of their ability to perform many of the most basic tasks they have been doing all their lives.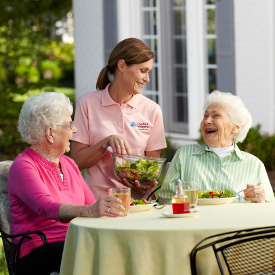 What is Dementia and Alzheimer's?
In general, dementia is a decline in mental ability, such as memory loss or an inability to complete familiar tasks, serious enough to interfere with a person's daily life. Alzheimer's disease is the most common type of dementia, accounting for 50 to 80 percent of dementia cases. Our dementia care & Alzheimer's care services help people with these symptoms by focusing on their remaining abilities and strengths while assisting with tasks that have become difficult for the client to perform.
Our Dementia Care & Alzheimer's Care Plans Are Here to Help
Thanks to the mental issues caused by dementia and Alzheimer's disease, many seniors can be challenging to work with. What they remember today might be forgotten by tomorrow. Memories often come and go so quickly for them that they pose a safety risk to themselves. As part of our no-cost in-home consultation, a senior advisor will assess your home for any issues that might pose a safety risk. Our dementia care team will also be happy to go over our many different programs with you to decide what level of care your loved needs. The idea is for a caregiver to be there when they are needed to help not only with caring for your loved one but also to help out around the house with a wide range of homemaking and personal care tasks so that you and your family can take a well-deserved break and recharge your own batteries.
Interested In Learning How We Can Help?
If you are interested in how our dementia care or Alzheimer's care plans in Hiram, GA can help, we ask that you contact us through our online form or by calling at (770) 268-3867. We have a team of senior advisors on staff 24 hours a day, 7 days a week to take your call and answer your questions. They can then schedule your free in-home consultation where an advisor will go over your needs and work with you to develop the best possible dementia care plan.