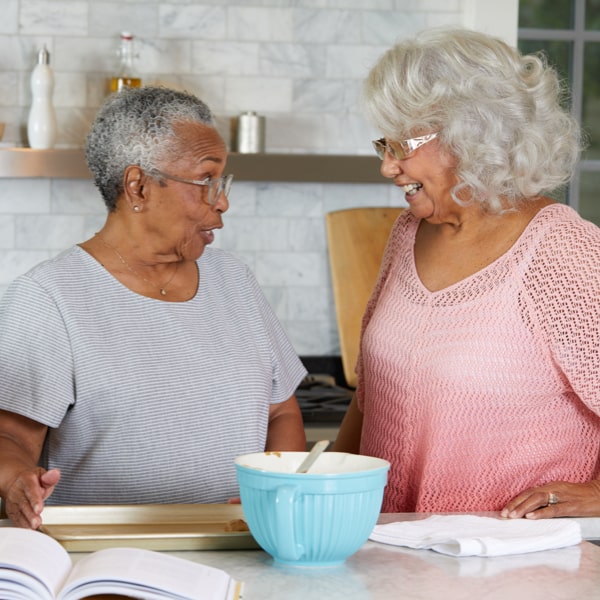 Home Care Services & Solutions in Atlanta, GA, and surrounding areas
How will Comfort Keepers home care services assist your family throughout the Atlanta area?
At Comfort Keepers Home Care services in Atlanta, GA, our expert staff has prepared various seniors in-home care resources that can allow you and your loved one to learn more about each care service we provide. Here, you can read more about the benefits of care services such as respite care, Alzheimer's and dementia care, and transitioning care. 
You can also gain a better understanding of our unique approach to care, known as Interactive Caregiving. Interactive Caregiving is the idea that a healthy senior engages both their mind and body through exercise, socializing and other activities. We believe that every senior deserves the best care possible, so we take a unique approach to each senior and compile care services that will help their specific situations.
Home Care Solutions
When it comes to home care services, there is no one more trusted than Comfort Keepers. The wide array of in-home care plans ensure that your loved one can get the home health aide they require to better preserve their health, happiness, and independence. Our senior caregivers handle every care situation with respect, professionalism, and tenderness. Our Comfort Keepers can provide all types of care, from bathing and hygiene to meal preparation and companionship. No matter what type of care is required, Comfort Keepers is right there to assist and make every senior comfortable.
Every Comfort Keepers Home Care services office delivers essential personal care, companionship, and many other services. Our mission is to help seniors live independently and healthy at home. If you are ready to take the next step and talk to us about your loved one's option, one of our trusted care coordinators will be more than happy to offer guidance every step of the way. What are you waiting for? Give us a call today at (404) 594-8965 to get started with peace of mind, expert in-home care, and more.