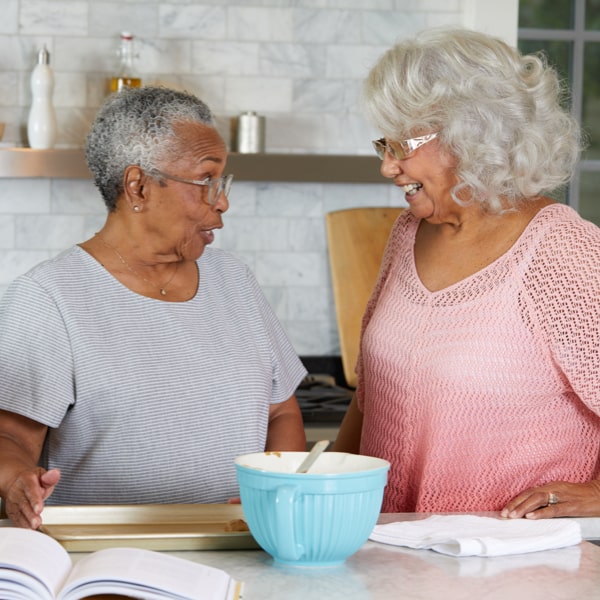 Comfort Keepers Home Care Services in The Villages, FL
Learn about how home care services can help your family in The Villages, FL, and surrounding areas
Comfort Keepers Home Care Services in The Villages, FL is proud to support local seniors and their families. We are pleased to provide seniors with many different types of senior care and are committed to helping them live independent and fulfilling lives in the comfort of their own homes. Many seniors have lived beautiful lives within the walls of their homes, and we understand that they may not wish to relocate simply because they may need a little extra help. This is why we offer a range of home care services designed to meet each of their needs.
Our general in-home care services will provide personal and companionship tasks – from bathing help to laundry, to grocery shopping, we will be there for your loved one. We also provide respite care as needed, a type of service where family caregivers can take some time for themselves with a well-deserved break to relax and recharge.
Comfort Keepers is also proud to offer specialized home care services such as dementia and Alzheimer's care, end of life care, and transitioning home from the hospital. No matter what your loved one's situation is, we will be there for you. Whether it's stimulating their mind with memory games, providing support to your palliative care provider, or helping them transition home from surgery, Comfort Keepers will provide an experienced caregiver to assist your family.
Each of our home care services involved Interactive Caregiving, a Comfort Keepers unique program that goes above and beyond typical in-home care. Interactive Caregiving promotes activities that will enhance their lives physically, mentally and socially. This can include encouraging seniors to interact with their neighbors and family, going on walks, preparing a meal together and much more.
Think your family may benefit from seniors in-home care? Don't hesitate to give us a call and we will set up a free in-home consultation.
Elder Care Services Coordination in The Villages, FL, and surrounding areas
At Comfort Keepers of The Villages, FL we understand the powerful and emotional connection that staying in the home in which they've built a lifetime of memories brings to a senior. By offering elderly care services coordination in The Villages, we can assist with a wide variety of things, including basic home maintenance tasks, caring for a home pet, or even set-up of new technologies so your senior loved one can stay in contact with family members more easily. These in-home care services allow your loved one to live in a more secure and peaceful environment and also allow you to have a renewed peace of mind. If you do not live near your senior loved one you can still rest assured that our Comfort Keepers in-home care team is overseeing any snow or leaf removal from their property, that lawn maintenance is taken care of, and that any repairs are scheduled and put into place.
Home Care Services Coordination can help your loved one with the following:
Pertinent home maintenance and repairs
Appliance repair or replacement
Gardening or weeding the lawn
Lawn care and snow removal
Upgrades to safety items and home modifications
Caring for pets
Set up assistance for technology (networking, TV, home security systems, etc.)
Could one of your loved ones benefit from this extra assistance? Our elderly care services are here to help. Contact our Comfort Keepers of The Villages, FL today, or give us a call!
Specialized Care At Home Provided by Comfort Keepers of The Villages, FL
Each senior is different. This means that the care at home that they receive has to be different, and that's what we pride ourselves on. To provide each one of our senior clients with customized seniors in-home care services that are specific to his or her needs, we offer a very specialized in-home care service. The options for your loved one range from personal care services to incidental transportation. Whether your senior loved one needs help with simple everyday activities, with dementia or Alzheimer's care, or with transitioning home after hospital discharge, our Comfort Keepers care at home will be right there to ensure your loved one is cared for. Sometimes it is difficult to navigate the daily challenges of life when there is specialized care needed - but not when you involve our team of experts that are here to help at all times. Our specialized care programs can help your senior loved one stay safe and comfortable in his or her home for as long as possible.
Our Specialized Elder Care Services Includes:
Alzheimer's Disease Care
Dementia Care
Parkinson's Disease
Diabetes and other conditions
Hospice care and support
Transitioning Services
Do you think your loved one could benefit from help at home from our home care services? Comfort Keepers care at home of The Villages, FL is here to help! Give us a call today at (352) 221-9583 to learn more about our professional home care services.