World-Class Home Care Services in Vacaville, Fairfield, and Surrounding Areas
Welcome to Comfort Keepers - one of the leading home care providers for seniors in Vacaville, Fairfield, and the surrounding area. Finding the proper care provider for an aging loved one can be a daunting task. Comfort Keepers provides seniors with relief and peace of mind by offering high-quality care and helping seniors live comfortably at home. Our team is devoted to providing seniors with the best possible quality of life. We can help with a wide range of needs, such as daily assistance so they can continue living on their own, assisting with bathing or dressing, providing nutritious meals each day, or just being there for companionship.
What Sets Our Care Apart
Comfort Keepers offers world-class home care. As a leading care provider for seniors and disabled adults, two differentiators set us apart from other senior care providers.
World-Class Care Management
We act like family members to coordinate all of our resources to take care of your loved one. We can help schedule meal delivery, provide transportation to the doctor, offer respite care coverage when a family member needs the day off, and more.
You'll have a dedicated Scheduler, Lead Caregiver, and Director of Client Care. The Director of Client Care oversees all care and caregivers and creates monthly care goals, while the Lead Caregiver is in the home every week to support the caregiver(s). If there's ever a change in caregivers, it's a seamless transition because of the dedicated Lead Caregiver.
Each day by 10 a.m., all shift notes are reviewed by the Client Care Team. We will inform families within 12 hours of anything they should be aware of (ex: if the client has a cough, didn't eat, etc.). We coach and train all of our caregivers on how to take proper notes. If any issues arise, we find them within 24 hours and will have a resolution within 72 hours. This level of care is unique in the Vacaville area.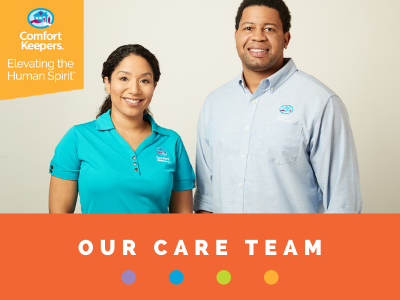 World-Class Training
To provide the best care, we have to have the best caregivers. After interviewing and passing a background check and screening, every caregiver goes through 20 hours of orientation. After this, they will partake in a skills lab, receiving hands-on training. CK University rounds out this exceptional training. This seven-week training class is all in person and not computer-based. Once a caregiver is fully trained, they are well equipped to provide your loved one with a comprehensive range of senior care services.
Interested in Becoming a Comfort Keeper?
As a Comfort Keeper, you'll have the opportunity to grow your career in many different ways. You'll help people maintain a senior's independence and dignity. You will be trusted with elderly clients' care. You'll provide companionship and stay in their homes as if you were one of the family. And you'll be helping to make a difference in their lives every day. Click the button below to apply to one of our open positions.
Benefits of Being on Our Team:
Competitive Pay

Medical Benefits

Paid Training

Friendly Environment

Shift Flexibility

24/7 Support

Proper COVID-19 Precautions

Work Close to Home
Learn About Our Services
Our caregivers offer a wide range of services to help seniors live their best lives every day. We define our services into two branches: in home care and specialized care. Some of the services we offer include:
In Home Care
Personal Care:

dignified assistance with personal tasks like bathing, dressing, and grooming.

Seniors & Technology:

we will help seniors utilize modern technology to stay connected to friends and family.

Companion Care:

our caregivers will help seniors with daily tasks and partake in their favorite activities.
Specialized Care
Private Duty Nursing:

licensed practical nurses (LPNs) and registered nurses (RNs) provide medical support in the home.

24 Hour Care: around-the-clock support for seniors needing care morning, day, and night.
Post-Hospital Care: our team helps seniors recover from hospital stays and avoid re-hospitalization.
Schedule Your Free Consultation
To learn more about Comfort Keepers and our home care services in Vacaville, Fairfield, and the surrounding cities, contact our office today. Our staff will be happy to answer your questions about our care plans and schedule a free, no-obligation assessment with one of our care coordinators. To get started, please click one of the buttons below:
Call Us Today Fill Out Our Form
---