Risk Factors for Osteoporosis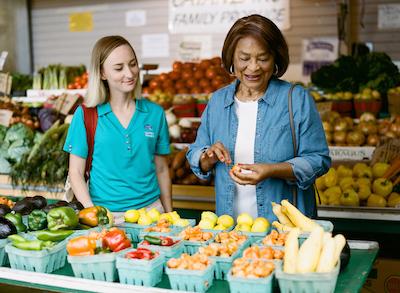 Seniors suffering from osteoporosis often don't experience any symptoms of the disease until they get a fracture. According to the National Osteoporosis Foundation, approximately 10 million Americans have osteoporosis, and another 44 million have low bone density. That means half of all adults over age 50 are at risk of breaking a bone.
While bone density naturally decreases with age, osteoporosis is a preventable, and treatable, condition.
Prevention strategies for osteoporosis:
Diet – Getting the right vitamins and nutrients is critical for seniors that want to prevent osteoporosis. Malnutrition can also contribute to the disease and can be a concern for older adults. A healthcare professional can help seniors evaluate their eating habits and will suggest improvements to keep bones healthy.
Activity – Seniors should always consult a physician before starting any new exercise program. Weight bearing exercises, if approved by a doctor, can be particularly helpful in preventing osteoporosis. This can include dancing, weight training, walking or jogging and other activities that get someone up on their feet.
Healthy habits– Smoking, or inhaling second hand smoke, can increase risk for osteoporosis. Alcohol consumption can also contribute to low bone density.
For those diagnosed with osteoporosis, or osteopenia (low bone mass), there are treatments available. Physical therapy, medication and lifestyle changes can help seniors maintain healthy bones and can also help prevent falls for those already at risk. Older adults that are concerned that they may have osteoporosis can discuss screening options with their healthcare team.
Comfort Keepers®Can Help
If someone is suffering from osteoporosis, the trusted care team at Comfort Keepers®can help. Our caregivers can assist with meal preparation, medication reminders and can support physician-prescribed exercise regimens and diets. Our goal is to see that clients have the means to find the joy and happiness in each day, regardless of age or acuity.
To learn more about our in-home care services, contact your local Comfort Keepers location today.
References
International Osteoporosis Foundation. "Preventing Osteoporosis." Web.
National Institute on Aging. "Osteoporosis" Web.2017.
Womenshealth.gov. "How can I prevent Osteoporosis" Web. 2016.