All "Senior Independent Living" Articles
Keeping Seniors Safe in the Bathroom
Bathrooms can be quite hazardous ─ especially for seniors. Bathrooms typically have slippery surfaces, and nothing dependable to grasp in order to prevent falls.
Elderly Home Care and Depression
It is important to recognize depression symptoms when caring for an elderly loved one. While seniors aging in their own home can help them maintain their independence, it can also be isolating.
Seniors and Kitchen Safety: Tips for the
What's considered a primary gathering place in the home can become a nightmare for seniors. People age 65 and older have a 2.5 times greater risk of dying in a kitchen fire than the general population. When's the last time you looked for potential hazards
Healthy Eye Care and Nutrition
Changes to vision and concerns about eye health can happen rapidly for older adults. Seniors should get a vision test once a year and should always follow a doctor's recommendations on treatment plans and vision health. Here are eight strategies for seniors to maintain eye health:
Alcohol Consumption in Seniors: A Delicate Balance
Numerous studies on the effects of alcohol consumption in seniors indicate that moderate drinking by seniors can have a positive impact on general health. However, there is also a concern that heavy drinking can have adverse effects, and that alcohol abuse is often missed in the senior population.
Monday, January 12, 2015

Contact an office in your area »
Home Adaptations for the Visually Impaired
While the rates of eye disease and vision loss are rapidly increasing in the senior population, this does not necessarily mean that more seniors will need to be confined to homes and facilities so they can live safely. Making simple adaptations to their personal home environments can allow low-vision seniors to live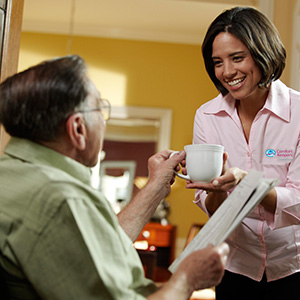 independently within their own communities, which can, in turn, improve their overall quality of life. The American Foundation for the Blind offers a number of useful tips for modifying the home to make it a safe environment for those who suffer from vision loss.
Falls are a major risk for seniors, and fall risk increases with age. Older adults also have greater difficulty recovering from falls, which means a fall could precipitate a number of health problems. Couple this age-related increase in fall risk with vision loss, and you could have a recipe for disaster. It is therefore essential to address this risk in low-vision seniors through home modifications:
Remove or replace old, worn, or wrinkled carpeting or rugs that could trip the person.
Use non-skid flooring or clean floors with no-skid products that reduce shine.
Remove trip hazards, such as loose wires that run along floors or clutter in walkways.
Make sure furniture does not extend out into walkways and that dining room and desk chairs are pushed in after use.
Make walkways clearly visible using bright, highly contrasting, colored tape to outline the edges of hallways, doorways, ramps, stair steps, and stair landings.
Make sure the home has sufficiently bright, uniform light in all areas, especially in hallways.
Install grab bars in bathrooms and other areas of the home where they may be needed and provide railings that extend beyond the bottoms and tops of stairways.
You can also help low-vision seniors remain independent and help them function with other modifications:
Buy furniture that is textured for easy identification; also use texture to identify items like light switches, the end of banisters, and appliance switches.
Control glare in the home using window blinds and drapes and by hanging mirrors at a level or in an area where they will not produce glare.
Ensure there are adjustable lamps in reading and task areas.
Use bright, contrasting colors throughout the home so the senior can differentiate between items and areas.
Many home modifications are simple and inexpensive or can be done gradually over time as the older adult loses more of his or her vision. While the lists above cover many of the broader changes, it is not comprehensive, so seniors should consult with their local associations for the blind or the references below for more information.
Offering support can also help alleviate much of the anxiety low-vision seniors may experience as their vision decreases and can help them function at near-normal levels in their own homes. While family and friends can often help, they may find it difficult to be there at the times when the senior may need it the most. Professional caregiving can help low-vision seniors manage their daily lives when family and friends are unable to be there.
For more information on how in-home care can assist low-vision seniors, contact your local Comfort Keepers® today.
Centers for Disease Control and Prevention. (2011). The state of vision, aging, and public health in America. Retrieved from http://www.cdc.gov/visionhealth/pdf/vision_brief.pdf.
---

Contact an office in your area »
Sign up to receive helpful info right to your inbox.
We understand choosing an in-home care provider can be a difficult decision, and we want to make your journey as easy as possible. We're here to support you by providing helpful senior care tips and information on in-home care and senior health and wellbeing topics.
First, let us know when is care needed:
Filed Under:
Disability
Safety
Accessibility & Home Modifications
Eye Diseases