All "Senior Health & Wellbeing" Articles
Nutrition That Nourishes the Heart and Mind
No matter our age, eating food that nourishes is important for our bodies, minds, and quality of life. But as our bodies change with age, so does what we need to stay healthy. When older adults choose the food that nourishes them, they have the energy to do the things they love every day.
The Respiratory System: Age-Related Changes & COPD
The respiratory system, like many of the other human systems (e.g., cardiovascular, digestive), is a wondrously complex and sophisticated arrangement of organs working together to maintain homeostasis.
Elderly Home Care and Depression
It is important to recognize depression symptoms when caring for an elderly loved one. While seniors aging in their own home can help them maintain their independence, it can also be isolating.
Looking Forward to Fall and Winter - Activities for the Colder Months
As we enter the fall and winter season this year, things look a little different. It's important for seniors to work with their families, caregivers and health professionals to develop a plan that allows them to safely take part in activities they love and maintain positive mental health through activity and connection.
What Does a Heart Attack Look Like?
Most of us have a specific idea of what a heart attack looks like: someone feels an abrupt, strong pain that causes them to stop in their tracks and clutch their chest.
Monday, February 13, 2017

Contact an office in your area »
Seniors and Kidney Health
What Do the Kidneys Do?
Physical well-being is contingent upon the health of all of our organs, and while the areas of focus for seniors may often be the heart and brain, the kidneys are just as important and should demand the same level of care and attention.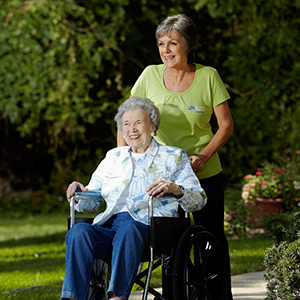 Located to the left and right of the spine, below the rib cage, these bean-shaped organs may not always be top of mind, but the importance of their roles in supporting the body's equilibrium cannot be overstated. In addition to filtering the blood and removing waste and excess water from the body, the kidneys also control blood pressure, produce essential hormones, and balance pH levels.
Chronic Kidney Disease
As we age, it can be a difficult for the kidneys to function at their optimum level.
Additionally, certain conditions and factors – such as high blood pressure, diabetes, and obesity – can negatively affect the functionality of the kidneys, potentially resulting in chronic kidney disease (CKD). Generally, CKD is defined as the loss in kidney function over an extended period of time. Symptoms do not usually manifest until the disease is in an advanced stage, but they include:
Increased fatigue
Constant thirst
Shortness of breath
Skin rashes
Difficulty managing diabetes or high blood pressure
As these symptoms are subtle and can apply to any number of other conditions, the only way to know if you have kidney disease is through blood and urine tests. If CKD goes unchecked, not only do wastes continually collect in the body, but it may even lead to kidney failure – meaning that the kidneys' functionality has been reduced to less than 15%.
Should kidney failure come into play, there are treatment options available, including dialysis or a kidney transplant. However, seniors do not have to wait for things to get worse before they can get better. Risk reduction, through adjustments in diet and lifestyle and diligent monitoring, can make a big impact on kidney health (and overall well-being). Here are some recommendations for seniors age 65 or older.
Ways to Support Healthy Kidneys
Diet
Drink plenty of water. As a general rule of thumb, stick to eight 8-ounce glasses (or about 2 liters) throughout the course of the day.
Consume foods low in salt, sugar, and fat – and look for labels that contain the words "whole grains"
Purchase fresh produce, instead of their canned or processed counterparts.
Discuss kidney-friendly diets, and any diet change in general, with a physician or dietician.
Lifestyle
Do not smoke, or take steps to quit smoking.
Limit alcohol consumption.
Incorporate at least 30 minutes of moderate physical activity into your daily schedule. Be sure to consult a doctor or physician before beginning any exercise regimen.
Maintain a healthy weight, and lose weight if you are currently overweight.
Health Monitoring
Rigorously manage blood sugar levels, especially if you have diabetes. Be sure to abide by your doctor's instructions in regard to insulin and blood sugar monitoring.
Keep blood pressure in check. Talk to your doctor about options for using anti-hypertensive drugs, designed to lower blood pressure, such as ACE inhibitors or angiotensin blockers.
Get an annual screening, especially if you have any of the risk factors associated with kidney disease.
Kidney Disease Is Not Inevitable
Seniors may feel they do not have a choice when it comes to the health of their kidneys. While it is true that kidney functionality does naturally diminish over time due to the decrease in kidney tissue and filtering units, advanced age does not solely trigger kidney disease. Encourage your senior loved ones to incorporate the tips listed above to help reduce the risk of kidney disease and other health conditions.
Comfort Keepers® Can Help
Our caregivers can help establish a daily routine and encourage your loved one to make healthy choices - to support not only the health of his or her kidneys, but also his or her overall well-being. Call your local office today to find out about how our in-home care services can help your aging loved one today.
References:
NIHSeniorHealth. "Kidney Disease" Web. 2016.
Better Health Channel. "Kidneys – Age-Related Problems" Web. 2016.
A Place for Mom. "The Connection between Diet and Kidney Damage" by Sarah Stevenson. Web. 2014.
---

Contact an office in your area »
Sign up to receive helpful info right to your inbox.
We understand choosing an in-home care provider can be a difficult decision, and we want to make your journey as easy as possible. We're here to support you by providing helpful senior care tips and information on in-home care and senior health and wellbeing topics.
First, let us know when is care needed:
Filed Under:
Kidney Disease
Treatments
Chronic Conditions
Signs & Symptoms
Nutrition
Diseases
Medical Conditions