All "Senior Health & Wellbeing" Articles
10 Activities for Seniors with Dementia or Alzheimer's
10 activities seniors with Dementia and Alzheimer's can do with caregivers or loved ones to bring joy and consistency into their everyday lives. In these routines, there are plenty of ways for family caregivers to cherish great moments and memories together.
Nutrition That Nourishes the Heart and Mind
No matter our age, eating food that nourishes is important for our bodies, minds, and quality of life. But as our bodies change with age, so does what we need to stay healthy. When older adults choose the food that nourishes them, they have the energy to do the things they love every day.
Finding Your Source of Joy
As we celebrate our third annual National Day of Joy, I took a moment to reflect and consider the true impact joy has on our lives. Science proves that attaining daily doses or joy – big or small – works wonders on our overall wellness, including our physical and mental health.
Keeping Seniors Safe in the Bathroom
Bathrooms can be quite hazardous ─ especially for seniors. Bathrooms typically have slippery surfaces, and nothing dependable to grasp in order to prevent falls.
Elderly Home Care and Depression
It is important to recognize depression symptoms when caring for an elderly loved one. While seniors aging in their own home can help them maintain their independence, it can also be isolating.
Seniors and Kitchen Safety: Tips for the
What's considered a primary gathering place in the home can become a nightmare for seniors. People age 65 and older have a 2.5 times greater risk of dying in a kitchen fire than the general population. When's the last time you looked for potential hazards
Saturday, August 12, 2017

Contact an office in your area »
Senior Suicide Prevention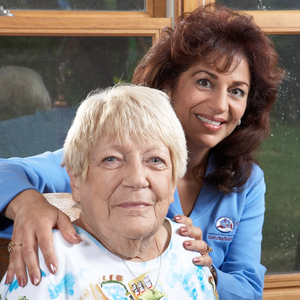 Many seniors enjoy their later years by spending time with family and friends, traveling and other activities that make their lives complete. After all, the golden years are supposed to be golden, aren't they?
While this is true for some seniors, others find these years overwhelming. The reasons vary and include loneliness and isolation after the loss of a beloved spouse, lasting complications or pain stemming from medical conditions, economic lifestyle changes, the stress of caring for a disabled spouse, the lack of the robustness of youth, or a combination of these and other factors.
Seniors experience occasional feelings of unhappiness or can become upset just as the rest of us do. However, some are unable to easily bounce back. Life seems unbearable and, unfortunately, for many, these thoughts lead to suicide. In fact, research shows the suicide rate for seniors across the nation is 50 percent higher than all other age groups combined.
Experts agree that suicide prevention is crucial. Friends and loved ones, as well as caregivers, should learn the basics of detecting susceptible seniors. This includes the risk factors, warning signs and preventative measures needed to protect seniors from suicidal tendencies.
While suicide is not always the end result of depression, those contemplating suicide often experience depression. Therefore, seniors in high-risk groups should be screened for depression. Experts describe depression as a terminal illness for some. For others, depression can be successfully treated. In any case, there are warning signs that may indicate the possibility of suicide.
Seniors at risk for suicide may exhibit some of the following behaviors:
altered sleeping patterns
changes in eating habits
disheveled appearance; poor grooming habits
lack of concentration
changes in behavior
isolation from family and friends
unexplained fatigue
loss of interest in things that were once important (work, activities, hobbies)
obsession with death
severe and uncontrollable mood swings
increased alcohol or drug abuse
giving away belongings
feelings of hopelessness; anxiety
lack of purpose
Be aware that suicidal tendencies are harder to detect in seniors than other age groups. Seniors experience a myriad of life-changing events so one might expect them to be depressed from time-to-time without realizing they are contemplating suicide. Many seniors, especially males, do not discuss feelings of discontent or hopelessness. They may feel embarrassed to do so. Therefore, it is important to be familiar with the facts: know that senior men commit suicide more often than their female counterparts; seniors who have recently lost a spouse, either by death or divorce, are at high risk for suicide; seniors who abuse alcohol and drugs also fall into the high-risk category.
If seniors portray symptoms of possible suicide risk, intervene immediately. Talk to seniors about their troubles and fears. Seek professional help and let them know they are not alone. This may seem a daunting task at first but can mean the difference between life and death.
Although depression is the leading cause of suicide among all ages, isolation is reportedly a high-risk factor of suicide among the senior population. Take steps to ensure the senior in your life is not left bereft and feeling alone. Visit often. Interact by playing games, dining together, or simply talking. Frequent visits help determine if seniors are doing well. Interacting provides the opportunity to look for and gauge the signs listed above in an unobtrusive way. Furthermore, these social calls may provide seniors something to look forward to, make them feel less isolated and give them a greater sense of purpose.
References:
Centers for Disease Control (2012). Suicide, facts at a glance.
Brody, Jane E. New York Times (2007). Preventing suicide among the elderly.
McIntosh, John Ph.D. How to help suicidal older men and women.

---

Contact an office in your area »
Sign up to receive helpful info right to your inbox.
We understand choosing an in-home care provider can be a difficult decision, and we want to make your journey as easy as possible. We're here to support you by providing helpful senior care tips and information on in-home care and senior health and wellbeing topics.
First, let us know when is care needed:
Filed Under:
Safety
Caregiver Resources
Mental Health