All "Senior Health & Wellbeing" Articles
Nutrition That Nourishes the Heart and Mind
No matter our age, eating food that nourishes is important for our bodies, minds, and quality of life. But as our bodies change with age, so does what we need to stay healthy. When older adults choose the food that nourishes them, they have the energy to do the things they love every day.
The Respiratory System: Age-Related Changes & COPD
The respiratory system, like many of the other human systems (e.g., cardiovascular, digestive), is a wondrously complex and sophisticated arrangement of organs working together to maintain homeostasis.
Finding Your Source of Joy
As we celebrate our third annual National Day of Joy, I took a moment to reflect and consider the true impact joy has on our lives. Science proves that attaining daily doses or joy – big or small – works wonders on our overall wellness, including our physical and mental health.
Elderly Home Care and Depression
It is important to recognize depression symptoms when caring for an elderly loved one. While seniors aging in their own home can help them maintain their independence, it can also be isolating.
Looking Forward to Fall and Winter - Activities for the Colder Months
As we enter the fall and winter season this year, things look a little different. It's important for seniors to work with their families, caregivers and health professionals to develop a plan that allows them to safely take part in activities they love and maintain positive mental health through activity and connection.
Thursday, April 18, 2019

Contact an office in your area »
Risk Factors for Osteoporosis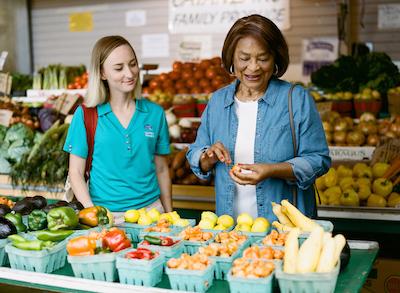 Seniors suffering from osteoporosis often don't experience any symptoms of the disease until they get a fracture. According to the National Osteoporosis Foundation, approximately 10 million Americans have osteoporosis, and another 44 million have low bone density. That means half of all adults over age 50 are at risk of breaking a bone.
While bone density naturally decreases with age, osteoporosis is a preventable, and treatable, condition.
Prevention strategies for osteoporosis:
Diet – Getting the right vitamins and nutrients is critical for seniors that want to prevent osteoporosis. Malnutrition can also contribute to the disease and can be a concern for older adults. A healthcare professional can help seniors evaluate their eating habits and will suggest improvements to keep bones healthy.
Activity – Seniors should always consult a physician before starting any new exercise program. Weight bearing exercises, if approved by a doctor, can be particularly helpful in preventing osteoporosis. This can include dancing, weight training, walking or jogging and other activities that get someone up on their feet.
Healthy habits– Smoking, or inhaling second hand smoke, can increase risk for osteoporosis. Alcohol consumption can also contribute to low bone density.
For those diagnosed with osteoporosis, or osteopenia (low bone mass), there are treatments available. Physical therapy, medication and lifestyle changes can help seniors maintain healthy bones and can also help prevent falls for those already at risk. Older adults that are concerned that they may have osteoporosis can discuss screening options with their healthcare team.
Comfort Keepers®Can Help
If someone is suffering from osteoporosis, the trusted care team at Comfort Keepers®can help. Our caregivers can assist with meal preparation, medication reminders and can support physician-prescribed exercise regimens and diets. Our goal is to see that clients have the means to find the joy and happiness in each day, regardless of age or acuity.
To learn more about our in-home care services, contact your local Comfort Keepers location today.
References
International Osteoporosis Foundation. "Preventing Osteoporosis." Web.
National Institute on Aging. "Osteoporosis" Web.2017.
Womenshealth.gov. "How can I prevent Osteoporosis" Web. 2016.
---

Contact an office in your area »
Sign up to receive helpful info right to your inbox.
We understand choosing an in-home care provider can be a difficult decision, and we want to make your journey as easy as possible. We're here to support you by providing helpful senior care tips and information on in-home care and senior health and wellbeing topics.
First, let us know when is care needed:
Filed Under:
Treatments
Signs & Symptoms
Nutrition
Diseases
Fitness
Osteoporosis