All "Senior Health & Wellbeing" Articles
10 Activities for Seniors with Dementia or Alzheimer's
10 activities seniors with Dementia and Alzheimer's can do with caregivers or loved ones to bring joy and consistency into their everyday lives. In these routines, there are plenty of ways for family caregivers to cherish great moments and memories together.
Nutrition That Nourishes the Heart and Mind
No matter our age, eating food that nourishes is important for our bodies, minds, and quality of life. But as our bodies change with age, so does what we need to stay healthy. When older adults choose the food that nourishes them, they have the energy to do the things they love every day.
The Respiratory System: Age-Related Changes & COPD
The respiratory system, like many of the other human systems (e.g., cardiovascular, digestive), is a wondrously complex and sophisticated arrangement of organs working together to maintain homeostasis.
Elderly Home Care and Depression
It is important to recognize depression symptoms when caring for an elderly loved one. While seniors aging in their own home can help them maintain their independence, it can also be isolating.
Wednesday, June 15, 2022

Contact an office in your area »
Preventative Care: A Five-Step Guide for Seniors and Family Caregivers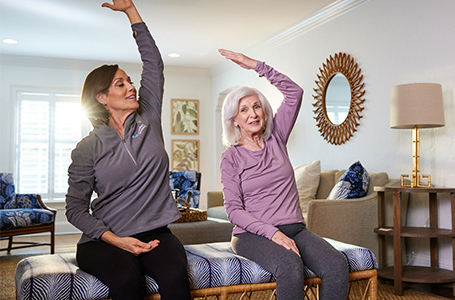 As people age, you can help them create a preventative care routine to keep them happy and comfortable for years to come.
While factors such as age, gender, and family history are beyond seniors' control, preventative care can reduce the frequency and severity of conditions that develop.
That can mean regular immunizations and wellness checks. For example, you can:
Get regularly scheduled vaccines
Schedule screenings for common diseases, conditions, and cancer
Create a healthier and more joyful lifestyle are all habits that can ensure better wellbeing
It's a good idea to join your family member for their appointments with healthcare providers to determine what the necessary steps are to help improve their health and protect them against sickness or injury.
As always, positivity and connection can be strong influencers of overall health.
Here are some ways to practice good preventative care:
Schedule Regular Screenings for Common Diseases and Conditions:
According to the National Institute of Aging, the most beneficial thing you and your loved one can do in a doctor's appointment is to be their notetaker. Make a list of all the questions you might have with regards to medical testing and a list of conditions that run in your family. Help make sure these questions are answered, and take notes.

As a starting point, people 65 and older can ask their primary care physicians about the following tests:

High Blood Pressure
Make sure your loved one's healthcare provider checks their blood pressure once a year. This can help reduce chances of a heart attack and stroke.
Weight
Your loved one can work with their doctor to maintain a healthy weight, which will help prevent risks for heart disease and diabetes.
Vision
See the eye doctor for an examination once a year to keep vision strong and detect early signs of conditions like cataracts, presbyopia, temporal arteritis, dry eyes, age-related macular degeneration, and glaucoma.
Hearing
Hearing loss can happen with age, but like glasses for vision, modern hearing aids can provide tailor-made correction for your specific hearing deficits. That makes a world of a difference and helps your loved one feel more connected with the world around them.
Diabetes
If high blood pressure, obesity, or cholesterol are concerns, then blood tests should be scheduled once every 1-3 years to ensure minimize the risk for diabetes. Exercising and eating healthy can also help decrease the risk.
Depression
It's important for doctors to ask questions about general mood and emotional being at least once a year. Depression can be common in older adults.
Dementia and Cognitive Impairment
Make sure your loved one's provider is periodically doing memory tests to see if any other testing should be done for cognitive impairment.

Call your loved one's healthcare provider to learn what diseases and/or conditions they might need to be tested for.

Schedule and Receive Screenings and Tests for Cancer:
It's recommended that your loved one receive screenings for common cancers for doctors to detect it early.



Breast Cancer
Colon Cancer
Cervical Cancer
Prostate Cancer
Lung Cancer

Schedule and Receive Vaccinations for the following:
A person's immune system can weaken with age, which is why many older adults are at an increased risk for diseases. Luckily, many of these diseases can be prevented, or severity can be lessened, with vaccines. Your primary care doctor can inform you as to how often your loved one should get vaccinated and whether any additional ones are necessary. Here are the following recommended vaccinations:



Influenza
COVID-19
Pneumonia
Tetanus, Diphtheria and Pertussis
Shingles

Eliminate Risks for Disease by doing the following:

Quit Smoking
Quitting smoking can increase one's life expectancy and lower risks of heart disease and some cancers, as well as improve overall lung function and blood circulation
Moderate Alcohol Use
Limiting alcohol use can help your loved one's current medication (if they take any) be more effective and can also prevent risks of bleeding in the stomach, memory loss, sleep problems and liver disease.
Increase Exercise
Physical activity can help treat and prevent many diseases and is excellent for better lung function and overall circulation! If your loved one has a difficult time performing more strenuous activities like jumping or muscle strengthening, then they can try the following:



Moderate walking
Cleaning the house
Gardening
Tai-Chi

If your loved one can perform more intense physical activities without strain, then they can try the following:

Yoga
Working out with resistance bands and/or weights
Brisk walking
Swimming

Eat a Healthy Diet
A healthy diet can be delicious and easy. A well-balanced diet should include whole grains, fresh fruits and vegetables, lean meats and poultry, and low-fat dairy. Meal-prepping saves time and makes balanced eating easier.

Follow the necessary steps for preventing injury

Remove fall risks

Have your loved one's healthcare providers do an evaluation to check balance, walking ability, bone health, speed, and heart health so they know how to take extra care
Make sure your loved one gets their hearing vision checked
If your loved one needs, arrange for them to see a physical therapist to work on strength and balance
Look into a fall-prevention or exercise program for your loved one
Check your loved one's environment for potential dangers like slick floors, loose cords, and other trip hazards

Improve home safety

Lower the water temperature in the water heater to prevent burns
Install smoke detectors
Install alarms and automatic shut-off features on appliances
Comfort Keepers® Can Help
As we age, caring for others and caring for ourselves can take a lot of thought and preparation. Our trained caregivers can help. Our Comfort Keepers® are selected with one specific quality in mind: empathy. Empathetic care that starts in the heart, and it allows us to meet our clients' exact needs.
To learn more about our in-home care services, contact your local Comfort Keepers location today.
---

Contact an office in your area »
Sign up to receive helpful info right to your inbox.
We understand choosing an in-home care provider can be a difficult decision, and we want to make your journey as easy as possible. We're here to support you by providing helpful senior care tips and information on in-home care and senior health and wellbeing topics.
First, let us know when is care needed:
Filed Under:
Caregiver Resources
Medical Decisions
Vaccines
Diseases
Medical Conditions