All "Senior Health & Wellbeing" Articles
Nutrition That Nourishes the Heart and Mind
No matter our age, eating food that nourishes is important for our bodies, minds, and quality of life. But as our bodies change with age, so does what we need to stay healthy. When older adults choose the food that nourishes them, they have the energy to do the things they love every day.
The Respiratory System: Age-Related Changes & COPD
The respiratory system, like many of the other human systems (e.g., cardiovascular, digestive), is a wondrously complex and sophisticated arrangement of organs working together to maintain homeostasis.
Finding Your Source of Joy
As we celebrate our third annual National Day of Joy, I took a moment to reflect and consider the true impact joy has on our lives. Science proves that attaining daily doses or joy – big or small – works wonders on our overall wellness, including our physical and mental health.
Elderly Home Care and Depression
It is important to recognize depression symptoms when caring for an elderly loved one. While seniors aging in their own home can help them maintain their independence, it can also be isolating.
Looking Forward to Fall and Winter - Activities for the Colder Months
As we enter the fall and winter season this year, things look a little different. It's important for seniors to work with their families, caregivers and health professionals to develop a plan that allows them to safely take part in activities they love and maintain positive mental health through activity and connection.
What Does a Heart Attack Look Like?
Most of us have a specific idea of what a heart attack looks like: someone feels an abrupt, strong pain that causes them to stop in their tracks and clutch their chest.
Friday, September 16, 2016

Contact an office in your area »
Obesity in Seniors
Both the characteristics of obesity and the way it affects seniors can be different when compared to how obesity impacts younger adults. This is very important to know, as it may determine if and how obesity should be analyzed and treated in seniors.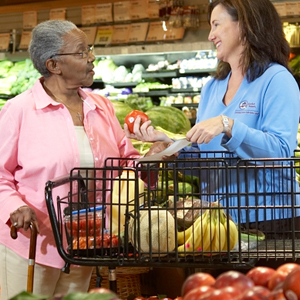 Obesity Risks
It's commonly known and scientifically proven that obesity can contribute to many diseases. In fact, the majority of organs and body systems are negatively affected by obesity. Most commonly, obesity may help bring on hypertension, high cholesterol, heart disease, and certain cancers. The increase in people with type 2 diabetes is of particular concern, as diabetes is a well-known risk factor in heart disease, kidney disease, stroke, and other serious medical conditions. Physical disability and mobility can also be a major problem due to the effect of weight on joints.
There are mental complications as well. Obesity affects cognition, which includes the way we process information, memory, comprehension, problem solving, and decisions. These functions are known to deteriorate with age, and studies show that they deteriorate more rapidly in the population affected by obesity. Since proper cognition help seniors to live fuller and more independent lives, this effect of obesity is more relevant than ever as we age.
Obesity has also been clearly linked to a lesser overall quality of life, which is of particular concern to the aging adult. Seniors can already be plagued by multiple conditions that decrease their quality of life, and obesity only adds another burden.
Be Sure to Review Medications that Can Cause Weight Gain
Seniors should watch for weight gain, and review the drugs they are taking with their doctors. Those commonly known to cause weight gain include the following:
Antiepileptics (antiseizure drugs)
Antipsychotics
Antidepressants
Antihyperglycemic drugs
Beta-blockers
Steroids
If medically appropriate, a weight-neutral drug should be substituted for one suspected of causing weight gain. The doctor or specialist who prescribed the original drug should be notified or consulted about any change.
Screening for Overweight and Obesity in Older Adults
When we grow older, we tend to lose our muscle mass and it gets replaced with fat. Our BMI (Body Mass Index) may not change, but in reality, our fat-stores increase, as does the chance of being affected by obesity and its related diseases. BMI can also be inaccurate in seniors for another common reason. As we grow old, we often get shorter. This is due to osteoporosis and spinal vertebral issues that take away inches in older age. Since BMI is a measure calculated from height and weight, a change in height will change BMI as well. In fact, if a senior weighs the same, and his or her height is now less, then the BMI will be falsely higher. This could classify the senior as "overweight", while in reality, that is not the case. Scientists and physicians still debate about a better measure for weight classification, but for now, BMI is the accepted one and physicians need to use it, while understanding its limitations.
Planned Weight Loss
Some studies show that even a weight loss of 3 percent in older adults may significantly improve inflammation, blood pressure, cholesterol and blood sugar. However, the senior's doctor should be consulted before beginning any weight loss program. Here are some typical suggestions for planned weight loss:
Exercise and strength training can optimize overall health and quality of life. Lower impact activities such as walking, swimming, and bicycling are generally safe for many older adults, even those who have chronic conditions such as heart disease or high blood pressure. But the key is to start slowly. Warming up and cooling down by walking and stretching before and after each session is important to minimize any soreness or potential injury.
Following a sensible diet can help prevent excess weight gain. But it's also important to note that older adults occasionally have naturally occurring loss of taste or difficulty chewing that can make adhering to certain dietary recommendations challenging.
Drug therapy or bariatric surgery may be suggested for older obese patients. However, all benefits and risks should be taken into consideration before opting for surgery. Surprisingly enough, the outcomes, complications, and mortality rates associated with bariatric surgery have been shown to be acceptable for adults age 65 and older.
Comfort Keepers® can help. Our caregivers can help plan and prepare healthy meals for loved ones. They will also take note of the senior's overall health, and help them follow dietary guidelines and prescribed exercise regimens. Call your local office today to discover all of our available services.
References:
Cleveland Clinic Journal of Medicine. "Obesity in the Elderly: More Complicated Than You Think." Web 2014.
Obesity Action Coalition (OAC). "Obesity in the Elderly" by Nadia B. Pietrzykowska, MD, FACP. Web. 2016.
Today's Dietician. "Older Adults and Obesity – Is Dieting the Answer?" by Lindsey Getz. August 2013 issue.
---

Contact an office in your area »
Sign up to receive helpful info right to your inbox.
We understand choosing an in-home care provider can be a difficult decision, and we want to make your journey as easy as possible. We're here to support you by providing helpful senior care tips and information on in-home care and senior health and wellbeing topics.
First, let us know when is care needed:
Filed Under:
Obesity
Treatments
Mental Health
Signs & Symptoms
Nutrition
Fitness