All "Senior Health & Wellbeing" Articles
The Respiratory System: Age-Related Changes & COPD
The respiratory system, like many of the other human systems (e.g., cardiovascular, digestive), is a wondrously complex and sophisticated arrangement of organs working together to maintain homeostasis.
Elderly Home Care and Depression
It is important to recognize depression symptoms when caring for an elderly loved one. While seniors aging in their own home can help them maintain their independence, it can also be isolating.
Living with Arthritis
One in five adults suffer from arthritis, and the majority of these are seniors. For older adults to understand the stages of living with arthritis, it's helpful to talk about how the disease is identified, diagnosed and managed.
What Does a Heart Attack Look Like?
Most of us have a specific idea of what a heart attack looks like: someone feels an abrupt, strong pain that causes them to stop in their tracks and clutch their chest.
Thyroid Disease and Seniors
As seniors embrace the golden years, they have many things to look forward to retirement, watching their children begin families of their own, playing with grandchildren, and hopefully enjoying a full life with the wisdom of age on their side.
Tuesday, July 23, 2019

Contact an office in your area »
Managing Urinary Incontinence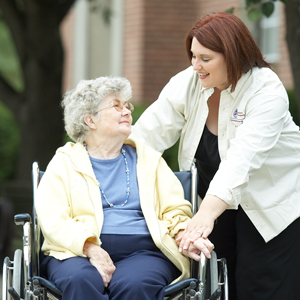 Urinary incontinence is an issue that more than half of seniors deal with, and it can affect a senior's health, social connections and self-esteem. Managing incontinence is critical for seniors that want to maintain their independence and quality of life while remaining in their home.
While incontinence is a highly prevalent issue, it's important to remember that incontinence is treatable, and a physician can make recommendations based on the type of incontinence they diagnose.
Why Does Incontinence Happen?
During urination, muscles in the bladder tighten to move urine into a tube called the urethra, while the muscles around the urethra relax and let the urine pass out of the body. When the muscles in and around the bladder don't work properly, urine can leak. Incontinence can occur for short periods of time due to urinary tract infections, constipation, or as a side effect of a medication.
How is Incontinence Diagnosed and Treated?
Depending on the severity of the problem, a doctor may recommend any or all of the following:
A urinalysis to rule out infection or blood in the urine
Blood tests to check on kidney function, calcium and glucose levels
A complete physical exam and thorough discussion of one's medical history
Medicine that calms muscles and nerves to treat an overactive bladder.
Exercises to strengthen the pelvic muscles
If other treatments fail, surgery may be suggested to improve bladder control.
How Can Incontinence be Managed at Home?
There are a few lifestyle changes that can help manage incontinence:
Pelvic muscle exercises: Working the muscles that can stop urination can have a positive effect in reducing incontinence.
Timed bathroom breaks: Going to the restroom on a schedule can help those with urge and overflow incontinence.
Fluid and diet management: Avoid food and drinks that irritate the bladder. It's important for seniors to discuss their diet and fluid intake with the doctor before making any changes.
Behavioral changes: There are some habits that can make incontinence worse. These include smoking, drinking alcohol, lifting objects that are too heavy and consuming caffeine, among others.
Comfort Keepers®Can Help
If your loved one has specific care needs related to a health issue, like incontinence, we can help. Our caregivers can provide transportation to appointments, medication reminders, support for physician-recommended diet and exercise programs, and help monitor physical changes and symptoms. And, we strive to elevate the human spirit through quality, compassionate, joyful care.
To learn more about our in-home care services, contact your local Comfort Keepers location today.
References
Mayo Clinic. "Urinary Incontinence: Diagnosis." Web. 2019.
National Institute on Aging. "Urinary Incontinence in Older Adults." Web. 2017.
WebMD. "Urinary Incontinence: Foods and Drinks that Make you Gotta Go." Web. 2017.
---

Contact an office in your area »
Sign up to receive helpful info right to your inbox.
We understand choosing an in-home care provider can be a difficult decision, and we want to make your journey as easy as possible. We're here to support you by providing helpful senior care tips and information on in-home care and senior health and wellbeing topics.
First, let us know when is care needed:
Filed Under:
Treatments
Signs & Symptoms
Incontinence
Medical Conditions