All "Senior Health & Wellbeing" Articles
Nutrition That Nourishes the Heart and Mind
No matter our age, eating food that nourishes is important for our bodies, minds, and quality of life. But as our bodies change with age, so does what we need to stay healthy. When older adults choose the food that nourishes them, they have the energy to do the things they love every day.
The Respiratory System: Age-Related Changes & COPD
The respiratory system, like many of the other human systems (e.g., cardiovascular, digestive), is a wondrously complex and sophisticated arrangement of organs working together to maintain homeostasis.
Finding Your Source of Joy
As we celebrate our third annual National Day of Joy, I took a moment to reflect and consider the true impact joy has on our lives. Science proves that attaining daily doses or joy – big or small – works wonders on our overall wellness, including our physical and mental health.
Elderly Home Care and Depression
It is important to recognize depression symptoms when caring for an elderly loved one. While seniors aging in their own home can help them maintain their independence, it can also be isolating.
Looking Forward to Fall and Winter - Activities for the Colder Months
As we enter the fall and winter season this year, things look a little different. It's important for seniors to work with their families, caregivers and health professionals to develop a plan that allows them to safely take part in activities they love and maintain positive mental health through activity and connection.
Living with Arthritis
One in five adults suffer from arthritis, and the majority of these are seniors. For older adults to understand the stages of living with arthritis, it's helpful to talk about how the disease is identified, diagnosed and managed.
Thyroid Disease and Seniors
As seniors embrace the golden years, they have many things to look forward to retirement, watching their children begin families of their own, playing with grandchildren, and hopefully enjoying a full life with the wisdom of age on their side.
Friday, July 17, 2020

Contact an office in your area »
Dealing with a Cancer Diagnosis Later in Life
60% of people who have cancer are 65 or older.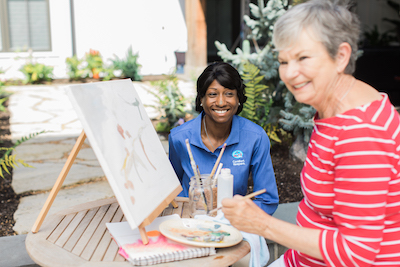 Being diagnosed with cancer later in life can be scary and overwhelming. A cancer diagnosis can make a person feel like their world is out of control. People often say they feel helpless and powerless after they find out they have cancer.
However, many find that making a personalized plan for dealing with a cancer diagnosis can help older adults make treatment decisions and feel in control of their lives again. And, by taking intentional action, it is possible to continue to focus on quality of life and joyful moments even in a difficult time.
Here are some strategies for coping with a cancer diagnosis:
Absorb the information – People need to give themselves as much time as they need to take in the news. Processing a diagnosis can be difficult, and the person should feel comfortable taking the time and space they need to come to terms with the next steps in their treatment plans.
Encourage education– As the saying goes, "Knowledge is power." Encourage them to learn as much as they can about their type of cancer and the treatment options available. Health care professionals are more than willing to provide resources to help someone understand their diagnosis.
Express feelings – It's normal to feel depressed, angry, sad or overwhelmed after being diagnosed with cancer. There are many opportunities to talk about their feelings, whether it's with someone in their life that they trust, a mental health professional or a local support group.
Maintain healthy habits – Continuing healthy habits is important following a cancer diagnosis. Those with a cancer diagnosis should follow a doctor's advice regarding nutrition and exercise, and make an effort to take care of themselves mentally and physically.
Evaluate financial needs –Reviewing insurance and having a plan for how they will pay for their treatment will help relieve stress down the road.
Focus on other parts of life –Focusing on the things in life that can be controlled will help people remember that they have the power to decide how they live life.
Comfort Keepers® Can Help
If you need help during your battle with cancer, Comfort Keepers provides services for clients with a range of needs and physical abilities. Whether it is a ride to the doctor or help around the house, our goal is to provide compassionate care that helps clients find the joy and happiness in each day.
To learn more about our in-home care services, contact your local Comfort Keepers location today.
References
Cancer.net. "Aging and Cancer." Web. 2018.
American Cancer Society. "Coping with Cancer." Web.
American Society of Clinical Oncology. "Geriatric Oncology." Web.
---

Contact an office in your area »
Sign up to receive helpful info right to your inbox.
We understand choosing an in-home care provider can be a difficult decision, and we want to make your journey as easy as possible. We're here to support you by providing helpful senior care tips and information on in-home care and senior health and wellbeing topics.
First, let us know when is care needed:
Filed Under:
Financial Planning
Mental Health
Nutrition
Diseases
Fitness
Cancer