All "Senior Health & Wellbeing" Articles
10 Activities for Seniors with Dementia or Alzheimer's
10 activities seniors with Dementia and Alzheimer's can do with caregivers or loved ones to bring joy and consistency into their everyday lives. In these routines, there are plenty of ways for family caregivers to cherish great moments and memories together.
Nutrition That Nourishes the Heart and Mind
No matter our age, eating food that nourishes is important for our bodies, minds, and quality of life. But as our bodies change with age, so does what we need to stay healthy. When older adults choose the food that nourishes them, they have the energy to do the things they love every day.
The Respiratory System: Age-Related Changes & COPD
The respiratory system, like many of the other human systems (e.g., cardiovascular, digestive), is a wondrously complex and sophisticated arrangement of organs working together to maintain homeostasis.
Keeping Seniors Safe in the Bathroom
Bathrooms can be quite hazardous ─ especially for seniors. Bathrooms typically have slippery surfaces, and nothing dependable to grasp in order to prevent falls.
Elderly Home Care and Depression
It is important to recognize depression symptoms when caring for an elderly loved one. While seniors aging in their own home can help them maintain their independence, it can also be isolating.
Thursday, April 18, 2019

Contact an office in your area »
A Closer Look at Strokes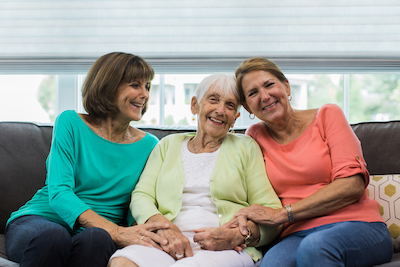 Strokes are the fifth leading cause of death in the United States, and a major cause of disability. While people at any age can be susceptible to suffering from a stroke, nearly three quarters of strokes occur in people over the age 65.
Risk factors for a stroke include high blood pressure, genetics, gender, tobacco use, heart disease, diabetes, weight, age and the use of some medications.
There are three main types of stroke that can occur:
Ischemic stroke– Most strokes fall into this category. In an ischemic stroke, arteries narrow or are blocked, reducing blood flow to the brain.
Hemorrhagic stroke– During a hemorrhagic stroke, a blood vessel leaks or bursts, causing damage.
Transient ischemic attack– Sometimes referred to as "mini-strokes," this is a condition that is also caused by a narrowing of the arteries, but only causes temporary symptoms.
It's important to note that medical attention after a stroke is critical, and time is of the essence. Anyone suffering from the symptoms of a stroke should not wait for the effects to go away or get worse. They should call 9-1-1 or visit their physician as soon as possible. Quick treatment can minimize damage and potentially save someone's life.
Symptoms can include:
Trouble speaking
Confusion or trouble understanding
Paralysis of the face, arms or legs
Trouble seeing
Headache
Trouble walking
Headache
Vomiting
Neck stiffness
Dizziness
Comfort Keepers®Can Help
Whether the goal is healthy living to prevent strokes, or recovery after, Comfort Keepers can help. Our caregivers can provide wellness support, remind clients to take medication, provide transportation to scheduled appointments, and support physician-prescribed exercise regimens and diets. As part of an individualized care plan, caregivers can let a senior's care team know if there are changes in behavior or physical characteristics. Our goal is to see that clients have the means to find the joy and happiness in each day, regardless of age or acuity.
To learn more about our in-home care services, contact your local Comfort Keepers location today.
References
WebMD. "Top Causes of Stroke." Web. 2017.
Mayo Clinic. "Stoke" Web.2019.
Healthline. "Massive Stroke" Web. 2018.
Center for Disease Control and Prevention. "Stroke." Web.
---

Contact an office in your area »
Sign up to receive helpful info right to your inbox.
We understand choosing an in-home care provider can be a difficult decision, and we want to make your journey as easy as possible. We're here to support you by providing helpful senior care tips and information on in-home care and senior health and wellbeing topics.
First, let us know when is care needed:
Filed Under:
Treatments
Safety
Strokes
Caregiver Resources
Signs & Symptoms