All "Family Caregiver Resources" Articles
10 Activities for Seniors with Dementia or Alzheimer's
10 activities seniors with Dementia and Alzheimer's can do with caregivers or loved ones to bring joy and consistency into their everyday lives. In these routines, there are plenty of ways for family caregivers to cherish great moments and memories together.
Nutrition That Nourishes the Heart and Mind
No matter our age, eating food that nourishes is important for our bodies, minds, and quality of life. But as our bodies change with age, so does what we need to stay healthy. When older adults choose the food that nourishes them, they have the energy to do the things they love every day.
50 Ways to Bring Seniors Comfort and Joy this Season
This holiday season promises to look different than any before it for many families. But it can be refreshing and fun to shake up the routine by incorporating new ideas, especially when some of the go-to activities may not be possible this holiday season.
Finding Your Source of Joy
As we celebrate our third annual National Day of Joy, I took a moment to reflect and consider the true impact joy has on our lives. Science proves that attaining daily doses or joy – big or small – works wonders on our overall wellness, including our physical and mental health.
How to Help Seniors Safely this season
Even though this holiday season is different from years past, there are still plenty of ways you can make sure people get the support they need to take care of their seasonal tasks and experience more joy.
Holiday Safety With Seniors
To plan safe holiday gatherings with the seniors in your life this year, Comfort Keepers is here to offer advice and tips for senior safety and well-being.
Wednesday, February 26, 2014

Contact an office in your area »
The Great Outdoors: Outdoor Activities for Seniors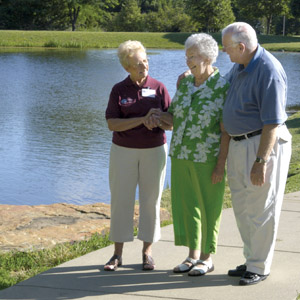 Last month's introduction article to \"The Great Outdoor\" series discussed the benefits that a breath of fresh air and physical activity can have on health. Spending time outdoors exercising or just enjoying the scenery can bring about sharper mental states and happier moods, along with improved physical health and sense of wellbeing. For these reasons, spending time outdoors may be crucial for seniors who want to live alone in their own homes well into their golden years.
Seniors living alone are prone to outdoor isolation, especially after the loss of a spouse or friends. This sense of isolation can increase if seniors rarely leave home. Many seniors take advantage of group activities such as book clubs or volunteering to maintain social interaction, but spending time with nature, even alone has the potential to battle loneliness and foster a happier state of mind.
While some seniors are able to perform physical activities outdoors, such as riding bikes or playing tennis, others may be restricted due to physical limitations. However, there is a myriad of outdoor activities to be enjoyed adaptable to all levels of physical ability:
Paint a picture -- Take an easel with paints, canvas and chair to the back yard or park and paint a picture of the scenery.
Garden -- Container gardens are best for those with limited physical abilities. Full-scale gardens can be added to back yards for those able to be more active.
Take pictures -- Easy-to-use digital cameras do not cost much for the fun they inspire. Sunrises, sunsets, beaches, parks, people, flowers in the neighborhood...the sky is the limit when becoming a photography buff. Arranging pictures in albums later can become a fun activity, sparking interesting conversations and memories.
Go fish -- Fishing is a treasured pastime for many men and women. Local beaches, lakes and some ponds are available to the public.
Build something - Build birdhouses or simple water features in the back yard, which can offer a fun activity with benefits to be enjoyed long after the building is complete.
Play games -- Easy-to use-outdoor games include croquet, horseshoes of the plastic variety and corn hole (bean bag toss).
All of these activities can be and should be, performed with friends, family and/or caregivers. Participating in any activity with other people fosters closeness, a greater sense of self and something to look forward to for all involved. The memories created when spending time together can make all the difference in the world, not just in the life of a senior, but for friends and family of all ages.
References
Statepoint Media (2012). Prepare your home for summer weather.
Frugaldad.com (2008). Preparing your home for summer temperatures.
WebMD.com. Caregiving and your loved one's health.
---

Contact an office in your area »
Sign up to receive helpful info right to your inbox.
We understand choosing an in-home care provider can be a difficult decision, and we want to make your journey as easy as possible. We're here to support you by providing helpful senior care tips and information on in-home care and senior health and wellbeing topics.
First, let us know when is care needed:
Filed Under:
Caregiver Resources
Activities