All "Family Caregiver Resources" Articles
When It Is Time to Consider Respite Care
Respite care is not self-indulgent. It's a necessity. Caring for an older or ill family member can be hugely rewarding and bring you closer − but being consumed by it will drain you physically and emotionally, and eventually cause burnout.
10 Activities for Seniors with Dementia or Alzheimer's
10 activities seniors with Dementia and Alzheimer's can do with caregivers or loved ones to bring joy and consistency into their everyday lives. In these routines, there are plenty of ways for family caregivers to cherish great moments and memories together.
Nutrition That Nourishes the Heart and Mind
No matter our age, eating food that nourishes is important for our bodies, minds, and quality of life. But as our bodies change with age, so does what we need to stay healthy. When older adults choose the food that nourishes them, they have the energy to do the things they love every day.
Finding Your Source of Joy
As we celebrate our third annual National Day of Joy, I took a moment to reflect and consider the true impact joy has on our lives. Science proves that attaining daily doses or joy – big or small – works wonders on our overall wellness, including our physical and mental health.
Elderly Home Care and Depression
It is important to recognize depression symptoms when caring for an elderly loved one. While seniors aging in their own home can help them maintain their independence, it can also be isolating.
What is Respite Care?
Respite care offers assistance to those families who are in need of support to help care for an elderly loved one.
Monday, October 15, 2018

Contact an office in your area »
Compassion Fatigue: What Family Caregivers Need to Know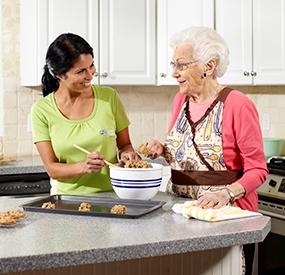 Knowing the Limits
Caring for others is often driven by motivations of love and understanding. It's not uncommon for family caregivers to initially feel that their capacity for helping those they love is nearly limitless. From taking care of finances and managing medications to preparing meals and cleaning, there's certainly a sense of fulfillment that comes along with assisting a loved one. But many find themselves going through the motions of caring without taking time out to focus on their own needs – often to the point of physical and emotional exhaustion. As a result, family caregivers may feel something they've never experienced before: decreased empathy. This condition is known as compassion fatigue.
In decades past, compassion fatigue was seen primarily in healthcare professionals. This should hardly come as a surprise considering the profession involves constantly helping patients who are suffering or experiencing diminished quality of life. But as the country's aging population continues to grow, there are many family caregivers who are left feeling much the same way.
In addition to the lower threshold of empathy, family caregivers experiencing compassion fatigue may feel the following:
Exhaustion (physical and/or emotional)
Feelings of dread or guilt
Irritability, anxiety, or anger
Difficulty sleeping
Difficulty making decisions
Feeling disconnected
Trouble finding meaning in caregiving
Self-isolation
The Compassion Fatigue Awareness Project notes that the worst symptom of compassion fatigue is denial because it prohibits family caregivers from examining the feelings associated with their caregiving situation. And if ignored for an extended period of time, family caregivers may begin to feel resentment toward their loved one, ultimately leading to a communication breakdown and strained relationship.
Outside relationships suffer as well. In a collaborative research study with the Stanford Center on Longevity, Comfort Keepers, and ClearCare, it was indicated that those responsible for a loved one with a severe illness experience poor emotional wellbeing because of their inability to properly maintain their social lives. The results of the study highlight the increasing need for family caregivers to not only acknowledge their compassion fatigue, but also take steps toward self-care. Doing so can certainly help the family caregiver, but it will also help mend the relationship with their loved one.
What to Do Next
Below are a few steps that family caregivers can take to combat compassion fatigue and get back to feeling positive about caring for their loved ones.
Understand the common signs of compassion fatigue (listed above) and acknowledge them if they occur.
Practice a self-care regimen that includes a balanced diet, regular exercise, and consistent sleep.
Carve out time to spend with friends and maintain social connections.
Find a caregiver support program, either in the community or online.
Document your thoughts and feelings related to caregiving in a journal.
Choose healthy activities during your downtime (e.g., go for a walk, meditate, or practice a favorite hobby).
Discuss your feelings with a counselor or therapist.
Comfort Keepers®Can Help
Caring for others, especially those who have been instrumental in our upbringing, can be uniquely rewarding. At Comfort Keepers®, we value the relationships family caregivers have with their loved ones, and it's our goal to help maintain them. We offer respite care and senior care services that help family caregivers take the time they need to practice self-care, with peace of mind that their loved ones are receiving quality assistance.
Learn more about our respite care and senior care services by contacting a local office today.
References:
Good Therapy. "The Cost of Caring: 10 Ways to Prevent Compassion Fatigue." Web. 2016.
Psychology Today. "Are You Suffering from Compassion Fatigue?" by Sherrie Bourg Carter Psy.D. Web. 2014.
Stanford Center on Longevity. "Spotlight on Caregiving: Exploring the Well-being of Family Caregivers" by
Sarah Raposo, Jessica Barnes, Tamara Sims, Amy Yotopoulos, Laura Carstensen, Mary Bowman,
Jacquelyn Kung. Web. 2016.
Daily Caring. "How to Cope with Compassion Fatigue: 8 Tips for Caregiver." Web. 2017.
AARP. "Caregiving in the U.S." Web. 2015.
---

Contact an office in your area »
Sign up to receive helpful info right to your inbox.
We understand choosing an in-home care provider can be a difficult decision, and we want to make your journey as easy as possible. We're here to support you by providing helpful senior care tips and information on in-home care and senior health and wellbeing topics.
First, let us know when is care needed:
Filed Under:
Caregiver Resources
Mental Health
Fatigue
Respite Care