Buda
Comfort Keepers of Austin, TX is just around the corner to provide the elderly care seniors need
With Comfort Keepers of Austin, TX just around the corner in Buda, those closest to you can remain safe, happy, and healthy in their homes. With our wide variety of in home care services – from light housekeeping to around-the-clock personal care assistance – your loved ones' will receive a plan of care that matches their exact needs. Above all, our goal is to preserve the independence of your loved ones and promote their physical, emotional, and social well-being.
Comfort Keepers understands that many seniors may wish to get out of the house and into the community. To ensure that your loved ones stay engaged in their favorite activities, we provide transportation to and from destinations. Whether they want to take a trip to the downtown Buda Farmers Market for some fresh, locally grown fruits and vegetables, or shop for antiques in the Historic Downtown District, we are ready to help them get there and provide companionship every step of the way. We can also take them to any scheduled medical or dental appointments or to the pharmacy to pick up a prescription. Whatever your loved ones' need, we'll be there to lend a hand.
Comfort Keepers of Austin, TX is ready help your loved ones in Buda. Call us today at (512) 766-0105 to learn more about our elderly care services.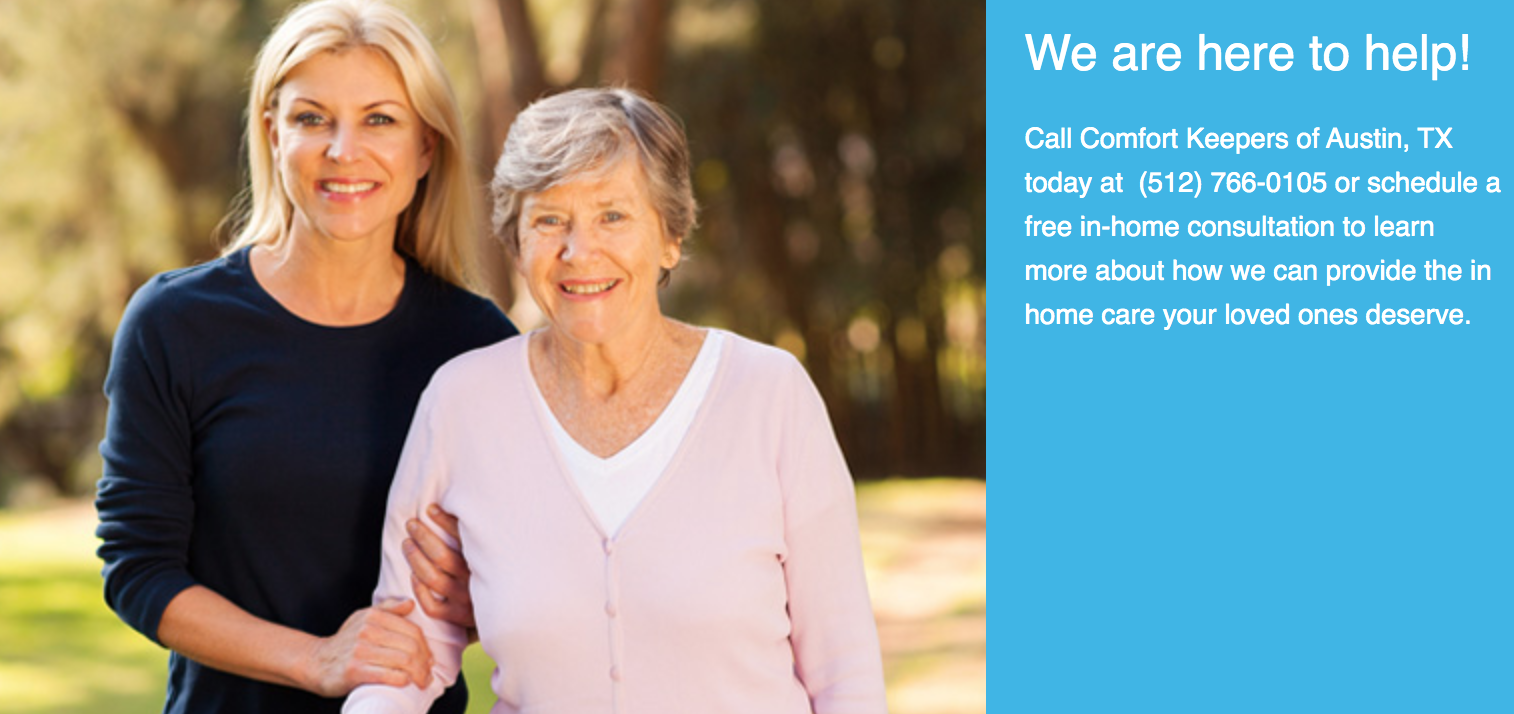 We are here to help!
Call Comfort Keepers of Austin, TX today at (512) 766-0105 or schedule a free in-home consultation to learn more about how we can provide the in home care your loved ones deserve.
Comfort Keepers of Austin provides in home care and senior care services to the following areas in and around Austin, Texas
Austin, Barton Creek, Barton Hills, Bee Cave, Bouldin, Buda, Circle C, Oak Hill, Rollingwood, South Austin, South Congress, South Lamar, Southwest Austin, Sunset Valley, Travis Heights, West Lake Hills, Zilker, Austin, Barton Creek, Barton Hills, Bee Cave, Bouldin, Buda, Circle C, Oak Hill, Rollingwood, South Austin, South Congress, South Lamar, Southwest Austin, Sunset Valley, Travis Heights, West Lake Hills, Zilker, Downtown Austin, Clarksville, Old West Austin, Tarrytown, Hyde Park / UT, Rosedale, Allandale, Brentwood, North Loop, Mueller, Windsor Park, University Hills, East Austin, Wells Branch, McNeil, Mesa Park, Walnut Creek, Gracy Woods, Quail Creek, Milwood, Pflugerville, Windermere, Dessau, Pioneer Crossing, Jordan Crossing, Windsor Hills, Heritage Hills, Harris Branch, Manor, Bastrop