Dementia Care & Alzheimer's Care in Knoxville, TN, and Surrounding Areas
Essential support through dementia care & Alzheimer's care for family members and seniors
Caring for a loved one that is suffering from a cognitive degenerative disease can be very demanding. These diseases can come in many forms and can present their own unique challenges in each senior. Dementia care or Alzheimer's care expert can help you understand the symptoms, teach you how to structure your loved one's day, and support you in their daily care.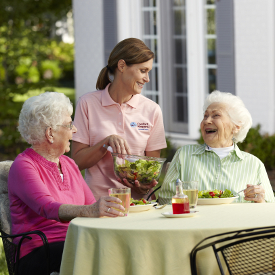 What is Dementia and Alzheimer's Disease Care?
In general, dementia is a decline in mental ability, such as memory loss or an inability to complete familiar tasks, serious enough to interfere with a person's daily life. Alzheimer's disease is the most common type of dementia, accounting for 50 to 80 percent of dementia cases. Our services help people with these symptoms by focusing on their remaining abilities and strengths while assisting with tasks that have become difficult for the client to perform.
How We Can Help
We can take our other senior care services and combine them in a manner that fully supports your senior's needs. Their dementia care or Alzheimer's care plan will help them get on a schedule to avoid confusion and frustration. Engaging activities such as board games, listening to music, going through photo albums, or memory exercises will also be incorporated. Our caregivers can also provide education on dementia and Alzheimer's as well as care techniques to further support you at home. SafetyChoice products are also there for those that want peace of mind when they or their loved one's caregivers are away. Living a high quality, independent life is possible in the wake of cognitive degenerative disease. Having a reliable team of experts on your side can help make that happen.
To learn more about our dementia care or Alzheimer's care plans contact us anytime at (865) 214-6787.