In Home Care in Lenior City, TN
Comfort Keepers in Lenior City, TN emphasizes the importance of nutrition as a part of their in home care
Malnutrition is a problem that as many as one in three seniors may face and the causes may not be what you might think. It may seem obvious that nutrition might be a problem if your loved one has a problem getting to the store, or lives on a fixed income but these are not the only reasons that they may face when getting proper nutrition. Seniors are more sensitive to a poor diet, eating the wrong foods can have a serious impact on their overall health. The ability to prepare foods may also become a problem, which might result in either not enough nutrition or the tendency to choose foods that are not as balanced and nutritious as they should be. In home care offered by Comfort Keepers in Lenior City, TN can get to the root of your loved one's malnutrition issues and get their diet back on track.
In Home Care Offers Better Access to Nutritious Foods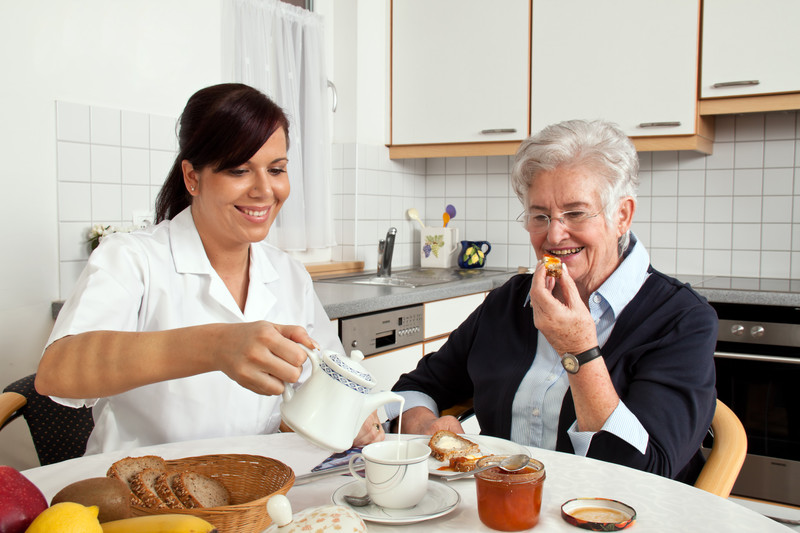 When your loved ones lose the ability to drive it can have a serious impact on their health. The ability to get to the grocery store is serious curtailed and many seniors do not have access to transportation let alone the ability to carry home a lot of groceries at one time. This can impact the number of groceries as well as the type of groceries your loved one chooses to buy. Comfort Keepers in home care plans include transportation when needed to help your loved one have access to ample amounts of fresh nutritious foods.
Mobility Can Also Affect Nutrition
Many seniors find that as they age, cooking becomes more and more difficult. Being able to access the food and equipment in their cupboards may not be as easy as it once was and standing for long periods of time may also be problematic. Preparing foods becomes difficult for those with arthritis when simple tasks such as opening a jar, cutting up vegetables, or using a can opening become more difficult than they used to be. The logical choice for seniors is to by pre-prepared foods that make access simpler and more manageable.
The problem with this is these foods lack nutrition and balance, meaning your loved one may not be getting all the nutrition they need. Our caregivers can help ensure your loved ones are able to access all of their supplies and tools for cooking, teach them techniques to help overcome the challenges that food preparation may cause. By helping with meal preparation we help ensure that they have three balanced meals available on a regular basis.