Dementia Care and Alzheimer's Care in Dayton, OH and Surrounding Areas
Comfort Keepers can support you by providing dementia care and Alzheimer's care for your loved one at home. You are not alone, let us help.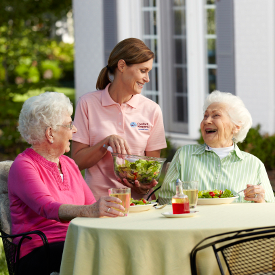 We understand how challenging it can be for family caregivers tending to loved ones with dementia or Alzheimer's disease. It's both emotionally and physically exhausting, leaving you frustrated and tired. Let a Comfort Keeper help ease the burden.
Most nationwide Comfort Keepers locations offer personalized Alzheimer's care and dementia care for seniors experiencing symptoms of the disease. With Comfort Keepers, you'll have specially trained resources ready to help when you need it most.
What is Dementia Care and Alzheimer's Care?
In general, dementia is the loss of cognitive functioning such as thinking, remembering, and reasoning and is serious enough to interfere with a person's daily life. Alzheimer's disease makes up around 50 to 80 percent of dementia cases, making it the most common form of dementia. Our customized services help people with these symptoms by focusing on their remaining abilities and strengths, while helping with tasks that are now difficult for your loved ones to perform.
How Comfort Keepers Can Help
Our Comfort Keepers®, specially trained Alzheimer's care and dementia care, can
maintain a safe environment for the client.
engage the client in activities that can stimulate the senses, such as music.
provide meals and bathing assistance.
support the client and family through the changing behaviors often seen with dementia.
We personalize all of our in-home care services to each client we work with, that encompasses their health, ability, and preferences as well. Depending on your senior loved one's needs, we can provide the loving care they deserve for just a couple hours during the week or full-time as needed. With 24 hour care services, a Comfort Keeper can be ready to assist at a moment's notice. This gives clients and their families peace of mind.