Welcome to Comfort Keepers In-Home Senior Care of Cherry Hill, NJ
Compassionate & Professional Senior Home Care for Seniors in Cherry Hill, NJ & The Surrounding Communities.
Comfort Keepers of Cherry Hill, a national award-winning in-home care agency, proudly serves many of the communities within Burlington and Camden counties of South New Jersey. Our mission is to enable seniors and other adults to live as independently, safely, and happily as possible within the comfort of their own home.
We are extremely proud of our caring, experienced, and mature Comfort Keepers. From our viewpoint, nothing is more important to the families we serve than the quality of the caregivers we have supporting their loved ones. Our Comfort Keepers are able to support a wide array of situations with in-home care, including support of those with Dementia, Alzheimer's, history of stroke, diabetes, as well as various heart-related illnesses like COPD.
Amid and after coronavirus, we are dedicated to providing the highest standard of care inside the home, and provide our caregivers with necessary PPE and safety guidelines to ensure the health and safety of their senior loved ones.
We offer support ranging from one hour to twenty-four hours per day. Comfort Keepers of Cherry Hill, NJ prides itself on being extremely accommodating to our clients and their families. If we can meet the request, we will.
Comfort Keepers of Haddonfield
We're Hiring!
Text CKJOBS to 22100
and apply directly from your phone in minutes
Client Testimonial
Andrea and all at Comfort Keepers,
A mere thank you is not enough for the care that you bestowed upon my mother and father throughout the years, and I hope to show you how very much it meant to us all...
Please know that we will never forget what our caregivers did to help us and we shall be eternally grateful!
All our love,
The Freemans
Senior Home Care Services Provided by The Comfort Keepers Cherry Hill Team
In-Home Senior Care Services Offered in Cherry Hill
Comfort Keepers offers a broad range of services for seniors, from personal care to in-home companionship. As with all our services, we seek to maintain a high level of personal dignity and respect for the client at all times. See our comprehensive list of services below to see how we could be a fit for you or your aging loved ones.
Grooming & Hygiene Guidance
Mobility Assistance
Transferring & Positioning
Toileting & Incontinence Care
Nutrition and Meal Prep
Conversation & Companionship
Laundry
Light Housekeeping
Grocery Shopping & Errands
Transportation
Medication Management & Reminders
24-Hour Senior Home Care for Cherry Hill Residents
When someone needs around-the-clock care, it's common to think the only option is placing your loved one into a long-term care facility. However, with Comfort Keepers, that is not the only option. Comfort Keepers offers care and services that allows your loved one to remain safe in the comfort of their own home.
Our highly-trained, compassionate caregivers are available to offer 24 hour home care services for seniors and other adults who:
need assistance throughout the day and evening.
wake up frequently in the middle of the night
need assistance with personal care
are prone to sleepwalking or wandering
may experience loneliness
need assistance with household chores, preparing meals, shopping and other errands
need assistance with transportation
Alzheimer's & Dementia Home Care in Cherry Hill
At Comfort Keepers®, we understand the struggles families face when caring for a senior with Alzheimer's disease or dementia, and we are here to help. Our caregivers receive special training to care for seniors with Alzheimer's disease and dementia, and we are dedicated to providing the highest quality care to support families during this difficult time. We understand Alzheimer's disease, its symptoms, how it affects behavior, and that it progresses at different rates for different seniors.
We understand what families are going through and we're here to help.
Comfort Keepers® Alzheimer's disease and dementia care is dedicated to preserving the happiness and independence of seniors living in their own homes for as long as safely possible. Our trained, dedicated team of care providers are ready to meet new seniors, and currently offers personal and dementia care in the homes of many seniors across the globe.
Cherry Hill End of Life Care Services For Your Loved One
When a family member is diagnosed with limited life expectancy, he or she often has a strong desire to spend the final days in the comfort of home. However, caring for a loved one at the end of life can be emotionally challenging and physically exhausting.
Comfort Keepers® can support you and your loved one by working with a hospice agency or medical provider to fully meet the family's care needs. We will help care for your loved one, as well as assist around the house and provide the family with emotional and moral support. The end of one's life is an upsetting time, but Comfort Keepers' services can lessen stress for everyone involved.
Senior Respite Care for Cherry Hill Residents
Comfort Keepers' respite home care services provide temporary support whenever and however you need it. As a result, you'll have time to recuperate, run errands, or even just go have fun. Not only will your emotional health benefit from respite care assistance, but your overall relationship with your elderly or disabled loved one can improve as well.
We understand the trust you're giving to us. We know how much your loved one means to you, and that caring for him or her is about more than following a schedule. Our respite caregivers offer companionship at his or her home, or in your loved one's senior community.
We're here to help you care for your loved one, while you take care of yourself.
After Surgery Senior Home Care in Cherry Hill
The time immediately following release from the hospital (also known as the postoperative period) is a critical phase of the recovery process. Studies show a lack of proper care and support after a surgery can lead to slower recuperation. In fact, there is a substantial risk of readmission due to serious complications, such as infection, blood clots, or reopening an incision. This is why it is important to have a thorough postoperative care plan in place before transitioning home.
Family and friends may be eager to help their loved one recovery after a surgery. However, most lack the proper training to provide the necessary postoperative home care. What's more, caretaking for family members who recently received surgery is both labor-intensive and time-consuming.
NOT SURE WHAT SENIOR HOME CARE YOU MAY NEED?
If you have worried about your senior loved one living on their own in Cherry Hill, NJ, it might be time to consider in-home senior care. Begin the process by taking a short survey to help you better understand when the time has come to pursue care options.
COVID-19 Precautions
We are doing everything we can to help protect our seniors from COVID-19. Here is a list of the precautions we take on a daily basis:
Handwashing- on arrival all caregivers will wash their hands for a minimum of 20 seconds and as needed throughout the visit (minimum of every 30 minutes)
Comfort Keepers are provided with gloves and instructed to use them whenever there is a possibility that they will come into contact with bodily fluids.
Comfort Keepers are instructed to wear a mask whenever they are within six feet or closer to anyone present within the household.
Comfort Keepers are prescreened prior to each visit for any symptoms of COVID-19.
Comfort Keepers have been instructed to report any symptoms of illness (including signs of Covid-19) prior to going to work. We are being extremely cautious about this and do not hesitate to keep caregivers from visiting under these circumstances
Comfort Keepers receive ongoing education on Infectious Disease Control.
The Agency makes hand sanitizer and surgical masks available to all Comfort Keepers. Comfort Keepers are asked to wear a new mask (surgical) or cleaned (cloth) every visit.
Comfort Keepers are instructed to report any changes in their client's health immediately to the office in order that we are able to effectively monitor the situation. Family contacts are notified as appropriate,
Any Comfort Keeper who takes a vacation and leaves the state will be asked to quarantine for 14 days prior to returning to work (pertains to current list of states NJ posts).
If by chance a Comfort Keeper is exposed while working with a client (who has been exposed to the virus), the Comfort Keeper will be taken off our schedule completely and quarantined for 14 days. Note: Services would be suspended while the client/other members of the household are quarantined for 14 days.
Office is available to support Comfort Keepers 24/7.
Comfort Keepers In-Home Care in Cherry Hill, NJ
Have Questions About Home Care for Seniors? Comfort Keepers Can Help!
As a leading provider of in-home care and at home senior care services, our expert caregivers provide customized care plans crafted to the individual recovery needs and daily living requirements for clients throughout the Cherry Hill, NJ area. These services focus on elevating the human spirit with meaningful companion care that accentuates independent living. The primary care services that our experienced caregivers - called Comfort Keepers - provide may include personal care, long term care, 24/7 around-the-clock care, and companionship care. We help older adults of retirement age and beyond, as well as other adults, live an independent, quality life in the safety and comfort of their home. Family members don't need to consider assisted living facilities, independent living communities or nursing homes, as their senior loved one can receive the personal care at home.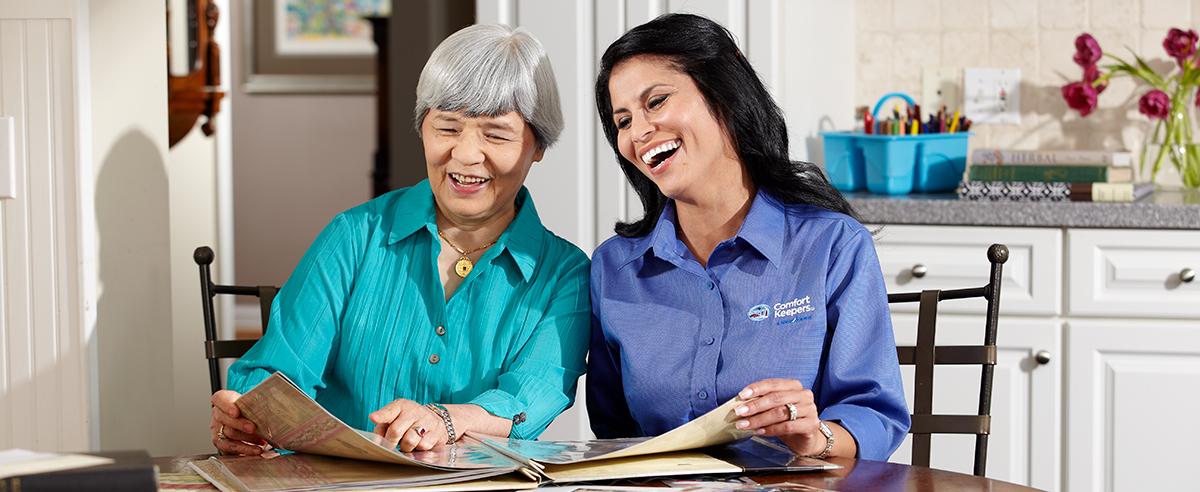 Get Custom Elder Care Catered to Your Loved One's Unique Needs
Comfort Keepers is one of the leading home care agencies in the United States, helping family members throughout the United States of America find home care for their aging parents and loved ones. Our custom care management plans offer the proper mix of non-medical home care services for your senior loved one and are unique to each of our senior clients. During an initial in-home consultation, a senior care expert will assess the state of your senior loved one's home and health. After they have gathered as much information as possible, our staff in Cherry Hill, NJ will create a unique care plan for your loved one and match them with a suitable, high-level quality home care provider. All of our caregivers are handpicked and will work to engage with your senior loved one to elevate their quality of life.
Our in-home care services range from Alzheimer's Disease and dementia care to respite care for family caregivers to end of life care, and much more. We specialize in-home care for senior patients transitioning back to their home after a hospital stay. While Comfort Keepers proudly provides these quality services, we also offer a special service called Interactive Caregiving. Interactive Caregiving goes above and beyond as it raises the well being and quality of life to a higher level for older Americans than that of typical in-home care providers. Interactive Caregiving is so much more than light housekeeping, household chores, medication reminders, grocery shopping, and meal preparation. Our home health aides strive to fully engage your senior loved one - both mind and body - and turn everyday caregiving into a meaningful experience of hands-on care.
Along with an active mind and body, Interactive Caregiving emphasizes a range of home health care needs including social interaction, senior nutrition, and safety in the home. Loving in-home caregivers will encourage your senior loved one to maintain a healthy diet. Caregivers may also suggest some home improvements to reduce your senior loved one's risk of falling, such as removing carpeting or installing floor lights. Overall, our senior care services will make a positive difference in the life of your senior loved one.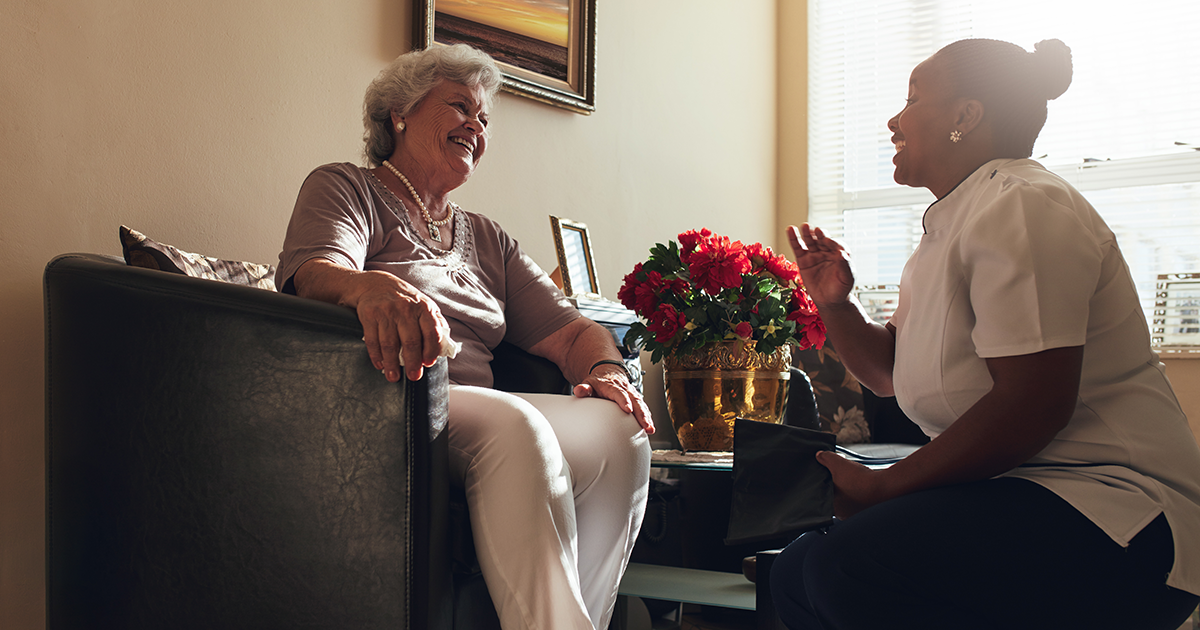 In-Home Caregivers in Cherry Hill, NJ
Loving Quality Care for Seniors in Cherry Hill, NJ
We are offering a full range of in-home care, companionship care, and personal care services to support independent senior living in Cherry Hill, NJ & surrounding areas. If you have any questions about the senior home care Comfort Keepers provides, including anything about care costs, eligibility requirements, criminal background checks of the caregivers, or anything else, please contact our senior care coordinators today. You can reach our direct office phone at (856) 857-6120.
CONTACT US TODAY FOR A FREE IN-HOME CONSULTATION
If you or a loved one needs in-home care that you can trust, please give us a call today at (856) 857-6120 to schedule your free in-home consultation and learn more about the various ways we can help you at Comfort Keepers of Cherry Hill, NJ.
Thank you for your interest in Comfort Keepers and our family-owned and operated business. We look forward to helping you or your family with your care needs.


Based on our own experiences, we know that families often struggle with meeting the needs of their loved ones. We believe that the quality of one's life is significantly enhanced when one is able to remain within the comfort of their own homes. We have both the compassion and experience necessary to both understand the needs and to be able to provide the services that you and/or your family members deserve.
Comfort Keepers of Cherry Hill is proud to serve the following areas of New Jersey: Cherry Hill, Mount Laurel, Marlton, Moorestown, Medford, Voorhees, Haddonfield, Columbus, Mount Holly, Collingswood, Berlin, Maple Shade, Lumberton, Atco, Hainesport, Pemberton, West Berlin, Gibbsboro, Lawnside