Dementia and Alzheimer's Care for Seniors in Blaine, Anoka, White Bear Lake and surrounding areas.
Comfort Keepers offers expert assistance right at home
Comfort Keepers provides professional in home dementia services for seniors directly in their homes. While our services encompass a variety of needs, we also offer specialized dementia care and Alzheimer's care for adults with memory illnesses. Our trained in-home caregivers, whom we call Comfort Keepers, can provide care that meets the unique needs of your senior loved one.
In order to best understand the needs of your senior loved one, we will meet with you both in the home to determine what type is needed. We get to know each of our client's, understanding their likes and dislikes, preferences, level of health and abilities. Armed with this knowledge we will create a custom care plan.
Dementia care plans can include any of our care services but are performed in a manner which is sensitive to a senior's needs. Caregivers are trained to maintain a safe environment and engage seniors in activities that are mentally stimulating. This could include cooking, listening to music, or completing a puzzle.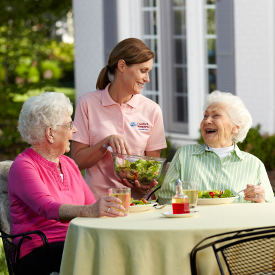 What is Dementia and Alzheimer's Disease Care?
In general, dementia is a decline in mental ability, such as memory loss or an inability to complete familiar tasks, serious enough to interfere with a person's daily life. Alzheimer's disease is the most common type of dementia, accounting for 50-80% of dementia cases. Our dementia care and Alzheimer's care services help people with these symptoms by focusing on their remaining abilities and strengths, while assisting with tasks that have become difficult for a senior to perform. For more information on dementia click here.
Personal care services such as help showering and bathing, personal grooming and hygiene, toileting, transferring and positioning, and dressing are part of our Alzheimer's care plans. Caregivers will provide companionship care, meal preparation, light housekeeping, and transportation assistance as needed to round out the care plan. Seniors are encouraged to participate in their own care as much as they are able, but our caregivers are prepared to help as tasks become difficult.
Consistency in caregivers is important for seniors needing dementia care or Alzheimer's care. We work to pair your senior loved one with a caregiver who is compatible and openly available. Our care services are available on a part-time, full-time, or around the clock basis. For seniors receiving daily in-home care, the friendly face of a familiar caregiver can improve their mood and well-being.
To learn more about Alzheimer's care and other care services, please contact us today. Our senior care staff is happy to answer any questions you may have and guide you towards the best care solution for your family.
Check out some of our great blog articles below with helpful information and resources on Alzheimer's and dementia:
Forgetfulness in Seniors: What is Normal?
Alternatives to Alzheimer's Care Facilities
Click Here to download our FREE eBook with all of our Alzheimer's and Dementia resources in one easy-to-share document!