Senior Care in Ferrelview, MO
Respite Senior Care in Ferrelview, MO from Comfort Keepers of Overland Park, KS
For those that choose to help their senior loved ones when they are no longer able to do everything themselves the love they return to their seniors is its own reward. As admirable is their time caring for the loved ones is, this level of care can get overwhelming and drain a person who might also have other responsibilities. Comfort Keepers of Overland Park, KS wants to help you in your mission to make your loved one's end years a comfortable and wonderful time, by offering respite senior care to seniors and their families in Ferrelview, MO. When the time comes that you need a break, or you find that your job or children are suffering, there is no shame in asking for a bit of help from caregivers that are as committed to your loved one as you are.
Respite Senior Care In Ferrelview, MO Can Help You Be A Better Caregiver
As your loved ones needs grow, your ability to get away, get rest, or take care of important tasks diminishes. The more tired and frustrated you become does not necessarily reflect on your feelings for your loved one, as much as it does your need for a bit of self-care. Respite senior care is designed for you, so that you can balance your life more effectively and offer your senior loved one the best possible experience. It will ensure that your family gets taken care of, but just as importantly it will allow you to get rested, regroup, and be a much more effective caregiver for everyone.
Our respite senior care services in Ferrelview, MO are flexible to allow you to take the amount of time you need, we offer you the opportunity to:
Attend your child's events at school
Go take care of errands
Take care of important appointments
Get a full night's sleep
Go out on a date with your significant other and reconnect
Even if you need to leave town or take a vacation our respite care is there to help you be able to walk away and feel good that you are leaving highly trained and caring people watching over your loved one.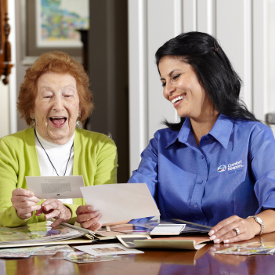 Learn More

If you would like to learn more about our respite senior care services in Ferrelview, MO, and how they can help make a real difference to your loved one's care, we invite you to contact us at (913) 210-0631. Our advisors are available 24/7 to answer any questions you have and then schedule a free in-home consultation to work with you in creating a custom care plan for your loved one.