Comfort Keepers Offers Respite Care in Peoria, IL & the Surrounding Areas
Need a break? With respite care services from Comfort Keepers of Peoria, IL, it's okay to take one!
We know how hard it can be to prioritize your own life when you have become accustomed to caring for other people. Responsibilities will start to weigh on you if you never take a break from providing care for others. This can take a toll on your emotions and will leave you feeling stressed and overwhelmed. Respite care services from Comfort Keepers allow you to take the time you need to rest, recharge, or focus on other important matters.
The reality is this: everyone needs a break at some point. Our bodies are wired to need rest. It is a very natural thing, so when you need rest, embrace it! Don't feel like you must be "on the clock" all the time. Instead, call Comfort Keepers of Peoria, IL for our professional home care services. We can give you that much-needed break from providing care and bring you peace of mind knowing that your senior loved one is in the hands of senior care professionals.
How Comfort Keepers Respite Care Services of Peoria, IL Can Help
Whether you want just a few hours to yourself or whether you're planning a weekend getaway, you can leave knowing that your loved ones will be in good hands around-the-clock. At Comfort Keepers in Peoria, IL, our care team has been trained to provide personalized home care services for the elderly. You will be able to truly relax knowing we have everything under control.
Our home care services will give you the opportunity to leave home and do those things you never had time for:
Visiting a doctor or dentist for routine care
Attending a support group meeting
Catching up on your shopping
Taking care of errands
Going to an out-of-town wedding
Giving yourself a much-needed rest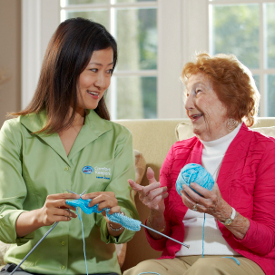 What is Respite Care?
Known in some countries as "short break" care, respite services provide planned short-term breaks for families who need time outside the home or to simply take a rest. Respite care helps support and maintain the primary caregiving relationship.
Contact us or call (309) 685-7777, to learn more about home care services available to your senior loved ones. Our team will be able to help!