Contact an office in your area »
February 26, 2014
Join a Senior Center to Improve Health
Today, senior adults are more active than ever. A higher level of health care has led to treatments that help older adults stay healthier and more active as they age. However, because senior adults often look and feel younger, they might miss out on the benefits of friendship, support, education and recreation that a senior center provides.
Maybe your loved one says, 'I don't need a senior center. I don't feel old. I don't want to sit around talking with people who aren't able to get around like I do.'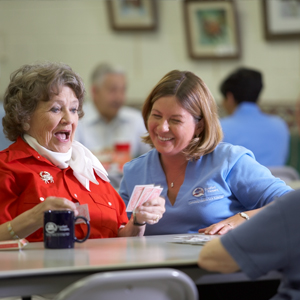 But, many people are questioning the name 'Senior Center' because studies show all types of people, including those who are healthy and active, find senior centers in their communities a great resource for a myriad of things. According to the National Council on Aging (NCOA), 11,400 senior centers in the country serve more than one million adults. About 75 percent visit a senior center one to three times per week, and stay an average of 3.3 hours per visit.
If you don't feel old enough to join a senior center, consider these facts, also reported by the NCOA:
Older adults who utilize senior centers learn to manage and/or delay the onset of chronic disease and experience significant improvements to their physical, social, spiritual, emotional, mental--and even economic--well being.
A study of nearly 900 people indicated that those seniors who are around 80 years old lived longer if they stayed active. Additionally, it's been shown that those older adults who are more active are less likely to have memory problems or need a nursing home. This same study debunked the myths that say senior adults aren't able to learn new things, like a new form of exercise or a hobby, and also that memory loss and a significant decrease in physical aptitude is inevitable.
Today's senior centers are expanding their programming and base of participants, especially as the baby boomer population grows.
Senior Centers offer newer types of programming
Now that senior adults are living longer and staying active into their 80s and even 90s, senior centers now offer a newer variety of programming.
Fitness Programs. Many senior centers offer not only exercise programs designed for older adults, but they also have equipment onsite for members to use.
Job Placement Services. More and more people are enjoying their careers--or a new line of work--well past age 65. Some senior centers offer help and resources for seniors who are looking for work.
Travel Programs. Some senior centers sponsor trips for members that can be one-day or up to a weeklong venture. These programs often include advance planning of the trip, transportation, stops, meals and sleeping arrangements. So all you or your loved has to do is pack!
Lifelong Education. The older adult years are a great time to pursue hobbies you or your loved one never had time for during the busy work and child-rearing years. These can include painting, photography, music, dancing, computer skills and writing.
Joint Programming with Child and Teen Groups. Seniors and teens can learn a lot from each other. The same is true for younger children. Some senior centers are offering the chance to bring other groups into their facility for special programming.
Gardening Opportunities. Maybe you've downsized and don't have the room to garden like you used to. Or maybe you never had time to learn about growing a variety of plants and flowers. Many senior centers have gardens right onsite that members tend to.
Getting on after loss
If you've lost someone close to you, like a spouse or treasured friend, it's likely you want to stay home. But as you're going through the stages of grief, it's often the best time to reach out to others at a senior center, especially because they've likely gone through--or are going through--the same tough time.
Even if you have been around many of the same people your whole adult life, experts on coping with loss think it's never too late to meet new friends. If you're not sure where to turn, a senior center, and its participants and staff will welcome you in. Getting involved in activities you are passionate about is another way to cope with the loss you or your loved one faces in life's later years.
How do I find a good senior center?
Like other services, talking to friends is a good way to find out more about a senior center in your locale. You're likely to find out about them in advertisements, newspapers and TV. Many senior centers are accredited by the Better Business Bureau and you can find out which ones carry that designation. Also look for senior centers who are accredited by the NCOA, although it they aren't, it doesn't mean they aren't a good choice.
References
'The Perks of Growing Older,' by Krisha McCoy, MS and Christine Wilmsen Craig, MD for Everyday Health
'Return to social life can be fulfilling for suddenly single seniors,' by the editors of 4elders.org.
'Senior Tips for Great Senior Center Activities,' by Norma Bean for Yahoo Voices
bbb.org
'Staying Healthy Over 50: How to Feel young and Live Life to the Fullest,' by the editors of helpguide.com
ncoa.org
---

Contact an office in your area »
Sign up to receive helpful info right to your inbox.
We understand choosing an in-home care provider can be a difficult decision, and we want to make your journey as easy as possible. We're here to support you by providing helpful senior care tips and information on in-home care and senior health and wellbeing topics.