Contact an office in your area »
January 12, 2015
Healing the Heart
The impact of heart disease in the United States is significant, and it is most strikingly significant in the older population. It is the most prevalent cause of death in the United States, and 80% of those who die of cardiovascular disease are age 65 or older. Every year nearly 720,000 Americans suffer a heart attack. The chances that those who suffer from a heart attack will end up back in the hospital within 30 days of being discharged for the first attack is also great, and the financial impact is tremendous, accounting for $108.9 billion in medical costs each year. While these statistics are notable, the real impact is with the seniors suffering from heart disease, and the question they have after they suffer a heart attack is, "How can I prevent this from happening again?"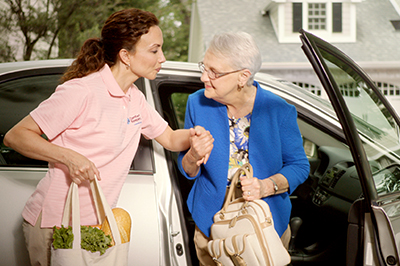 There are many factors that come into play that can cause older adults to end up back in the hospital after a heart attack, and many of these factors may be beyond their control. A failure to properly care for themselves, however, is one factor that they can control. In particular, seniors can help themselves stay out of the hospital by visiting with their physicians for follow-up care, taking the appropriate medications at the prescribed times, following through with prescribed therapies, reducing stress, stopping smoking, and following their physicians' guidance for diet and exercise.
While this may seem like a simple instruction, very often these older adults become overwhelmed as they try to deal with their illness and drastic lifestyle changes. Studies show that many patients leave the hospital without fully understanding their disease or their plan of care and may inadvertently stop taking medications that are essential for their recovery. Supporting patients when they leave the hospital is therefore critical to help them help themselves.
To help older adults adjust and cope with their illness, medical professionals can offer specific medical support and education; it is also important that these seniors get support within the community. Having family members, friends, or professional caregivers help them can relieve much of the stress they may feel thereby allowing them to focus on getting better. Simple help such as providing transportation to follow-up care, helping to prepare meals, or reminding the senior when a medication is due can alleviate anxiety about managing daily tasks and can help increase the older adult's compliance with medical directives. This in turn may just keep that senior out of the hospital and on the road to recovery. To learn more about how in-home care can assist you or a loved one during recovery from an illness, contact your local Comfort Keepers® office today.
References
American Heart Association. (2013). Older Americans & cardiovascular diseases. Retrieved from http://www.heart.org/idc/groups/heart-public/@wcm/@sop/@smd/documents/downloadable/ucm_319574.pdf.
Centers for Disease Control and Prevention. (October 29, 2014). Heart disease facts. Retrieved from http://www.cdc.gov/heartdisease/facts.htm.
Cleveland Clinic. (December 2013). Vitamin D & heart disease. Retrieved from http://my.clevelandclinic.org/services/heart/prevention/emotional-health/holistic-therapies/vitamin-d-heart-disease.
Kim, S.M. and Han H. (2013). Evidence-based strategies to reduce readmission in patients with heart failure. Journal for Nurse Practitioners, 9(4), 224-232. Retrieved from http://www.medscape.com/viewarticle/782534.
Pittsburgh Regional Health Initiative. (June 2010). PRHI Readmission Briefs: Brief 1: Overview of six target chronic diseases. Retrieved from http://www.chqpr.org/downloads/PRHI_ReadmissionBrief_ChronicDisease_June2010.pdf.
Robert Wood Johnson Foundation. (February 2013). The revolving door: A report on U.S. hospital readmissions. Retrieved from http://www.rwjf.org/content/dam/farm/reports/reports/2013/rwjf404178
---

Contact an office in your area »
Sign up to receive helpful info right to your inbox.
We understand choosing an in-home care provider can be a difficult decision, and we want to make your journey as easy as possible. We're here to support you by providing helpful senior care tips and information on in-home care and senior health and wellbeing topics.