Contact an office in your area »
November 15, 2017
Communicating From a Distance: Seniors and Technology
A Changing Landscape
More seniors today are digitally connected than ever before. This is so important as seniors suffer from social isolation and loneliness which can negatively impact their health and overall wellbeing. About 2/3 of seniors use the internet and smartphone adoption has nearly quadrupled in the past 5 years. They use technology to access informational and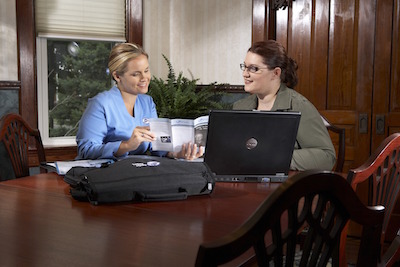 educational resources and to connect with loved ones. However, as seniors age further, they become less able to handle the increasing sophistication of technology and are at risk of losing their connection to what's important.
Below are a few pieces of technology that your senior loved one can take advantage of today to help keep them connected to the outside world and especially family and friends.
Technology for Seniors
Cell Phones: Cellular technology represents one of the largest contributing factors to the convenience of today's communication. And though we may picture the latest iPhone or Android device when thinking about cellular technology, it's important to consider what seniors truly need. Fortunately, several cell phone manufacturers now offer phones designed with seniors in mind. At the forefront is Jitterbug's line of phones that provide large text, big buttons, simple menus, and instant access to emergency contacts. Jitterbug and other similar providers offer basic phones and more advanced options for seniors looking for additional features.
Video Chat: While nothing can fully replace the value of in-person communication, video chatting is the next best thing. This allows users to converse with and see each other in real time. Video chatting has become so popular that it's standard for many phones and tablets to include the option when a user makes a call. One of the most popular services available to seniors is Skype, which allows seniors a wide array of communication options, from text, voice, and of course, video.
Social Networking: Facebook remains the number one social networking site, and it's easy to see why older adults are continuing to engage with it. The platform not only allows them to see pictures and videos of loved ones, but also provides the ability to comment on posts and privately exchange instant messages. While seniors can certainly interact with others their own age on Facebook, they may wish to talk with those outside their circle of friends, especially when it concerns age-related issues. One of the best resources for this is AARP's online community, which allows seniors to share experiences and exchange valuable information.
Confidence Is Key
These days, connecting with friends and family members merely requires just a few clicks. However, what comes easy to some may be overwhelming to others, so it's important that you or whomever is introducing technology to your loved one, be patient and understand what barriers may be in place. Senior centers offer computer or technology courses that help older adults understand everything from operating a cell phone to interacting on social media sites. These courses often focus on Internet safety and privacy best practices, which can help quell seniors' concerns.
Comfort Keepers® Can Help
\nIn addition to compassionate, professional in-home care services, the team at Comfort Keepers can help your aging loved one stay connected with friends and family. One of the ways they can do so is through the grandPad – a safe, simple, and secure tablet for seniors. With the grandPad, your loved one can enjoy games, make calls, share photos, and video chat with loved ones. It's always on, always connected, and is less than the cost of most cell phone plans. To learn more about Comfort Keepers' services and grandPad availability, contact your local office today.
References:
SelfGrowth.com. "Top 10 Social Networks for Seniors" by Stefanie Jeanne. Web. 2017.
AARP. "More Grandparents Connecting with Grandkids Through Social Media" by Tim Poor. Web. 2017.
LifeWire. "The 7 Best Cell Phones for Senior Citizens to Buy in 2017" by David Beren and Meredith Popolo. Web. 2017.
HuffPost. "A Hot Trend: The Internet, Social Media & The Elderly" by Anita Kamiel. Web. 2017.
HealthTech. "Seniors Begin to Embrace the Digital Age" by Juliet Van Wagenen. Web. 2017.
---

Contact an office in your area »
Sign up to receive helpful info right to your inbox.
We understand choosing an in-home care provider can be a difficult decision, and we want to make your journey as easy as possible. We're here to support you by providing helpful senior care tips and information on in-home care and senior health and wellbeing topics.
First, let us know when is care needed: