Compassionate Job Seekers Wanted: Comfort Keepers Invests in Meaningful Opportunities for Caregivers Seniors and Their Families
---
-- New Comfort Keepers Caregiver Survey Unveils Purposeful, Flexible and Rewarding
Career with a 93% Satisfaction Rate --
IRVINE, Calif. March 16, 2022 – For the more than 4.3 million workers who quit their jobs as part of The Great Resignation, as reported by The Labor Department, Comfort Keepers, a leading provider of uplifting in-home care for seniors or adults who need assistance, may have just the rewarding career many of them are looking for.
In a recent survey of nearly 1,000 Comfort Keepers caregivers, respondents reported being satisfied with the personal fulfillment gained in their job (90%) and the flexibility of being an in-home care caregiver (93%). Nearly 3 out of 4 respondents gave Comfort Keepers a rating of 8 or higher (on a 10 point scale) when asked if they would recommend working there to a friend. For more than 20 years, Comfort Keepers has made it their mission to not only help today's seniors thrive and find joy and purpose every day, but also to invest, inspire and nurture the caregivers who care for them.
"There is an increased demand for a different type of caregiver – someone who can go beyond daily tasks and form actual relationships with clients to help them thrive and live more purposeful lives," said Carl McManus, Chief Executive Officer, Comfort Keepers, North America. "We believe in caring for our caregivers because their job is essential in bringing hope, joy and meaning to so many people's lives. By properly investing in our caregivers, we are offering more than a job – it's an opportunity for a meaningful, long-term career."
The boomer market is booming and for the first time in history, the baby boomer generation will outnumber children in 2030 when 1 in 5 U.S. residents will be of retirement age. 1 Demand for workers is high across many industries but for the home care provider industry, the need for home health and personal care aides is an area where demand is expected to grow exponentially to care for these seniors – particularly due to the pandemic. In fact, the same Comfort Keepers study said that 83% of caregivers believe that seniors need their help more than ever since the pandemic.
For job seekers who may have not considered in-home caregiving as a first, second or "encore" career option, Comfort Keepers has identified several types of individuals and backgrounds for whom pursuing a new career in in-home health and personal care can be a positive and rewarding next step:
Retirees and soon-to-be-retirees– Individuals who are preparing to retire, or who have retired, may appreciate the flexibility the job offers while giving back to the community and staying connected
Healthcare – Although having a background in healthcare is not required for the job, those that do can appreciate the benefits of working in a home setting with known clients
Retail, food service and childcare – The skills from these jobs allow for people to transfer their passion for helping people into a personally rewarding job
· Domestic skills – For those who love cooking, cleaning and connecting with people, these skills can be parlayed into a flexible job with purpose and meaning. In fact, according to the caregiver survey, the top 3 unique skills or traits they bring to the role are 1) cooking skills, 2) passion/love for caregiving and 3) people skills/good conversationalists
"We are honored that Comfort Keepers continues to rate high in customer service in Newsweek's America's Best Customer Service survey," said McManus. "The results of our internal survey show exactly why. The top three responses received when we asked our caregivers why they would recommend Comfort Keepers to job seekers were: helping others/giving back, rewarding work, and flexibility. That kind of job satisfaction translates into happy workers who provide the excellent customer service we are recognized for providing."
For those considering a caregiver position with Comfort Keepers, the survey also revealed other important attributes about the company that contributed to their overall job satisfaction:
The amount of training they received from Comfort Keepers received high marks among respondents (90%)
The stability of a regular schedule provided a high level of satisfaction (86%)
For most all respondents (90%), the ability to "make a difference in the lives of clients" is the most important thing about working as a Comfort Keepers caregiver
The 2022 Comfort Keepers Caregiver Survey measured perceptions of 978 current Comfort Keepers caregivers and was fielded from September-October 2021.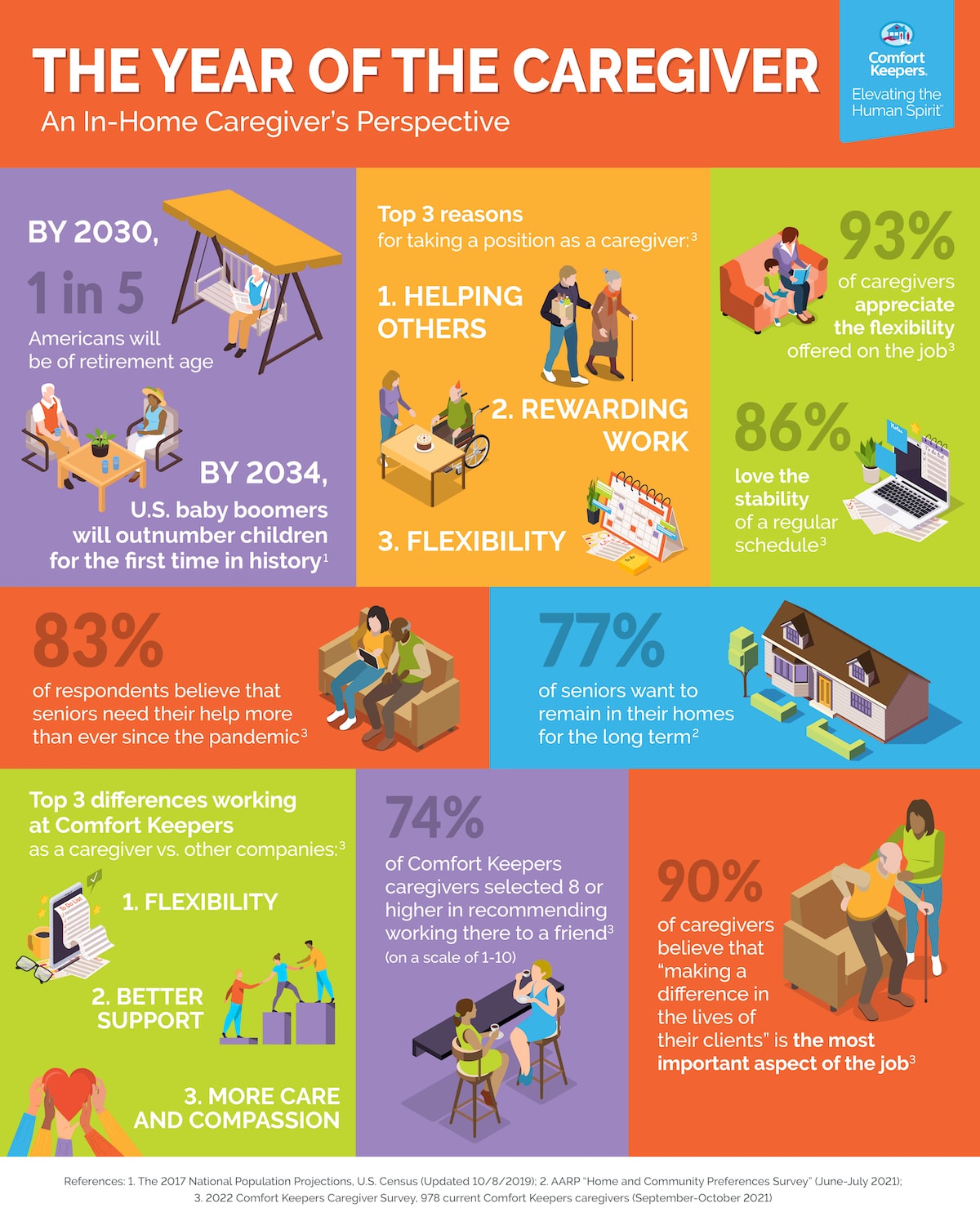 About Comfort Keepers®
For more than two decades, Comfort Keepers® has been Elevating the Human SpiritSM through its in-home care network for seniors and other adults by empowering them to maintain their independence and realize joy in the everyday moments. Comfort Keepers is a division of Sodexo, the global leader in services that improve Quality of Life. Sodexo serves 100 million consumers each day in 67 countries, through its unique combination of On-site Services, Benefits and Rewards Services and Personal and Home Services. Comfort Keepers operates a franchise network that has grown to more than 700 locations around the world. In addition to providing services that focus on health care and senior markets, Sodexo's integrated offerings encompass more than 45 years of experience in reception, safety, maintenance and cleaning, foodservices, facilities and equipment management, and concierge services. For more information, visit ComfortKeepers.com.
The 2017 National Population Projections, U.S. Census (Updated 10/8/2019)
---

Contact an office in your area »
Sign up to receive helpful info right to your inbox.
We understand choosing an in-home care provider can be a difficult decision, and we want to make your journey as easy as possible. We're here to support you by providing helpful senior care tips and information on in-home care and senior health and wellbeing topics.
First, let us know when is care needed: