All "Seniors and Nutrition" Articles
Nutrition That Nourishes the Heart and Mind
No matter our age, eating food that nourishes is important for our bodies, minds, and quality of life. But as our bodies change with age, so does what we need to stay healthy. When older adults choose the food that nourishes them, they have the energy to do the things they love every day.
The Respiratory System: Age-Related Changes & COPD
The respiratory system, like many of the other human systems (e.g., cardiovascular, digestive), is a wondrously complex and sophisticated arrangement of organs working together to maintain homeostasis.
Keeping Seniors Safe in the Bathroom
Bathrooms can be quite hazardous ─ especially for seniors. Bathrooms typically have slippery surfaces, and nothing dependable to grasp in order to prevent falls.
Elderly Home Care and Depression
It is important to recognize depression symptoms when caring for an elderly loved one. While seniors aging in their own home can help them maintain their independence, it can also be isolating.
Looking Forward to Fall and Winter - Activities for the Colder Months
As we enter the fall and winter season this year, things look a little different. It's important for seniors to work with their families, caregivers and health professionals to develop a plan that allows them to safely take part in activities they love and maintain positive mental health through activity and connection.
Seniors and Kitchen Safety: Tips for the
What's considered a primary gathering place in the home can become a nightmare for seniors. People age 65 and older have a 2.5 times greater risk of dying in a kitchen fire than the general population. When's the last time you looked for potential hazards
What Does a Heart Attack Look Like?
Most of us have a specific idea of what a heart attack looks like: someone feels an abrupt, strong pain that causes them to stop in their tracks and clutch their chest.
Thursday, April 3, 2014

Contact an office in your area »
Some Medications Affect Seniors' Appetite and Nutrition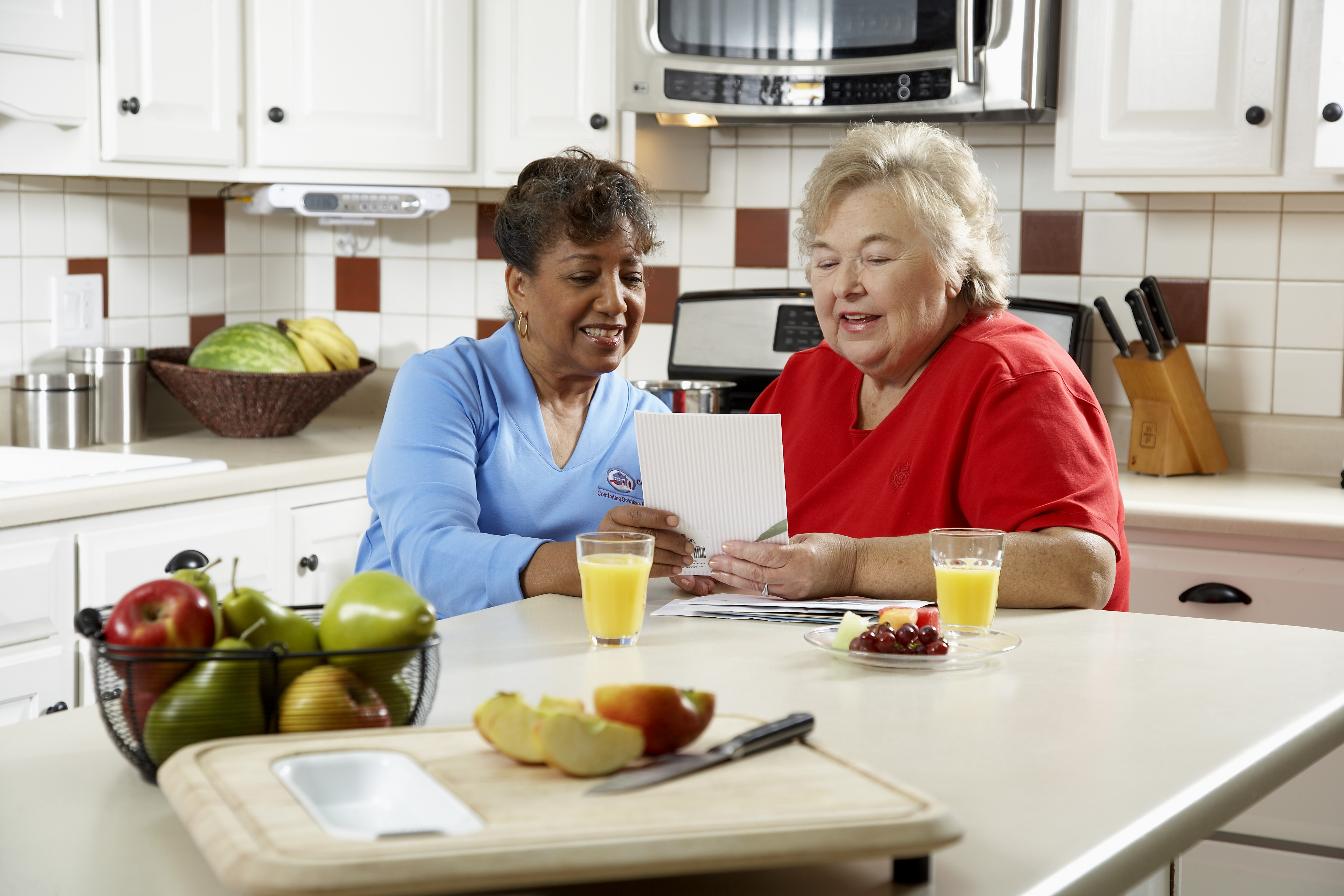 As seniors take more medications, they run an increased risk of harmful drug interactions. They also are at greater risk of nutritional deficiencies that result when medications interact with certain foods or suppress appetite.
Some medications, if not monitored closely, can cause malnutrition in a number of ways:
Suppressing the sensation of hunger;
Interfering with the way nutrients, such as fats, proteins and vitamins, are absorbed and digested;
Altering the senses of taste and smell, thus reducing the pleasure associated with eating
Causing problems with swallowing.
Seniors and their caregivers need to be aware of these potential problems and work with health care providers to find alternative medications or other solutions to make sure the seniors benefit fully from a balanced diet.
Loss of Appetite
While some drugs suppress appetite, others may increase it. Yet others alter the flavor of food, such as giving it a metallic taste. "Nutrition and Aging: Drug-Nutrient Interactions," an online publication of the Penn State Nutrition and Extension Partnership Project, offers examples of drugs that can affect seniors' appetite and provides other examples of ways medications adversely impact seniors' nutrition.
Absorption of Nutrients
Some medications can bind to nutrients, preventing the nutrients from being properly absorbed and used by the body. For instance, antacids may limit absorption of riboflavin (vitamin B2), copper and iron. Some cholesterol-lowering drugs may affect absorption of carotene; vitamins A, B12, D and K; folic acid; calcium; iron; and zinc. Following are a few other examples -- cited in the Penn State publication -- of the nutritional impact of medications, as well as the effect of food on the efficacy of some medicines:
High stomach acid content is needed to facilitate absorption of B12, but some anti-ulcer medications decrease stomach acid.
Antibiotics taken to kill illness-causing bacteria also kill beneficial bacteria that live in the intestines and assist in absorption of some vitamins and minerals.
Foods rich in vitamin K, such as green leafy vegetables, cauliflower, green tea, pork liver and beef liver, can cause the clo
t-preventing blood thinner Coumadin to work less efficiently. While on Coumadin, seniors need to keep their vitamin K intake consistent.
Preventing Interactions
The University of Florida's Institute of Food and Agricultural Sciences offers the following advice in the online publication "Food/Drug and Drug/Nutrient Interaction: What You Should Know About Your Medications":
Carry a list of all medications (prescription, over-the-counter and supplements) and dosing instructions, and share it with all health care providers.
Remind your doctor about any drug allergies you have.
Know how and when to take all medications, such as before or after a meal. If you're not sure, ask your doctor or pharmacist.
Report any side effects from a medication to your doctor or pharmacist immediately.
Unless otherwise specified, take medication with a full glass of water. This may help prevent stomach irritation and improve absorption. Don't take medications with soft drinks or grapefruit juice.
Don't stir medication into food or drink unless your doctor or pharmacist tells you to. Certain foods may break down the drug or limit its absorption.
Always read the directions and warning labels on your medication bottles and packages. If you don't understand something, ask your doctor or pharmacist.
---

Contact an office in your area »
Sign up to receive helpful info right to your inbox.
We understand choosing an in-home care provider can be a difficult decision, and we want to make your journey as easy as possible. We're here to support you by providing helpful senior care tips and information on in-home care and senior health and wellbeing topics.
First, let us know when is care needed:
Filed Under:
Safety
Medications
Signs & Symptoms
Nutrition