All "Seniors and Nutrition" Articles
10 Activities for Seniors with Dementia or Alzheimer's
10 activities seniors with Dementia and Alzheimer's can do with caregivers or loved ones to bring joy and consistency into their everyday lives. In these routines, there are plenty of ways for family caregivers to cherish great moments and memories together.
Nutrition That Nourishes the Heart and Mind
No matter our age, eating food that nourishes is important for our bodies, minds, and quality of life. But as our bodies change with age, so does what we need to stay healthy. When older adults choose the food that nourishes them, they have the energy to do the things they love every day.
The Respiratory System: Age-Related Changes & COPD
The respiratory system, like many of the other human systems (e.g., cardiovascular, digestive), is a wondrously complex and sophisticated arrangement of organs working together to maintain homeostasis.
Elderly Home Care and Depression
It is important to recognize depression symptoms when caring for an elderly loved one. While seniors aging in their own home can help them maintain their independence, it can also be isolating.
Looking Forward to Fall and Winter - Activities for the Colder Months
As we enter the fall and winter season this year, things look a little different. It's important for seniors to work with their families, caregivers and health professionals to develop a plan that allows them to safely take part in activities they love and maintain positive mental health through activity and connection.
Tuesday, August 15, 2017

Contact an office in your area »
Food Shortage: Where Seniors Can Go for Help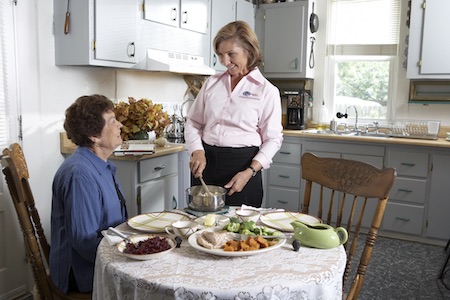 A Big Problem
In this day and age, when food seems to be so readily available and accessible, it may seem surprising that hunger is one of the more prevalent problems in society. What's even more alarming is the fact that older adults, those 60 years of age and older, make up a significant portion of those who are afflicted. In fact, since 2001, the number of seniors struggling with hunger has increased by nearly 70%. This is expected to increase another 50% by 2025, when the youngest of the baby boomers reach 60 years of age.
While recognizing the issue and raising awareness are both important, they don't amount to much if steps aren't put into place to help those without food. Fortunately, help is out there. Several benefits programs, many of which are administered federally via the Food and Nutrition Service (FNS), are available for seniors to utilize. Below is a breakdown of the major programs. If you know of an aging adult who could benefit from these programs, be sure to verify his or her eligibility. And remember that these only represent a few of the programs available. Some communities offer a wide array of services that can help seniors get the food they require, but like anything, the first step is to ask for help when it is needed.
Food Assistance Programs for Seniors
Meals on Wheels: Although it began in Philadelphia in 1954, Meals on Wheels now has a presence in nearly every town or city in the U.S. With the daily delivery of nutritious, well-balanced meals right to seniors' homes, the program helps more than 2 million each year. A study in 2013, which reviewed the scientific evidence of meal delivery services and their impact on nutrition, found that the programs do indeed improve diet quality and reduce food insecurity. The study also found that these services can play a big part in preserving healthy socialization and overall quality of life. That's because many of the volunteers will spend time talking with the seniors, and in some cases, they will even do safety checks. To learn more and to find a program near your senior loved one, check out the Meals on Wheels website.
SNAP: One of the U.S.'s primary assistance programs, SNAP (Supplemental Nutrition Assistance Program – formerly known as the Food Stamp Program), offers assistance in the form of electronic cards that allow for the purchase of nutritious foods. On average, nearly 5 million adults 60 and older in the U.S. benefit from SNAP, and receive approximately $108 each month to use on food. That being said, many more could be taking advantage of SNAP's benefits, but don't. In fact, less than 50% of older adults have enrolled. There are several factors contributing to this low participation rate, chief among them being the stigma that comes with receiving assistance. However, through education and outreach efforts, participation does appear to be climbing, at least within certain states. The National Council on Aging is also helping through its SNAP Enrollment Initiative program, which supports community-based organizations that assist in enrolling older adults into the SNAP program. Click here to learn more about eligibility.
TEFAP: The Emergency Food Assistance Program is facilitated through the U.S. Department of Agriculture (USDA), which purchases nutritious, high-quality food, and ships it to various states, where it is then distributed to local organizations. The amount of food delivered to each state depends on the respective unemployment rate as well as the number of those under the poverty level. Each state also has a specific set of criteria for eligibility, based primarily on income level. To learn more about the TEFAP program and eligibility, click here.
CSFP: Although similar to the TEFAP in terms of its distribution model, the Commodity Supplemental Food Program primarily serves older adults (60 years and older), who are lower income. Other demographics also benefit from the program, including pregnant and breastfeeding women, infants, and children younger than 6. Altogether, the program helps nearly 600,000 individuals each month. The foods within CSFP do not necessarily reflect a complete diet, but rather represent the nutrients that are in short supply for the program's intended recipients. Click here to learn more about the CSFP and information on eligibility.
SFMNP: The Senior Farmers' Market Nutrition Program gives grants to U.S. states, territories, and Indian tribal governments in order to supply low-income seniors with vouchers. These can then be exchanged for eligible foods (vegetables, fruits, herbs, and honey) located at farmers' markets and various community supported agriculture (CSA) programs. The primary goal of this program is, of course, to help seniors access nutritious fruits and vegetables – but it's also greatly beneficial for domestic farmers and promotes locally grown foods. On average, more than 800,000 people receive SFMNP benefits. For more information about the program and to check participating state agencies, click here.
Comfort Keepers® Can Help
Our compassionate, professional caregivers can help prepare healthy meals for your loved ones and watch for signs of malnutrition. Additionally, they can help reinforce dietary guidelines (as prescribed by a physician/dietician), and provide transportation to the grocery store for the week's supply of food. Call your local office to learn more about our available services.
References:
US Library of Medicine | National Institutes of Health. "Impact of home-delivered programs on diet and nutrition among older adults: a review." Web. 2013.
Feeding America. "Senior Hunger Facts." Web. 2017.
Meals on Wheels America. "The Problem and Our Solution." Web. 2017.
United States Department of Agriculture – Food and Nutrition Service. "Programs and Services." Web. 2017.
---

Contact an office in your area »
Sign up to receive helpful info right to your inbox.
We understand choosing an in-home care provider can be a difficult decision, and we want to make your journey as easy as possible. We're here to support you by providing helpful senior care tips and information on in-home care and senior health and wellbeing topics.
First, let us know when is care needed:
Filed Under:
Caregiver Resources
Nutrition