All "Seniors and Nutrition" Articles
Nutrition That Nourishes the Heart and Mind
No matter our age, eating food that nourishes is important for our bodies, minds, and quality of life. But as our bodies change with age, so does what we need to stay healthy. When older adults choose the food that nourishes them, they have the energy to do the things they love every day.
The Respiratory System: Age-Related Changes & COPD
The respiratory system, like many of the other human systems (e.g., cardiovascular, digestive), is a wondrously complex and sophisticated arrangement of organs working together to maintain homeostasis.
Looking Forward to Fall and Winter - Activities for the Colder Months
As we enter the fall and winter season this year, things look a little different. It's important for seniors to work with their families, caregivers and health professionals to develop a plan that allows them to safely take part in activities they love and maintain positive mental health through activity and connection.
Healthy Eye Care and Nutrition
Changes to vision and concerns about eye health can happen rapidly for older adults. Seniors should get a vision test once a year and should always follow a doctor's recommendations on treatment plans and vision health. Here are eight strategies for seniors to maintain eye health:
Wednesday, August 13, 2014

Contact an office in your area »
Eat Well, Live Well, Be Well
Good nutrition and regular physical activity in healthy senior adults helps maintain wellbeing; in fact, they can be major determinants of successful aging. For those senior adults with chronic conditions, however, good nutrition and exercise are critical for managing their conditions and for promoting recovery following hospital stays.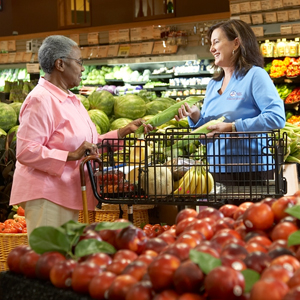 Chronic conditions, such as heart disease, diabetes, and others, are a growing health problem with the older population. Currently, 80% of seniors aged 65 or older have at least one chronic condition, and of those, half have two or more. Chronic conditions are the leading causes of death in the United States. The impact of good nutrition becomes more evident when you consider that five of the top eight causes of death are directly influenced by diet. Some research also indicates that lack of physical activity may actually predispose individuals to chronic conditions.
With nutrition and physical activity being such strong influences on health, how can friends, family, caregivers, and healthcare professionals encourage older adults to eat better and be more active to promote recovery after hospitalization?
Education May Be the Key
Older adults' fear and uncertainty about what they can and cannot do after a hospital episode are strong contributors to hospital readmissions. Addressing these fears through education can empower older individuals to take action that will help reduce the risk of hospital readmission and improve their quality of life.
Most people in general associate malnutrition with lack of food, but in seniors this may not always be the case. Levels of nutrition in seniors are impacted by many factors including types of food eaten, water intake, and more. Educating older individuals and family members on the importance of hydration and specific foods that can help seniors meet their nutritional requirements can help them make the necessary changes to manage their conditions.
Additionally, many older individuals who have been hospitalized for conditions such as heart disease may be reluctant to engage in physical activity out of fear that exertion may cause a recurrence. Ensuring these individuals know exactly what they can and should physically do for recovery can help alleviate these fears. Assuring seniors are aware of the positive outcomes of exercise and its direct impact on recovery can be a motivator for change. For example, individuals with chronic obstructive pulmonary disease (COPD) who engage in regular moderate or vigorous exercise have been shown to have significantly lower rates of hospital readmission, and heart patients who participate in formal exercise programs decrease their risk of death by 25%.
Family, friends, and caregivers can also support the older adult in his or her recovery by joining the individual for nutritious meals, or even helping prepare them, and participating in physical activities the senior enjoys. As with any person attempting to change lifestyle habits, support can help older adults obtain the resources they need to make changes and provide the motivation for them to follow through.
References
Bernstein, M., Munoz, N. (August 2012). Position of the Academy of Nutrition and Dietetics: Food and Nutrition for Older Adults: Promoting Health and Wellness. J Acad Nutr Diet., 112(8), 1255-77. doi: 10.1016/j.jand.2012.06.015.
Booth, F.W., Gordon, S.E., Carlson, C.J. and Hamilton, M.T. (2000). Waging war on modern chronic diseases: Primary prevention through exercise biology. Journal of Applied Physiology, 88, 774–787. Retrieved from http://jap.physiology.org/content/88/2/774.
Myers, J. (2003). Cardiology patient page: Exercise and cardiovascular health. Circulation, 107, e2-e5. doi: 10.1161/?01.CIR.0000048890.59383.8D. Retrieved from http://circ.ahajournals.org/content/107/1/e2.full.
Nguyen, H.Q., Chu, L., Liu, I.A., Lee, J.S., Suh, D., Korotzer, B., et. al. (2014). Associations between physical activity and 30-day readmission risk in chronic obstructive pulmonary disease. Annals of the American Thoracic Society, 11(5), 695-705. doi: 10.1513/AnnalsATS.201401-017OC. Retrieved from http://www.atsjournals.org/doi/abs/10.1513/AnnalsATS.201401-017OC#.U-i8r_ldV8F.
Silow-Carroll, S., Edwards, J.N., and Lashbrook, A. (April 2011). Reducing Hospital Readmissions: Lessons from Top-Performing Hospitals. The Commonwealth Fund Synthesis Report. Retrieved from http://www.commonwealthfund.org/~/media/files/publications/case-study/2011/apr/1473_silowcarroll_readmissions_synthesis_web_version.pdf.
---

Contact an office in your area »
Sign up to receive helpful info right to your inbox.
We understand choosing an in-home care provider can be a difficult decision, and we want to make your journey as easy as possible. We're here to support you by providing helpful senior care tips and information on in-home care and senior health and wellbeing topics.
First, let us know when is care needed: