All "Alzheimer's & Dementia Care" Articles
10 Activities for Seniors with Dementia or Alzheimer's
10 activities seniors with Dementia and Alzheimer's can do with caregivers or loved ones to bring joy and consistency into their everyday lives. In these routines, there are plenty of ways for family caregivers to cherish great moments and memories together.
Nutrition That Nourishes the Heart and Mind
No matter our age, eating food that nourishes is important for our bodies, minds, and quality of life. But as our bodies change with age, so does what we need to stay healthy. When older adults choose the food that nourishes them, they have the energy to do the things they love every day.
The Respiratory System: Age-Related Changes & COPD
The respiratory system, like many of the other human systems (e.g., cardiovascular, digestive), is a wondrously complex and sophisticated arrangement of organs working together to maintain homeostasis.
Elderly Home Care and Depression
It is important to recognize depression symptoms when caring for an elderly loved one. While seniors aging in their own home can help them maintain their independence, it can also be isolating.
Living with Arthritis
One in five adults suffer from arthritis, and the majority of these are seniors. For older adults to understand the stages of living with arthritis, it's helpful to talk about how the disease is identified, diagnosed and managed.
Thyroid Disease and Seniors
As seniors embrace the golden years, they have many things to look forward to retirement, watching their children begin families of their own, playing with grandchildren, and hopefully enjoying a full life with the wisdom of age on their side.
Tuesday, October 13, 2015

Contact an office in your area »
Assisting Persons with Alzheimer's and Other Chronic Conditions and Diseases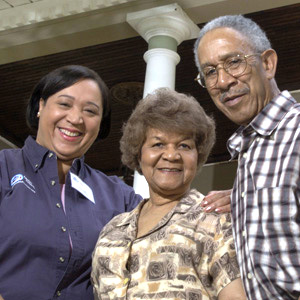 More than 5 million Americans 65 and older now have Alzheimer's Disease (AD) according to the Alzheimer's Association. Alzheimer's disease destroys brain cells, causing problems with memory, thinking, and behavior severe enough to affect work, family and social relationships, and, eventually, the most basic activities of daily living. It also can affect their ability to make healthy decisions when dealing with chronic conditions and diseases and their symptoms.
Common Chronic Conditions and Diseases in Alzheimer's Patients
People with AD can have the same medical problems as many older adults. Almost all people with dementia (95%) have at least one other chronic disease or health condition. Research suggests that some of these medical problems may be related to AD. Some of these include heart disease, diabetes, stroke, and arthritis. Diseases caused by infections also are common. There also is a possibility that they may suffer from Parkinson's disease, COPD, anemia, chronic skin ulcers, osteoporosis, thyroid disease, retinal disorders, insomnia, and anxiety and neurosis.
Care Management
Because of their impaired memory, judgment, and reasoning ability, people with dementia cannot manage or direct their own care. They cannot follow the medication instructions or nutritional regimes their doctors give them. They cannot recognize symptoms that their condition may be getting out of control. Thus, self-management–a key concept of care for persons with chronic illness–can not work for a person with dementia.
Look for health problems, just as you would for any senior under your care. Know that the greater the number and severity of the problems, the more difficult it is for the person to compensate for any one problem.
Actions Caregivers Can Take to Help Minimize Risks
As a caregiver of someone who may be suffering from Alzheimer's or other dementias, there are steps you can take to help minimize the dangers and various discomforts due to chronic conditions. Keeping a watchful eye for changes, and looking after a client's safety, diet, and making sure he or she gets proper exercise and sleep are all ways you can help.
Help make the living area safe. Falls are common for persons affected by Alzheimer's and other dementias. Consider grab bars in the bathroom, a shower bench, carpeting rather than hard flooring, and eliminating anything with sharp edges.
Promote a healthy diet. Eating healthy foods is even more important for people with AD, especially if they have special diets for certain conditions such as diabetes, or high blood pressure or cholesterol. Here are some tips for healthy eating: buy healthy foods such as vegetables, fruits, and whole-grain products. Be sure to buy foods that the person likes and can eat and are easy to prepare, such as pre-made salads and single food portions. Prepare the food yourself, or have someone else make meals, if possible.
Encourage daily movement and exercise. Some people with AD may not be able to get around well, due to arthritis, partial paralysis, and other conditions. This is another problem that becomes more challenging to deal with as the disease gets worse. For a time, they may be able to use a stationary bike, soft rubber exercise balls or balloons for stretching or throwing back and forth, and stretching bands found in sporting goods stores. Even taking a walk with you can help, if they are able.
Take steps to help eliminate sleep problems. Sleeping can be difficult for seniors with AD. To create an inviting sleeping environment and promote rest, maintain regular times for meals, going to bed, and getting up. Seek morning sunlight exposure and encourage regular daily exercise but no later than four hours before bedtime and make sure the bedroom temperature is comfortable. If the person awakens, discourage staying in bed while awake. Make sure he or she uses the bed only for sleep, and discourage watching television during periods of wakefulness. Also, check with the doctor or family to find out if any prescribed medications should not be taken just before bedtime.
Additional Considerations
Remember that the person with AD may not be able to tell you that something is physically wrong with them. Watch the person's face to see if it looks like he or she is in pain or feeling ill. Have the person point to where they are feeling discomfort if they cannot speak or clearly communicate. Also, notice sudden changes in behavior, such as an increase in outbursts or striking out.
You can't rely on someone with AD to recall things or give accurate details about symptoms, taking medications, or past behaviors that could provide clues about a present condition. They usually have no concept of time, and this worsens as AD progresses.
Also try to remember that you are not a clinician, and feel free to ask questions that need to be answered. Rely on and connect with the person's doctors and specialists for information and help—and talk to family members on a regular basis. When coping with a person who suffers from Alzheimer's and has other chronic conditions or diseases, you should never feel alone.
References:
"Alzheimer's Disease and Chronic Health Conditions: The Real Challenge for 21st Century Medicare." Alzheimer's Association. Web. 2015.
Caring for a person with Alzheimer's Disease: Your Easy-To-Use Guide from the National Institute on Aging. National Institutes of Health (NIH). Web brochure. 2015.
---

Contact an office in your area »
Sign up to receive helpful info right to your inbox.
We understand choosing an in-home care provider can be a difficult decision, and we want to make your journey as easy as possible. We're here to support you by providing helpful senior care tips and information on in-home care and senior health and wellbeing topics.
First, let us know when is care needed:
Filed Under:
Chronic Conditions
Caregiver Resources
Diseases
Choosing Service Providers
Alzheimer's Disease