Home Care in Southwest Austin
Comfort Keepers of Austin, TX is right around the corner, ready to provide the in home care seniors need
When your loved ones in the Southwest Austin, Circle C, or Oak Hill areas need in home care, remember that the highly trained caregivers of Comfort Keepers® of Austin, TX are right around the corner, ready to help. With our wide variety of home care services, from laundry and housekeeping to personal assistance, your loved ones will receive a plan of care that is tailored to meet their exact needs.
Comfort Keepers also wishes to help seniors who want to continue their activities in the community. By providing safe, reliable transportation around town, Comfort Keepers can make this happen. Whether your loved ones wish to catch a movie at Alamo Drafthouse or if they want to take a stroll around the Circle C Park on a nice morning, we'll be there to help make it happen. Even if they just need to get to the store for the week's groceries at H.E.B. or Walgreens to pick up a prescription, Comfort Keepers is ready to provide transportation and companionship every step of the way.
Senior Care Services in Southwest Austin, TX
In Home Care – Our Comfort Keepers caregivers can provide the daily care and assistance that seniors and older adults need to maintain the life they are used to living. We create custom care plans that are designed around the unique needs of each senior and are made up of the wide range of care services that we provide. We provide care services that include personal care services like grooming, hygiene assistance, mobility assistance and feeding and special diet; as well as companion care services that include incidental transportation, meal preparation and light housekeeping.
Interactive Caregiving – This is the unique approach to caregiving that the Comfort Keepers brand of care is known for. We work with seniors and older adults to engage them in every step of their care. This includes keeping them active both inside their home and assisting their caregivers with daily tasks, as long as their abilities permit, as well as keeping them active within their community.
Respite Care – We can also provide family caregivers with "short break" care. Our care team will coordinate with family caregivers to provide them with a break from providing their loved one with care for a few hours a day to a few weeks. With the assistance of our caregivers, we provide family caregivers with peace of mind knowing that their loved ones are receiving the care they need, when they need it.
Dementia Care & Alzheimer's Care – Our Comfort Keepers home care team is specially trained to provide specialized caregiving such as dementia care and Alzheimer's care. If you have a loved one who is suffering from this disease, we can provide them with the care they need as well as ensuring that their home is safe for them to live in.
End of Life Care – We can provide compassionate care to a loved one when they have been diagnosed with a terminal illness. With this care, we can provide for the aging adult as well as support the family during this difficult time.
Transitioning Home – Care after a hospital stay can be critical to your loved one's health. That is why we work with local hospitals and agencies to ease the transition home for your loved one as well as provide them with the care they need once they return home.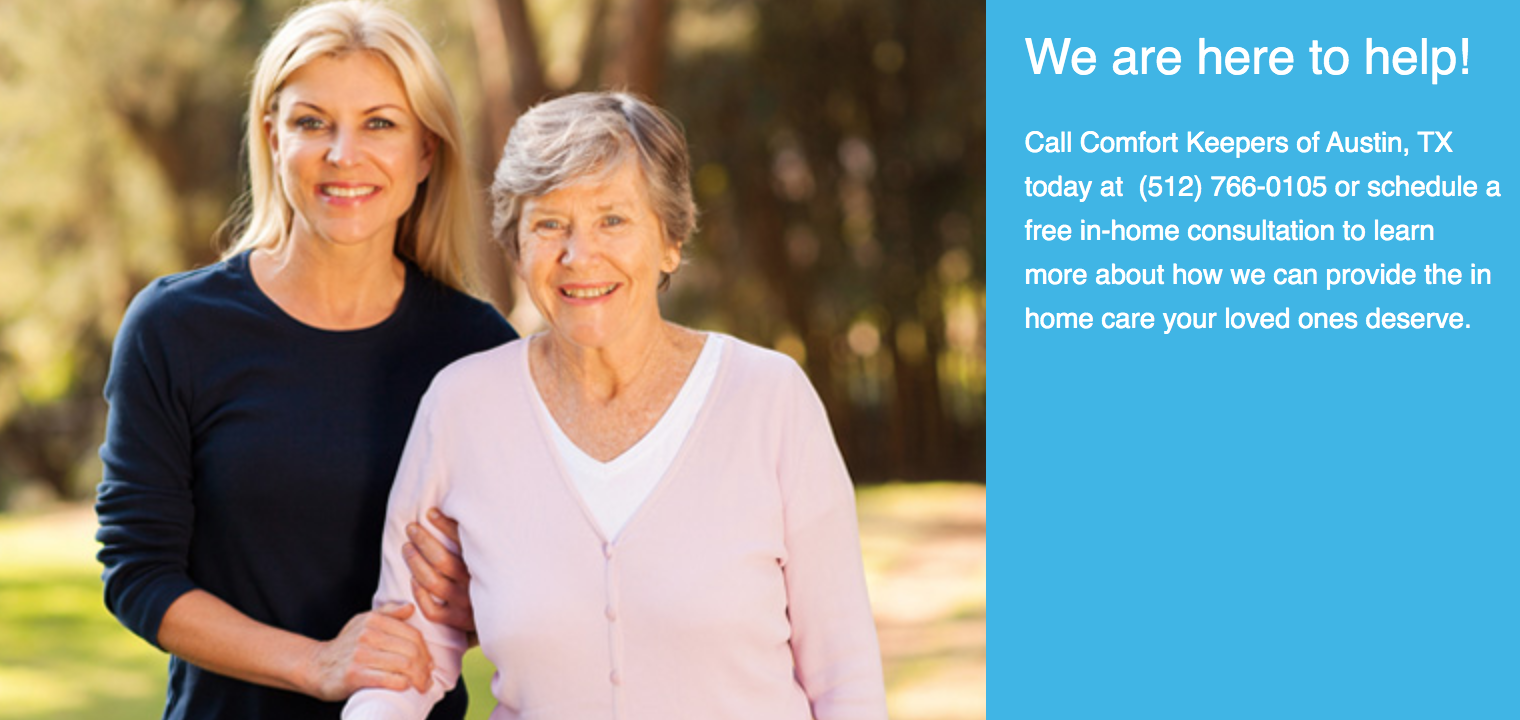 Comfort Keepers of Austin provides in home care and senior care services to the following areas in and around Austin, Texas
Austin, Barton Creek, Barton Hills, Bee Cave, Bouldin, Buda, Circle C, Oak Hill, Rollingwood, South Austin, South Congress, South Lamar, Southwest Austin, Sunset Valley, Travis Heights, West Lake Hills, Zilker, Austin, Barton Creek, Barton Hills, Bee Cave, Bouldin, Buda, Circle C, Oak Hill, Rollingwood, South Austin, South Congress, South Lamar, Southwest Austin, Sunset Valley, Travis Heights, West Lake Hills, Zilker, Downtown Austin, Clarksville, Old West Austin, Tarrytown, Hyde Park / UT, Rosedale, Allandale, Brentwood, North Loop, Mueller, Windsor Park, University Hills, East Austin, Wells Branch, McNeil, Mesa Park, Walnut Creek, Gracy Woods, Quail Creek, Milwood, Pflugerville, Windermere, Dessau, Pioneer Crossing, Jordan Crossing, Windsor Hills, Heritage Hills, Harris Branch, Manor, Bastrop